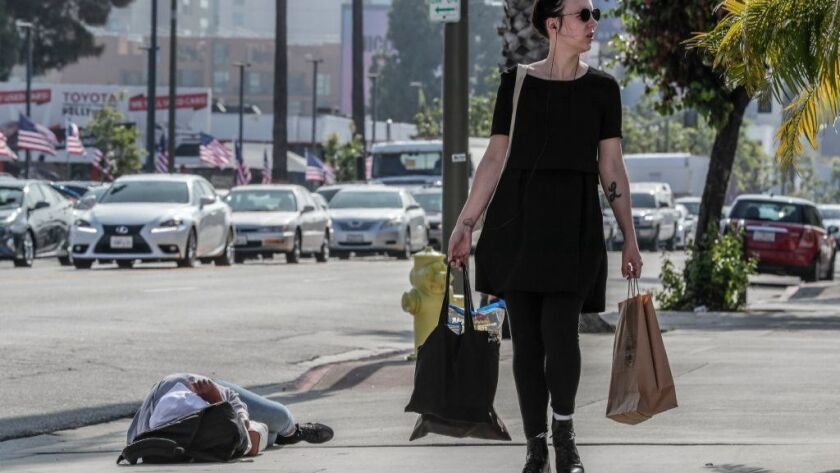 To the editor: What does this say about Los Angeles as a city when we can't raise money for public education and our homeless population has increased by 16% in the last year?
Shame on us all.
Tom Iannucci, Los Angeles
..
To the editor: We refuse to fund our children's education properly, and then we are surprised when so many young people end up on the streets.
I completely understand why voters are upset at the Los Angeles Unified School District. I worked for LAUSD for 27 years and saw firsthand the misuse and waste of funds.
I saw storage closets full of unopened textbooks, because there was no available staff to process them. I was in charge of the budget at three different schools and got to know just how the process works and doesn't work.
That said, in a more perfect world, I could see an independent oversight task force committed to making sure that the funds are spent wisely. My heart truly bleeds for what has happened to LAUSD and Los Angeles.
Barbara Busch, Santa Barbara
..
To the editor: The defeat of the Measure EE parcel tax is extremely disappointing.
The low turnout and the lack of majority support for the tax — far below the two-thirds threshold needed for passage — betray a misplacement of priorities by society. Our future success depends on our children getting a good education. The recent LAUSD teachers' strike apparently was not enough to convince voters to support Measure EE and provide more funding for students.
Still, there is definitely a need for more funding for LAUSD, so the district does not have to apologize for taking its case to the voters. Teachers will continue to do the best they can with what they are given.
Edward A. Sussman, Fountain Valley
..
To the editor: The money from Measure EE would have gone into the district's general fund. There was no guarantee any money would be used to reduce class sizes or pay for more nurses, counselors and librarians. All of the money could have been used for administration.
The public supported LAUSD teachers during the strike but must have changed its mind when voters found out they would be paying for Measure EE with their property tax.
LAUSD wasted taxpayer money by holding a special election just for a single ballot measure. Another waste was when Supt. Austin Beutner sent property owners information on how seniors could apply for a tax exemption, even before knowing the election results.
What LAUSD really needs is a lesson on how to spend the money it already has wisely.
Evelyn Hatt, Los Angeles
..
To the editor: I wonder how L.A. Mayor Eric Garcetti felt reading the newspaper Wednesday. It certainly wasn't a positive and reassuring way to start his day.
Measure EE, which he strongly supported, was decisively rejected by voters. Plus, there was the story on homelessness surging in the city by 16% in a year.
Garcetti's promises and efforts on homelessness have been a joke. He should accept responsibility for this problem and do something more constructive.
Richard Whorton, Studio City
Follow the Opinion section on Twitter @latimesopinion and Facebook
---