Readers React: How reducing meat consumption could be a shortcut to curbing greenhouse gasses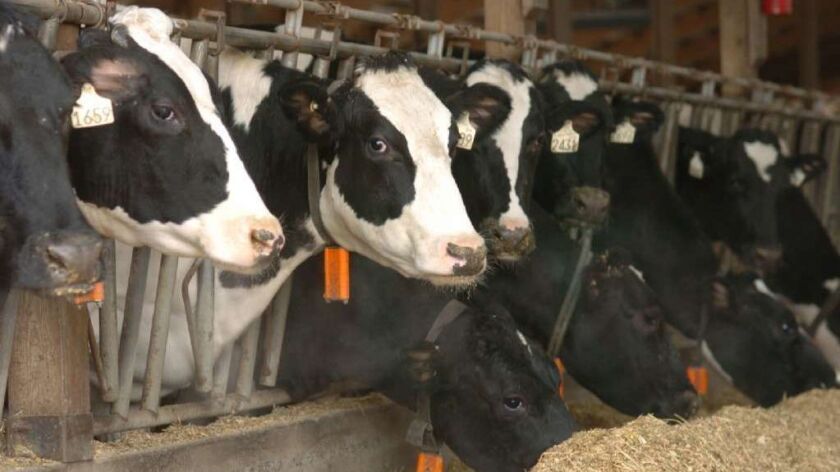 To the editor: Thank you for your article, "Methane in the atmosphere is surging, and that's got scientists worried."
It's generally well known that over a period of 100 years, methane is 20 times more powerful than carbon dioxide. Not so well known is that over 20 years, it's a whopping 80 times more potent.
Recently Bill Gates pointed out that if all the billion-plus cows on this planet got together and started their own country, that nation would be the third-largest emitter of greenhouse gasses on the planet. It stands to reason that reducing our consumption of beef (and outlawing fracking) would provide a desperately needed shortcut to speedily and significantly lowering greenhouse gas emissions.
George Shea, Studio City
..
To the editor: A big part of the problem with climate change is believing it. It seems preposterous that only parts per million of gases like carbon dioxide and methane can overheat our planet.
It's easy to believe that visible light from the sun can warm our world because we feel its energy every day. But there is more energy in light than just what's visible.
There is dangerous, higher-energy UV, from which ozone protects us. There is lower energy infrared, which is heat. It is infrared energy that excites carbon dioxide and methane over and over, allowing them to warm our world (good in moderation, but dangerous in excess). At even lower energy are microwaves, which can cook your popcorn.
To convince yourself what is actually possible, use your microwave to heat your popcorn for an extra minute. The result is what we are doing to the Earth.
Phil Beauchamp, Chino Hills
..
To the editor: I was disappointed that the article did not emphasize the effect of the thawing of the Arctic tundra on increases in the global average temperature.
The Arctic tundra contains vast quantities of frozen methane, and it is starting to thaw due to the increases in Earth's temperature. That region is warming twice as fast as the rest of the planet.
If we allow the Earth's global temperature to continue increasing by burning fossil fuels, we risk starting an uncontrollable feedback loop in which increasing temperatures cause thawing of the Arctic tundra, releasing methane and accelerating global warming.
Al Barrett, Santa Monica
Follow the Opinion section on Twitter @latimesopinion and Facebook
---
A cure for the common opinion
Get thought-provoking perspectives with our weekly newsletter.
You may occasionally receive promotional content from the Los Angeles Times.