Readers React: PR professionals do not appreciate being called liars or 'flacks'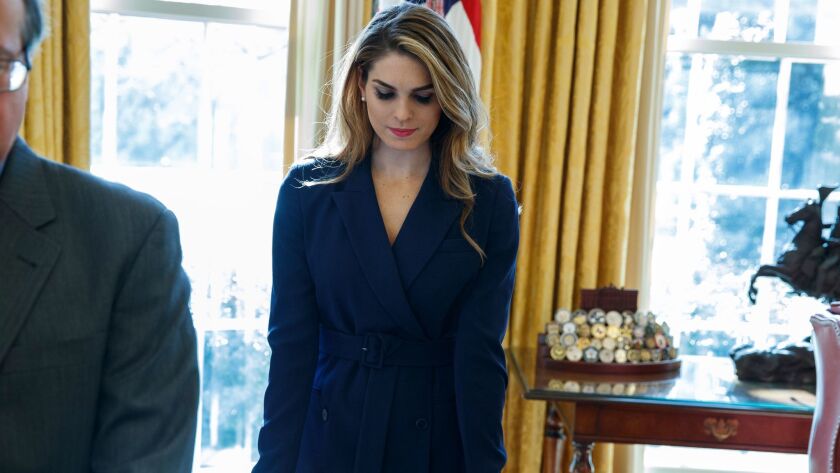 To the editor: Virginia Heffernan's Feb. 2 op-ed article, "Who is Hope Hicks, anyway?" was incredibly rude and disrespectful to the many professional public relations experts who provide story ideas and background information that reporters depend on to put out papers such as the Los Angeles Times.
Especially obnoxious was Heffernan's use of the derogatory word "flack" to describe PR professionals. She also wrote that "lying to the media is traditionally called PR."
It would be interesting to see how the news business would fare if PR people stopped answering media calls for a week. Reporters would be paralyzed without sources for their stories.
Susan M. Tellem, Malibu
..
To the editor: I consider myself a PR professional. I have been in the business for 35 years; I have no degree in the subject, but I have been recognized for my work on a couple of occasions by organizations that I'm a member of.
As such, I must take direct offense at Heffernan's flip final line, "Lying to the media is traditionally called PR." Yes, there are whitewashes and obfuscations, but Heffernan's outlandish statement seems to expose a personal phobia on her part.
I don't lie to the media. My job, as I see it, is to get our information out, relate our story in the best possible terms and be available and responsive when the media have questions. I have huge respect and admiration for the media and the job they do.
Hefferman calling us all liars will do nothing to change that.
Doug Stokes, Duarte
Follow the Opinion section on Twitter @latimesopinion and Facebook
---
A cure for the common opinion
Get thought-provoking perspectives with our weekly newsletter.
You may occasionally receive promotional content from the Los Angeles Times.