Readers React: It isn't sexist to think Rep. Rashida Tlaib's vulgarity is unacceptable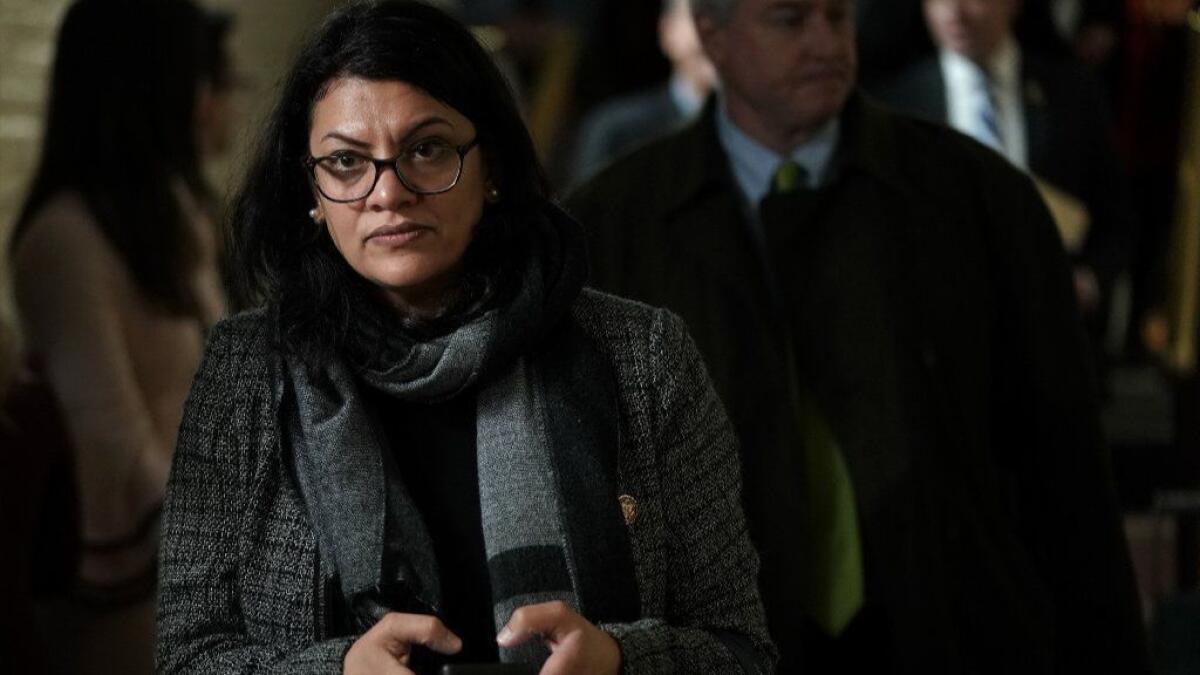 To the editor: No matter how the use of wrongful and inappropriate language is defended or rationalized, it is still unwarranted use of the language by a public figure. I am referring to the indefensible set of words spoken by Rep. Rashida Tlaib (D-Mich.). ("Right-wing blowhards are having a tough time with this whole women-in-power thing in Congress," Opinion, Jan. 4)
Have we entered a new era of our public figures expressing themselves in this manner? The uglier the better? The nastier the cuter? Is this a race to be distasteful because people follow you?
What we are seeing right from the outset for the new Congress is that it is following itself into its own mud puddle. The only question is, how much nastier and sicker is it going to get with these new people leading the way?
I can only hope that this is not what we're in for from the people who have just been sent to Washington. If it is, it will become very clear that our country is really in the midst of a very steep downward slide that will be led by our elected representatives.
Gary M. Barnbaum, Calabasas
..
To the editor: Isn't it the height of irony and hypocrisy when conservatives prudishly lash out at strong women while their own president uses far worse and hopelessly demeaning language?
There is some kind of weird cognitive dissonance here. If I ever had some modicum of respect for this bunch, it's gone now.
Rebecca S. Hertsgaard, Palm Desert
..
To the editor: Heffernan gives Tlaib a big pass for her vulgar language. She cites an actor and author known for similar talk as if this means it's OK. Even House Speaker Nancy Pelosi (D-San Francisco) treats it lightly, maybe not wanting to come under fire from the new and sometimes brash freshman lawmakers.
We bemoan Trump for denigrating our traditions, standards and respectful behavior. For me, a female as liberal as they come, I don't want to hear this kind of language from Trump and certainly not from any member of Congress.
Adults ought to know how be respectful while remaining strong and committed. Tlaib does her cause no service.
Marty Wilson, Whittier
Follow the Opinion section on Twitter @latimesopinion and Facebook
A cure for the common opinion
Get thought-provoking perspectives with our weekly newsletter.
You may occasionally receive promotional content from the Los Angeles Times.