Readers React: If Trump isn't lying, his facts shouldn't need to be 'straightened out'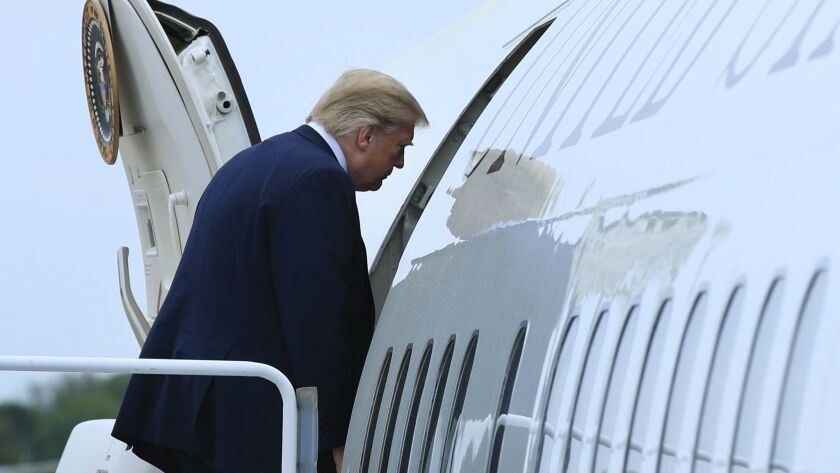 To the editor: So, President Trump said of his lawyer Rudy Giuliani: "He will get his facts straight." ("Trump disputes Giuliani's Stormy Daniels comments, saying 'he will get his facts straight,'" May 4)
The problem with this statement (along with so many others Trump has garbled) is that "facts" equal "truth." There is no need for one to get his facts straight if he is telling the truth. The truth simply is.
According to the Washington Post, Trump made 3,001 false or misleading claims over his first 466 days as president. That was before his latest whoppers regarding adult film actress Stephanie Clifford, a.k.a. Stormy Daniels.
The office of the president of the United States has descended into a hell of Trump's own making — and that, my friends, is a fact that cannot be "straightened out" until he is thrown out of office.
Paula Del, Brentwood
..
To the editor: In saying that Giuliani will "get his facts straight," Trump left out an important word: alternative, a word Trump always associates with facts that do not agree with his own personal views.
Giuliani's statements directly contradicted many of those made by Trump relating to the handling of funds paid to and distributed by his personal attorney Michael Cohen.
It is a sad state of affairs that the only time our president is not lying is when his mouth and fingers are not moving.
Ron Streicher, Pasadena
..
To the editor: Pundits wasted no time criticizing Giuliani for disclosing to the media that Trump reimbursed Cohen for the $130,000 payment to Daniels.
Without the benefit of having all the facts, it is unfair to cast judgment on Giuliani's legal strategy. As is often the case in our practice, lawyers have to choose between two unpleasant options; in other words, we must pick our poison. We weigh the advantages and disadvantages for our clients, and do the best that we can.
Give Giuliani a chance. He is a former federal prosecutor, and this is not his first rodeo.
Louis J. Shapiro, Los Angeles
The writer is an attorney specializing in criminal law.
Follow the Opinion section on Twitter @latimesopinion and Facebook.
---
A cure for the common opinion
Get thought-provoking perspectives with our weekly newsletter.
You may occasionally receive promotional content from the Los Angeles Times.