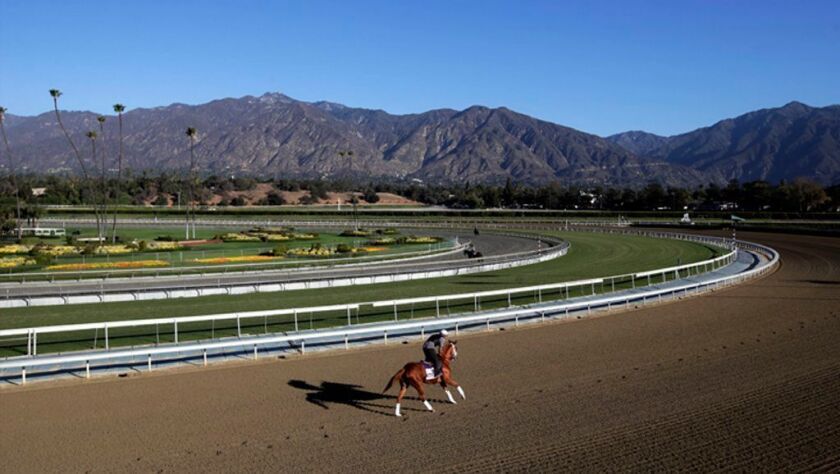 To the editor: I have enjoyed horse racing most of my life. There is a majestic beauty to seeing equine athletes strut their stuff in a picturesque setting such as Santa Anita Park. ("Enough horse deaths. Santa Anita should stop racing for the season," editorial, May 29)
Now comes the rub: Horse racing has never been injury-free. What is the acceptable amount of fatalities? Maybe a three-year average should be made to compare death rates. Then compare that to other tracks. Only then will an alarm ring true.
Statistical clusters and droughts are commonplace. Think about our lack of recent large earthquakes or our plentiful rainfall totals in May. What might the causal factors be? Are there any appropriate corrective actions to be taken? We may never know.
The state of California benefits from every dollar bet at any track. If death-free racing is the goal, then the state needs to be a responsible co-owner, investigate the facts and implement reasonable solutions.
Anything less and it should just plan on phasing us into being a race-free state.
Jim Benson, Altadena
..
To the editor: How can the owner of Santa Anita Park claim its goal is horse welfare, yet continue a practice that, among other horrific results, causes horses to bleed from the lungs when running?
This travesty brings to mind the Los Angeles Zoo's stubborn refusal to allow long-suffering Billy the elephant to relocate to a sanctuary. It comes down to exploiting defenseless animals for human greed.
This is a matter of animal rights, not "welfare."
Ronna Siegel, Van Nuys
..
To the editor: Santa Anita Park is an equine slaughterhouse by another name. Shut it down now.
Susan Hanger, Topanga
Follow the Opinion section on Twitter @latimesopinion and Facebook
---