Readers React: Want to ride a scooter? Upload a selfie first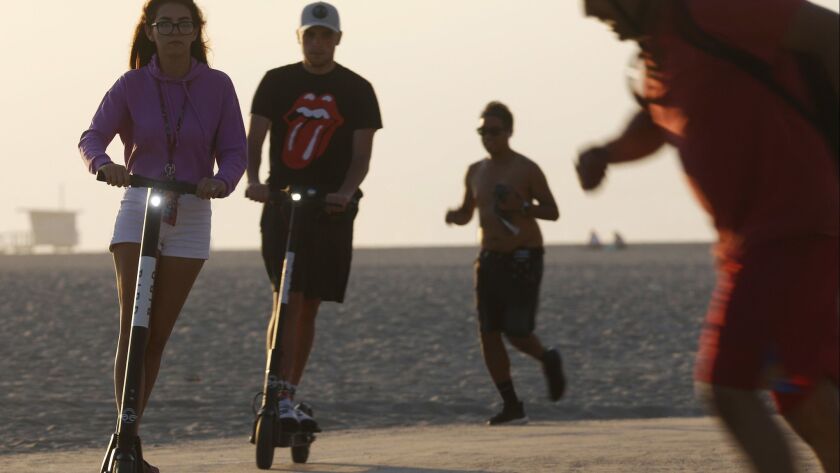 To the editor: The technology-based approach to the enforcement of safety rules on scooter riders proposed by Robert Lempert and Tim McDonald is a much better alternative than simply accepting what these new profit-driven transportation companies have foisted on us.
Here's another technological enchantment that can be added to scooters: It would be relatively easy to insist that before a scooter is unlocked and available for use, an image of the rider's face must be uploaded to the company for validation.
This kind of data collection would support the claim that the scooter company cares about safety, and it would also help deter unsafe practices by riders.
There are costs to implementing these improvements, but done right, there are overwhelming benefits too.
Doc Dougherty, Playa del Rey
..
To the editor: Given the proliferation of dockless, motorized scooters, users should be aware that they likely have no insurance should they be involved in an accident that injures other persons or property.
Standard homeowner, condo owners and rental insurance policies specifically exclude coverage for liability claims arising out of motor vehicles. Standard personal auto policies exclude coverage for liability claims arising out of any vehicle with fewer than four wheels.
In addition, the contracts governing the use of such scooters require that the user indemnify and hold the renting company harmless for any and all claims arising out of the use of the vehicles, except for the company's sole negligence or willful misconduct. Therefore, if a user injures someone and the injured person sues the company, the user must pay the company's entire defense costs and any damage awards or settlement, even if the user is only partially at fault.
Users and renters of such scooters, including motorized bicycles, should contact their insurance providers to arrange coverage before using the vehicles.
William L. Pope, San Diego
Follow the Opinion section on Twitter @latimesopinion and Facebook.
---
A cure for the common opinion
Get thought-provoking perspectives with our weekly newsletter.
You may occasionally receive promotional content from the Los Angeles Times.