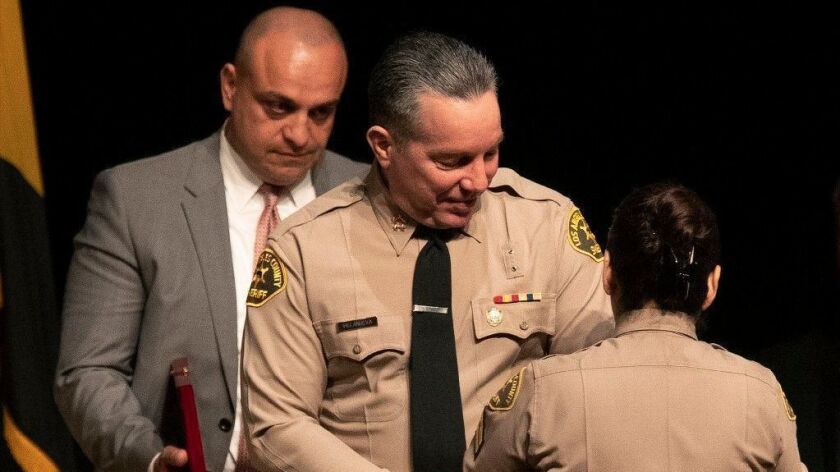 To the editor: Former Los Angeles County Sheriff's Deputy Caren Carl Mandoyan was terminated for cause in 2016. On appeal, he had a full trial-type hearing and his termination was affirmed by the hearing officer and the Civil Service Commission. That decision is final. ("Video shows L.A. Deputy Caren Carl Mandoyan trying to break into woman's home, leading to his firing," March 27)
Newly elected Sheriff Alex Villanueva violated the civil service system by reinstating Mandoyan, his loyal aide during the 2018 campaign. He did this unilaterally, totally in violation of civil service rules, thereby allowing a former deputy whose conduct fell far below any standard for an officer back into law enforcement. Among other problems, this causes substantial liability exposure to the county.
The reinstatement is without authority and is a waste of public funds. Thankfully, the Los Angeles County Board of Supervisors is opposing Villanueva's efforts to reinstate Mandoyan. Every citizen should support the board.
Michael Miller, Los Angeles
The writer is a former hearing officer for the Los Angeles County Civil Service Commission.
..
To the editor: Am I the only one outraged that someone caught on video trying to break into a home or failing to leave someone's residence when requested has been rehired to "protect" us?
Any person caught breaking into someone's home would have been arrested on the spot. This deputy lied and clearly was acting outside of the law, as the video shows.
Mandoyan is not fit to represent us in any public service capacity.
Manuel Padilla Jr., Studio City
Follow the Opinion section on Twitter @latimesopinion and Facebook
---