Readers React: A Democratic House won't save us from two more years of Trump's turmoil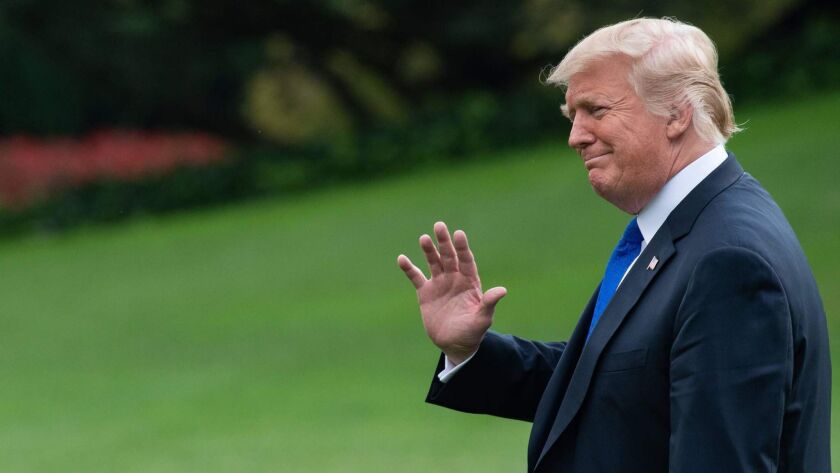 To the editor: No matter what happens this November, it's going to be a rough couple of years for the duration of Donald Trump's presidency.
The spineless Republican leadership has shrewdly avoided direct criticism of President Trump, fearful of his retribution and instability. Democrats (along with the press) have criticized Trump at his every move, with futility and ineffectiveness.
It matters who runs Congress, as The Times Editorial Board says, but even a Democratically controlled Congress is no match for executive power in the wrong hands. Trump will likely respond to congressional resistance by viciously fighting back, as he always does. He will continue to exercise executive power to suit his whims and agenda.
Any attempt by lawmakers at reining in presidential powers will predictably meet presidential vetoes. Impeachment is unlikely to succeed, because a Senate supermajority is required to oust a president.
That leaves us with an inevitable curse: a dangerously dysfunctional administration, filled with strife, until the next presidential election. Let's hope voters never again make this big a mistake.
William Goldman, Palos Verdes Estates
..
To the editor: Your merry band of editorial writers are to be commended for encouraging voters to go to the polls this year.
You state that your plea is not for partisanship but patriotism. Really? Who believes that? There's not one mention of the substantial accomplishments of the current administration. The list is very long and conclusive, but you evidently feel it is unimportant.
I do not like or admire Trump's personal attributes, but you do your readers a disservice not to recognize how much better off we are now than snoozing through the eight years of our last president.
Harold Bond, Studio City
..
To the editor: It appears there was a typo in the last sentence of your editorial. I believe the part about considering "who is running the country" should have been "who is ruining the country."
Linda Shahinian, Culver City
Follow the Opinion section on Twitter @latimesopinion and Facebook
---
A cure for the common opinion
Get thought-provoking perspectives with our weekly newsletter.
You may occasionally receive promotional content from the Los Angeles Times.