Readers React: Trump's refusal to acknowledge the serious threat of election hacking betrays American voters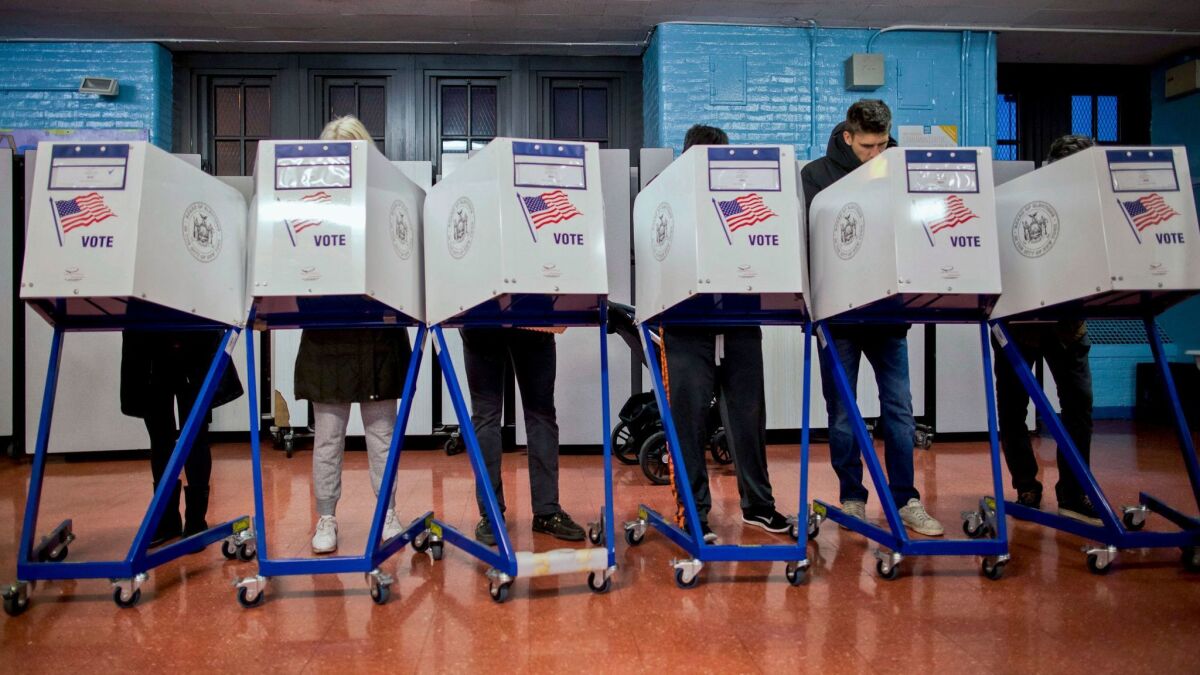 To the editor: It seems President Trump is hopelessly disposed to equating Russian cyberattacks on our democracy with a perceived threat to the legitimacy of his election to the office. With that, the only apparent recourse is for government entities to react against these ongoing assaults independently. ("As foreign hackers plot next attack, Washington struggles to shore up vulnerable voting systems," Feb. 14)
It is tragic that our president refuses to comply with his sworn duties and instead opts to advocate for himself and, perceptibly, for a hostile foreign government at the expense of the will of the people he was elected to serve. Equally, it is frustrating and inexplicable that our president refuses to impose further sanctions on Russia after Congress voted overwhelmingly for him to do so.
Trump's actions smack of betrayal of his fellow Americans. I am befuddled by the notion that the president of the United States is turning his back on, and plugging his ears to, the voice of the people.
So then, we the people are compelled to continue posing the simple and as of yet unanswered question to the president and his political allies: Why do you not have our backs? I suppose we may have to wait for the special counsel to answer for us.
Adam Chacon, Monterey Park
..
To the editor: Election security is a "new concern"?
Over the last two decades, computer scientists, election integrity advocates and Germany's highest court have recognized a basic truth: All electronic vote tabulation systems, including paper-based optical scan systems that are tallied by computers, are vulnerable to hacking or other forms of manipulation.
Fortunately, the defense against this 21st century vulnerability can be found in 19th century technology: hand-marked paper ballots that are "publicly" hand-tallied, with the results posted at each precinct for all to see on election night.
Election integrity can only be achieved via this transparent method that ensures that every lawful vote is accurately counted. Anything else amounts to faith-based voting.
Ernest A. Canning, Thousand Oaks
..
To the editor: This article reports, "Congress has so far balked at providing resources to upgrade voting systems, despite the urging of some of the nation's most influential national security voices" — and despite several bipartisan measures having been introduced.
What might be a better use of taxpayer money? Building a border wall that costs billions of dollars, or spending hundreds of millions of dollars on "new voting machines [that produce] a paper trail that is randomly audited"?
Members of both parties should be falling over themselves to pass comprehensive measures to secure our nation's voting systems.
Susan Savitt Schwartz, Altadena
..
To the editor: With every day it is becoming more and more clear how stunningly successful the Russians were in destabilizing this country and its government.
What isn't clear to me is why our leaders in Washington couldn't see what was happening and come together to respond to the attack; they surely had sufficient warning from the intelligence authorities.
Instead, they have just fed into the narrative by attacking each other.
Zena Thorpe, Chatsworth
Follow the Opinion section on Twitter @latimesopinion and Facebook.
---
Life is stressful. Our weekly mental wellness newsletter can help.
You may occasionally receive promotional content from the Los Angeles Times.