Readers React: What about 70 years of post-World War II peace in Europe does Trump not like?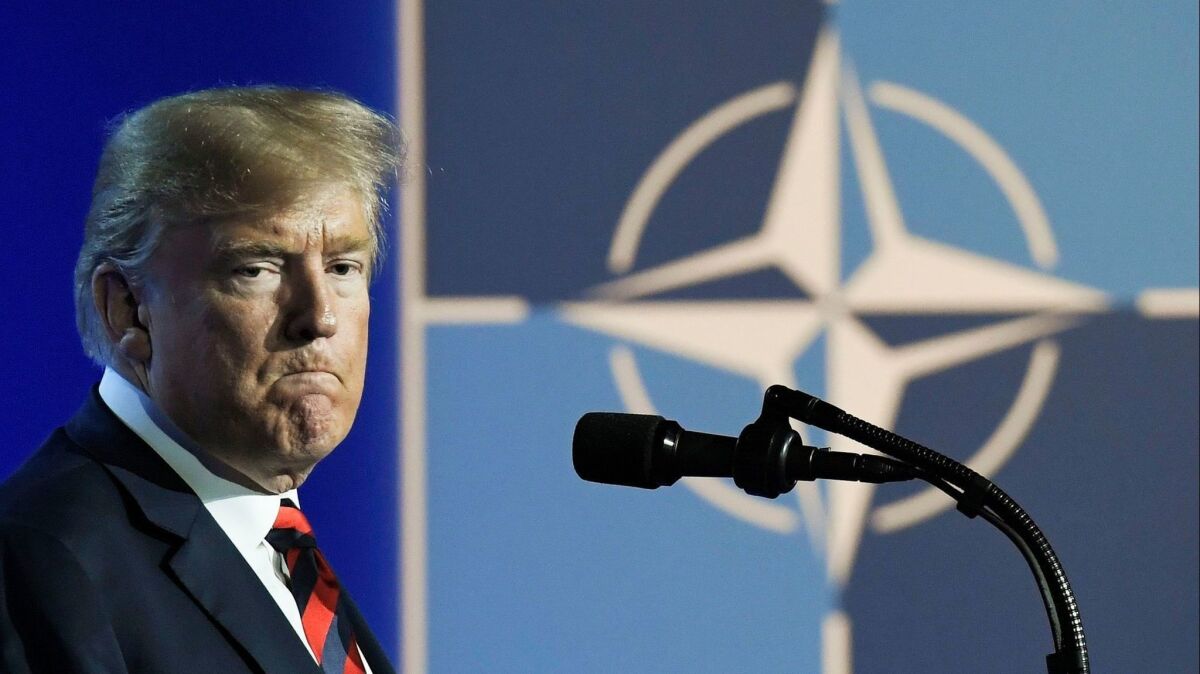 To the editor: The United States has spent some 70 years creating and fostering a trans-Atlantic alliance whose main purpose has been to halt or forestall any sort of Russian aggression. We did this through our membership in the North Atlantic Treaty Organization, a body that helped create a world order based on democratic principles like free elections, free speech and the pursuit of justice — and not the use of force.
Now, in a few short months, the current president of the United States has purposefully and wittingly abrogated those responsibilities. To any objective observer, it would seem President Trump has no inkling of the history or importance of our long-standing commitment to our European allies.
I am not sure whether it is just ignorance on the part of the president, which could be alleviated by listening to his experts on foreign policy; or if it is, to use the words of comedian Ron White, a case of "you can't fix stupid." Either way, the president has surely damaged our relationships with our allies and enabled Russia to pursue a more aggressive foreign policy.
Larry Little, Fullerton
..
To the editor: We Americans have a dangerous habit of not dealing with national problems until they rise to the level of catastrophe. Examples include the 2008 financial crisis and the 9/11 attacks.
We can see now the flashing red lights warning us of another impending catastrophe.
In less than two years, Trump has damaged (perhaps irreparably) crucial relationships with our NATO allies. He has launched asinine trade wars, which both parties agree are potentially disastrous to American workers. He has attacked the free press and other democratic norms.
Trump's shocking embrace of Russian President Vladimir Putin is the loudest alarm of all. If we allow this to continue, we have only ourselves to blame for the consequences.
It has never been easier to obtain our elected officials' contact information. Simply Google a list of all members of Congress and the Senate, and start getting in touch with them. If thousands of us do it, lawmakers will know that perhaps millions of others feel the same way about Trump.
Let's not wait for the catastrophe to occur.
Matthew Singerman, Newbury Park
It is clear to me that Trump bases his strategy on his show "The Apprentice" and the one line for which he was known: "You're fired."
— Susan Jacobs, Studio City
..
To the editor: Franklin D. Roosevelt refused to take in Jewish refugees just before World War II, and he met with Soviet dictator Josef Stalin at the controversial Yalta conference. President Obama went to a baseball game with Cuban President Raul Castro, and everything was great then.
Trump gives a stupid answer in Helsinki, and the sky comes crashing down. Go figure.
Raul De Cardenas, Los Angeles
..
To the editor: The print subheadline of this front-page article read, "Experts sift through the wreckage of the president's European tour for signs of a coherent strategy."
I'm no "expert," but it is clear to me that Trump bases his strategy on his show "The Apprentice" and the one line for which he was known: "You're fired."
Trump fired the Paris climate change accord, he fired the Trans-Pacific Partnership, he fired the Iran nuclear deal, he wants to fire the Patient Protection and Affordable Care Act, and he tried to fire NATO. I thought he was a real estate developer, but all he really knows how to do is tear down.
"The Apprentice" fits him well, as he's clearly an apprentice at his current job.
Susan Jacobs, Studio City
Follow the Opinion section on Twitter @latimesopinion and Facebook
---
Life is stressful. Our weekly mental wellness newsletter can help.
You may occasionally receive promotional content from the Los Angeles Times.