Readers React: This government shutdown is over 215 miles of fencing along a 2,000-mile border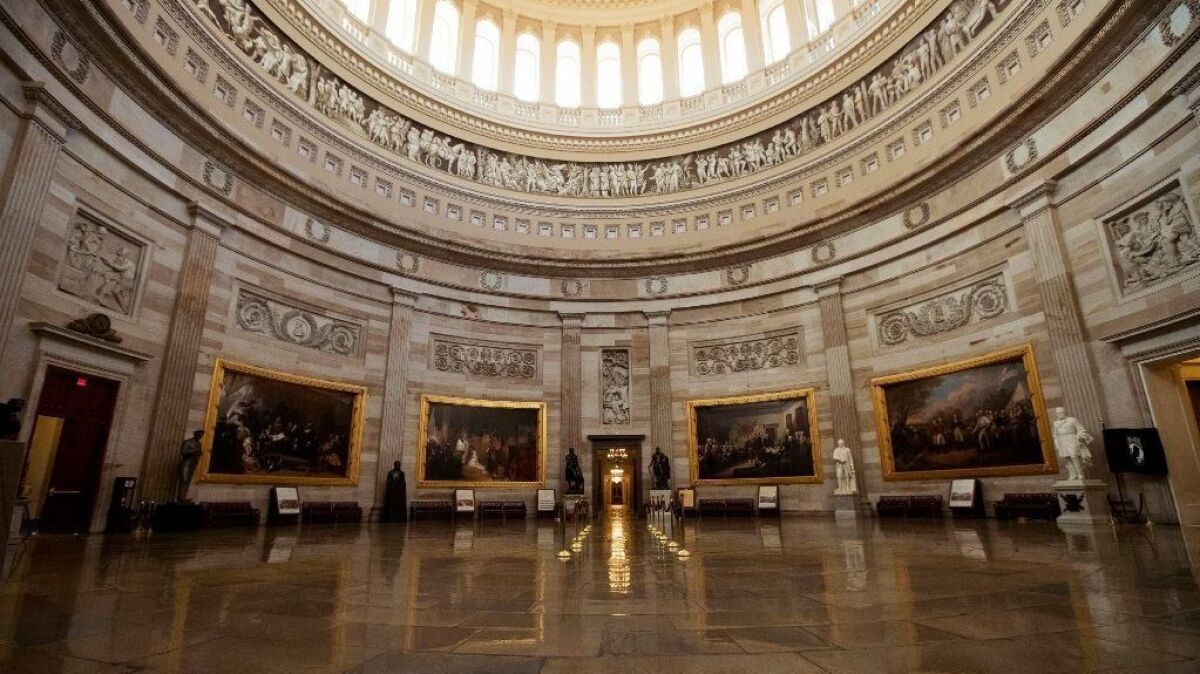 To the editor: The United States government has been partially shut down because President Trump did not get $5 billion to start building his wall along U.S.-Mexico border.
What does $5 billion buy? According to Sen. Ted Cruz (R-Texas), a supporter of this wall, this money would pay for 215 miles of fencing. The land border is 1,954-miles long, and about 700 miles of fencing already exists and is located primarily in border towns and other high-traffic zones. Unfenced areas of the border are in remote regions with much less traffic.
For this minimal increase in questionably effective fencing, the Trump administration is causing a partial shutdown at Christmas time, with all its inconvenience to government workers and the public. A little common sense is in order.
Theodore Ehrlich, Los Angeles
..
To the editor: Trump, who bragged during his campaign he alone could fix the system, now anguishes about the need for border security and has alone shut down the government and hampered the agencies responsible for border security.
Trump previously declared that he would be proud to shut down the government unless he got the funding for his wall, but guess what? He is now blaming the Democrats.
The president was given a spending proposal earlier this month to keep the government open that included $1.6 billion in border security improvements, but he refused to support it after pressure from right-wing conservatives. Trump owns this shutdown.
Richard C. Armendariz, Huntington Beach
..
To the editor: Trump shouldn't be blamed for the shutdown.
Congress is tasked with writing legislation. Sen. Majority Leader Mitch McConnell (R-Ky.) knows this, yet he does not want to force some Republican senators to reveal their true position on border security. Meanwhile, Senate Minority Leader Chuck Schumer (D-N.Y.) criticizes $5 billion for border security now, but in 2013 he supported a proposal for $8 billion to be spent on border fencing.
A government shutdown sounds dramatic, but in reality, everyone who is furloughed gets their back pay when a new budget is approved.
There is plenty of blame to go around for this all too typical Washington gridlock. Trump is doing his job, waiting for members of Congress to do theirs.
Rick Kern, Incline Village, Nev.
..
To the editor: The framers provided a simple solution for a problem like this one: The president's veto can be overridden by a two-thirds vote by each house of Congress.
It is time that the Republicans in Congress recognize their duty to the country exceeds their loyalty to Trump's irrational and insane form of governing. Trump is a sinking ship, and the Republicans need to untie their boats or risk being taken down with him in 2020.
It's time for Republicans to do the right thing.
Paul Weissman, Pasadena
..
To the editor: The shutdown can be laid at least at the feet of the House's so-called Freedom Caucus of right-wing conservatives. Next month, they will be overwhelmed by a surge of 40 new Democrats.
The Republicans' power to wreck havoc on our country will be wiped out. This is their last gasp.
Sandra Perez, Santa Maria
..
To the editor: Whenever I see or hear about Trump's wall, what pops into my mind is the poem "Mending Wall" by Robert Frost. "Something there is that doesn't love a wall" says it all (no rhyme intended).
Julie May, Los Angeles
Follow the Opinion section on Twitter @latimesopinion and Facebook
Our six-week newsletter will help you make the right decision for you and your property.
You may occasionally receive promotional content from the Los Angeles Times.