California too liberal of a state for you? 'Conservative Move' takes you to Texas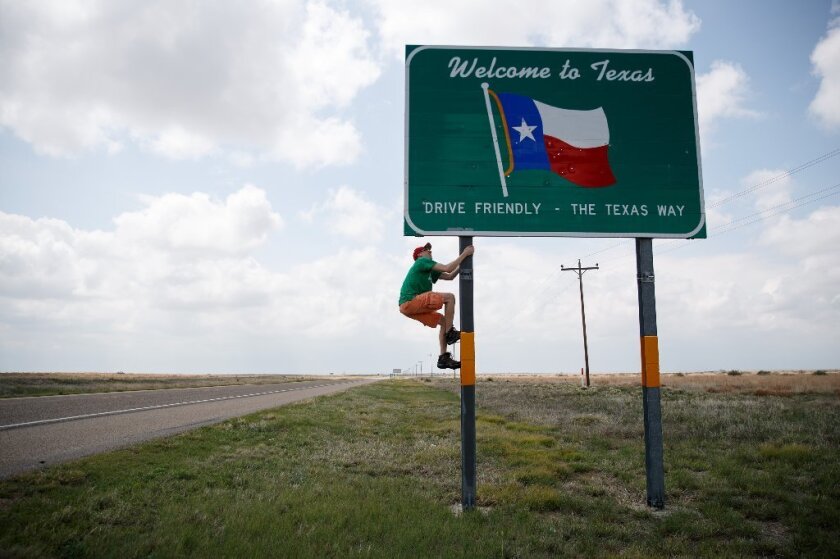 Is the grass greener in Texas or in California?
That debate may be taking a whole new spin with the launch of a new company called "Conservative Move," which is capitalizing on the belief that blue states like California have become too liberal and unwelcoming of conservatives so the solution is to move… to Texas.
"Conservative Move is focused on helping families move to the North Texas region and specifically Collin County, Texas," a short description reads on the site, which touts access to Texas-based Realtors and brokers available to help people sell their homes in their blue states and relocate to Texas.
The site claims Collin County has cities named as some of the "Best Places to Live" with "great schools, good paying jobs and low crime," but the bottom line is clear: it's a home for like-minded conservatives.
Political statement or business opportunity?
Texas is unmistakably more conservative than California, but economics appear to be a driving force behind a mass migration to the Lone Star State in recent years. Lower tax rates have attracted more companies to leave California for Texas in recent years, and the same has happened for families who can't afford housing in California.
One Boston Globe opinion columnist said people are voting with their feet.
Business opportunity aside, "Conservative Move" is also attracting a debate about literally living in political bubbles. Its founder Paul Chabot — a former California Republican who ran unsuccessfully for Congress in 2014 and 2016 before relocating his family to Texas — says he wants to start a conversation around that topic.
Perhaps that conversation has already begun. On social media, California and Texas have become such synonyms for political affiliation that Chabot's idea has attracted mixed reactions. Some welcome the idea, others see it as "not something that needs encouragement."
A Facebook Page for the business has attracted some supporters and Chabot has been busy selling the concept, which he says he wishes would have been available when he moved his family out of California.
"We want to be able to express to people that these areas that are conservative have safer streets, better schools, better-paying jobs, lower taxes," Chabot told NPR affiliate, KPCC. "We hope that this doesn't become divisive, but it becomes a bridge that brings more and more people into this camp that loves faith, freedom, family, God, country and apple pie."
He's also made those points in a Facebook post in which he posted a photo of an event in McKinney, Texas, which sits at the center of Collin County with a caption, "NO gangs. No graffiti. Just strong family values in North Texas."
If the idea is a controversial one, Chabot is not new to being at the center of controversy.
While running for Congress in 2016, Chabot drew attention when he offered to give a "Terrorist Hunting Permit" to those who donated money to his campaign.
Chabot lost to his Democratic opponent Pete Aguilar in the general election by some 26,000 votes, the Press-Enterprise reported in a story about his departure from California, which also noted other prominent Republican candidates who similarly vacated the state, including Carly Fiorina who left for Virginia and Neel Kashkari who left for Minnesota.
And with "Conservative Move," others may join their exodus from California. One question remains: Is the grass greener in Texas or in California?
---
Have some thoughts to share?
Join me in a conversation: Shoot me a private email with your thoughts or ideas on a different approach to this story. As always, you can also send us a tweet.
Email: luis.gomez@sduniontribune.com
Twitter: @RunGomez
Read The Conversation on Flipboard.
---
A cure for the common opinion
Get thought-provoking perspectives with our weekly newsletter.
You may occasionally receive promotional content from the Los Angeles Times.