Commentary: Dodger blue may be the color of your lips on opening day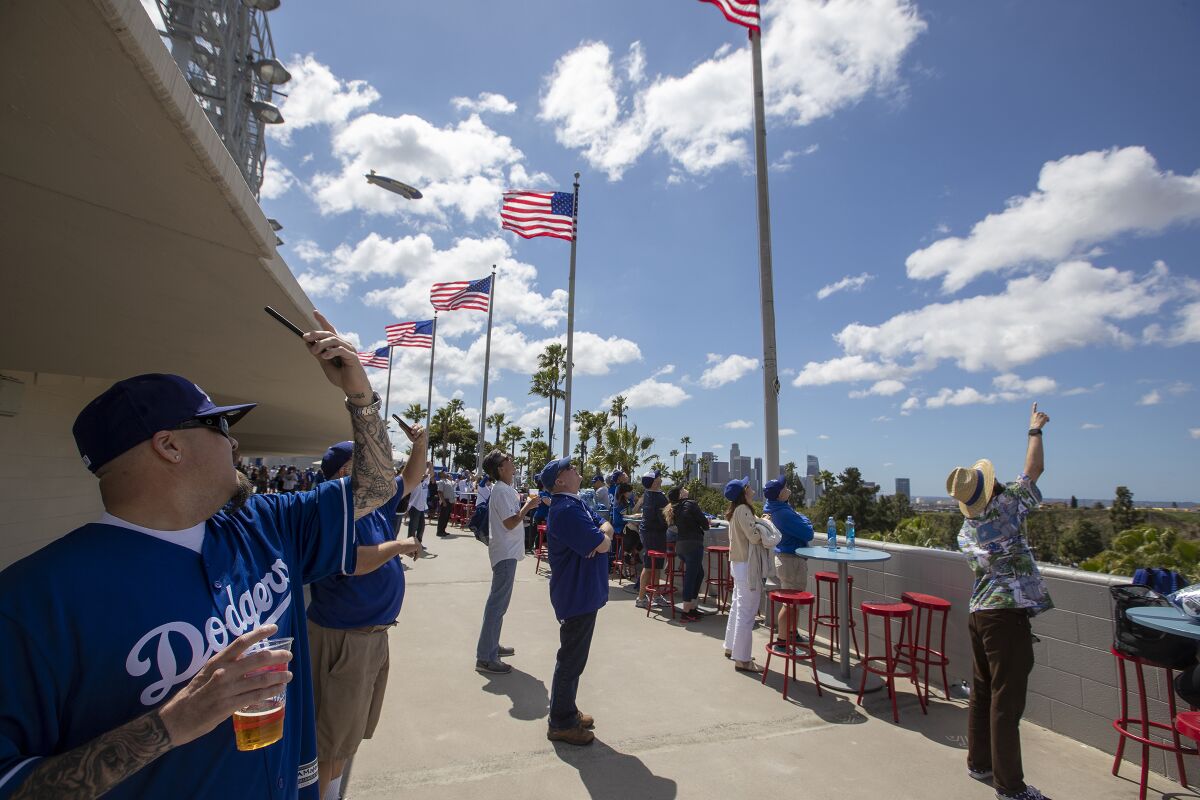 The Dodgers' opening day Thursday will start off with fans dressing in blue for the stadium, revelers descending upon nearby Elysian Park, and … rain.
Seriously?
Even the Weather Channel was surprised, noting in its roundup of forecasts for MLB opening day games that "oddly" rain might be an issue in Southern California, more for the San Diego Padres (who are playing an afternoon opener at Petco Park against the Rockies) than for Los Angeles.
Of course, rare is the Dodgers game that gets rained out. In a statistics-obsessed sport, Dodger Stadium went 1,471 games without a rainout between 2000 and 2018. Most likely the game — a night opener at 7:10 p.m. — will go on. Still, the National Weather Service on Wednesday predicted a "chance of showers and thunderstorms, mainly before noon. Partly sunny, with a high near 59."
To a baseball purist, the idea of timing pitchers and batters was anathema at first. Then I went to spring training.
What a sad little forecast. Damp clouds and chilly air on a day that should herald spring settling in, promising air perfumed by night-blooming jasmine.
Spring has been elusive in Los Angeles this year. Usually, it sashays in around mid-February for a 75-degree sunny afternoon or two, a preview of what will arrive in March. But it's enough to leave us beaming happily, perhaps smugly, shedding our coats and marveling at the one thing this expensive city bestows upon us for free — fabulous weather.
Instead, this year, we have slogged through rainstorm after rainstorm with winds that felled trees, cut off our power and left us shivering in our puffy jackets, stepping over downed palm fronds.
This is not the L.A. I know and offhandedly brag about to friends and family anywhere east of here.
Disappearing groundwater is what drives California's fresh water scarcity, and the Sustainable Groundwater Management Act is the state's only hope for the future.
Opening day for the Dodgers should feel like opening day for spring. Nearby Elysian Park, the traditional site of daylong partying to celebrate the Dodgers' home opener, should be filled with the sounds of banda music and the sizzle of barbecue, not accompanied by the slosh of cars passing on wet roads. Even post-rain means soggy leaves dripping rainwater on you in the park.
This year, the Dodgers open with a night game so it will probably be somewhere in the nippy mid-50s. It's not that the weather has been perfect on every opening day. Last year, the Dodgers' home opener was a night game on April 14. It was 63 degrees downtown shortly before the first pitch at 7:10 p.m.
But for the Dodgers' opener on March 28, 2019, it was 66 degrees, clear and sunny and the Dodgers hit an opening day record of eight home runs, winning 12-5 over the Arizona Diamondbacks.
That's the kind of opening day we want — sunny, warm and triumphant.
With any luck, the Dodgers will win Thursday — again playing the Diamondbacks.
And for the rest of us waterlogged Angelenos, let's hope spring truly arrives ... next week? The week after? Baseball season has started, the hideous fence around Echo Park Lake has come down, and I want to toss my Ugg boots in a closet and my umbrella in the car trunk and forget about them until winter.
Our six-week newsletter will help you make the right decision for you and your property.
You may occasionally receive promotional content from the Los Angeles Times.