Can Mitt Romney and Rick Santorum measure up to Reagan?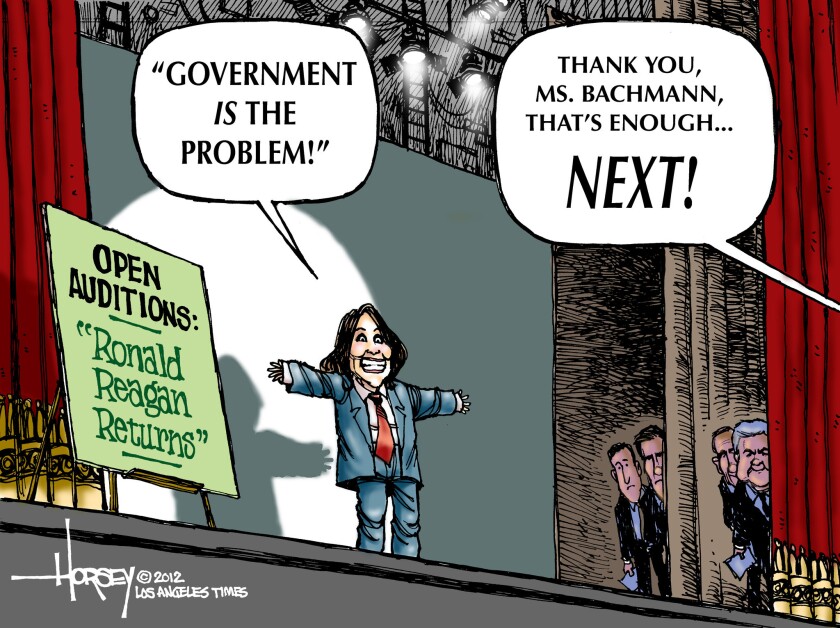 Rick Santorum has stoically deflected the jeers of pro-gay marriage young Republicans in New Hampshire. Mitt Romney jauntily sloughs off Newt Gingrich's daily rhetorical darts. But there is a bigger challenge all the presidential candidates are failing: the Ronald Reagan measure.
Republicans have not yet fallen in love with Romney or coalesced around any of his more conservative rivals because, compared to the iconic Reagan who folks on the right picture in their minds and hold sacred in their hearts, the entire bunch of would-be presidents looks either small or suspect or both.
Last month, I made a pilgrimage to the 40th president's shrine – the Reagan Presidential Library in Simi Valley, about an hour's drive northwest of Los Angeles. Like Reagan's rhetorical "shining city on a hill," the sprawling library and museum is perched atop a small mountain with a spectacular view out across a green, undulating valley filled with horse ranches and backed by ranks of mountains.
The library is an impressive exercise in modern-day mythmaking – and I say that admiringly. Every presidential library presents a warts-removed, positive vision of an individual presidency, but the designers of the Reagan Library have done it with a skill worthy of Disney's Imagineers.
The tour begins with Capra-esque images and tales from Reagan's youth. Then there's a chance to view clips from Reagan's actual movies. Moving on through his early political career to arrival in a vast hall that houses a Boeing 707 used as Air Force One, there is a mounting sense of inevitability, of destiny.
One room holds interactive exhibits detailing Reagan's economic policies that channel the visitor toward one conclusion: laissez-faire economics is the only way to go. A short film showing sunny scenes of American iconography reminds us that Reagan's rise brought Morning in America.
The highest drama is achieved after passing a replica of the Berlin Wall. A big, multimedia show tells a history of Soviet Communism and the Cold War and climaxes with the Great Man standing in Berlin, declaring, "Mr. Gorbachev, tear down this wall!"
As a somber finale, there are scenes and voices from Reagan's state funeral – Margaret Thatcher's tribute, Nancy Reagan's agonized farewell by her husband's coffin, Ron Reagan Jr.'s poignant words at the memorial service held just outside on the library grounds. Visitors are left with a feeling of loss. One of history's giants was once here among us, the library exhibit tells us, and we are not likely to see such a man again any time soon.
How can Mitt or Rick or Newt compete with that? Is it any wonder that every Republican presidential candidate struggles to lay claim to the Reagan legacy?
In 2008, I was at the Reagan Library to watch the GOP candidates' debate just before the Super Tuesday primaries. The contenders paid homage to Reagan with every other breath, talking about him with a reverence that suggested the Gipper was about to descend from on high trailing radiant clouds of glory. It exemplified the way Reaganism has become the one true faith in the Republican church. Every primary season debate, both in 2008 and this year, is essentially an argument among acolytes about whose interpretation of Reaganism is most orthodox.
It does no good at all to point out that Reagan was a mere mortal who frequently deviated from the conservative doctrines that he preached. Just a few days ago, a TV reporter was heckled from the sidelines during an interview with Rick Santorum after she dared to suggest Reagan had actually raised taxes a time or two.
Do Reagan's most ardent followers remember that, as California's governor, he boosted spending on education by 89%, stopped construction of dams on two rivers and signed a bill to protect wild and scenic rivers? I learned about those big-spending, tree-hugging accomplishments at the Reagan Library. (The library skips over the fact that Reagan also signed a very liberal abortion-rights bill.)
And, unlike the uncompromising Tea Party zealots in Congress, Reagan did quite a bit of compromising with Democrats, both in Sacramento and Washington. The single greatest triumph of his administration was, in fact, a grand compromise on nuclear weapons with a known communist.
Reagan famously said that government is the problem, not the solution, and that philosophy is now the core principle of his party. But Reagan also knew he had to govern. As a result, he compromised, made deals, raised debt ceilings and got things done. Iconography and myths aside, that is why he is remembered as a strong president.
The problem with today's Republican candidates is not merely that they lack Reagan's larger-than-life charisma; it is that they are trapped into obeisance to a version of Reaganism that is niggling and narrow. How can they help but look small?
---
A cure for the common opinion
Get thought-provoking perspectives with our weekly newsletter.
You may occasionally receive promotional content from the Los Angeles Times.