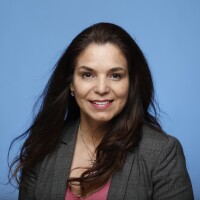 Lorena Iñiguez Elebee is a senior data and graphics journalist at the Los Angeles Times.
Latest From This Author
As dams and global warming push endangered California salmon to the brink, a rescue plan is taking shape — and a tribe pushes for recovering their sacred fish.

Ukrainians have been forced to flee their homes or fight back as Russian forces attack their cities. These photos and maps tell the story.

These teams don't look like they did a few years ago. Here's how the starting lineups were built.

The telescope will be able to peer into the farthest reaches of space. The data it collects will allow scientists to better understand the formation of stars and galaxies.

El Servicio Geológico de California también indica limitaciones en estudios previos citados por los desarrolladores del Hollywood Center como evidencia de la ausencia de una falla.

The California Geological Survey also indicates limitations in previous studies cited by Hollywood Center developers as evidence of the absence of a fault.

At one drive-through graduation, the student walked 6 feet behind a classmate, his family in the car, driving slowly and taking video. The ceremony lasted 10 minutes.

Erecting barriers between nations is nothing new.