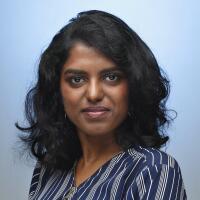 Swetha Kannan is a former graphics and data journalist at the Los Angeles Times. In 2020 she was named a Pulitzer Prize finalist in explanatory reporting alongside colleagues Rosanna Xia and Terry Castleman for a two-part series examining the difficult situation California faces in preserving its coastlines amid rising sea levels. She specializes in animation technology and is always looking to apply her skills in new and engaging ways. Kannan graduated from Carnegie Mellon University with a BFA in fine arts and minors in animation and game design. She grew up in New Jersey and gladly escaped the cold weather to settle in Los Angeles.

Latest From This Author
How Kamala Harris and a new generation are changing the face of politics

California Governor Gavin Newsom is facing a recall election. Take a look at how California counties responded to this COVID-era recall petition.

You've gotten your first COVID-19 vaccination appointment. Try out these scenarios to see if you know how to live post-vaccine.

While other COVID-19 metrics, including new infections and hospitalizations, have decreased in recent weeks, the number of Californians dying each day has remained at, or near, all-time highs.

Five of the highest single-day death tallies for California have been recorded in the last week.

82 people arrested so far after a violent mob of Trump supporters stormed the U.S. Capitol. The search for more suspects continues, authorities say.

Tweets and time stamps offer a timeline of the events that led to a pro-Trump mob storming the Capitol building hours after the president spoke at a rally nearby.

The most comprehensive database of investigations of Los Angeles County police killings ever made public.