Top aide to Hillary Clinton questioned by FBI in email server investigation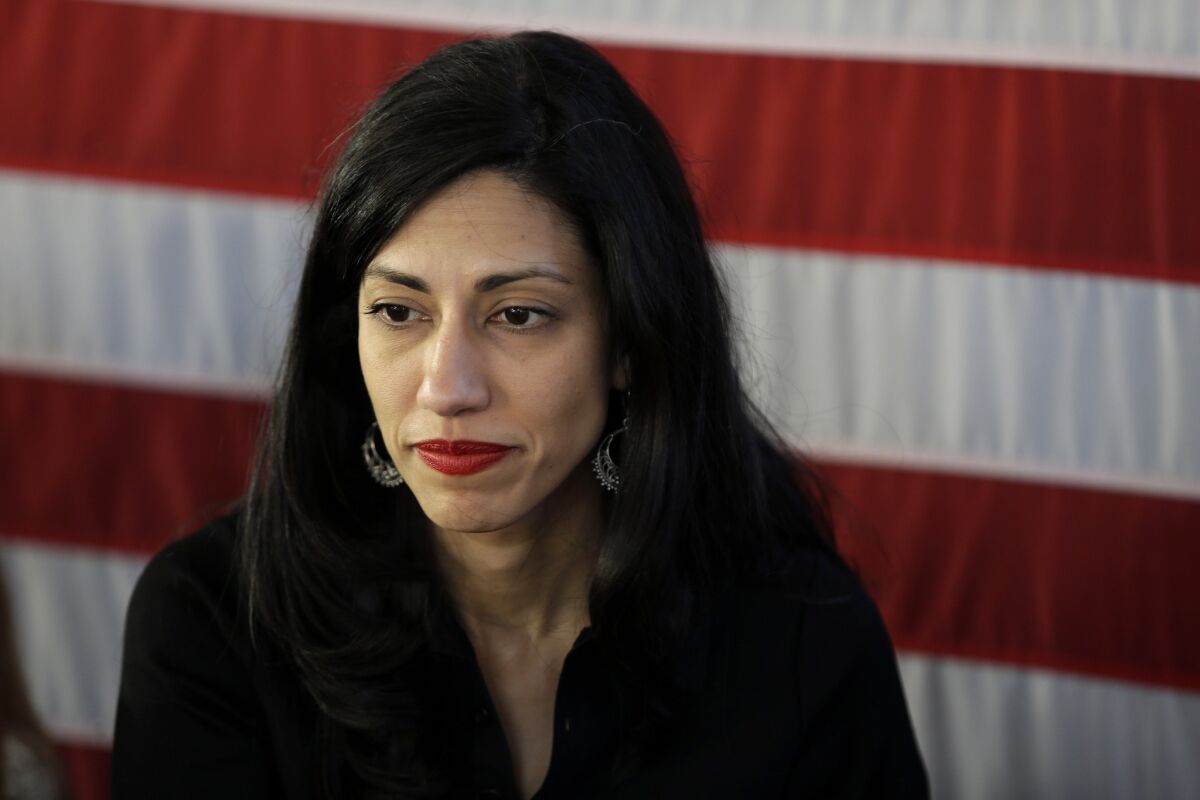 Reporting from Washington —
Huma Abedin, a close aide to Democratic presidential front-runner Hillary Clinton, was questioned last month by FBI agents investigating whether classified material was mishandled on the private email server used by the former secretary of State and her aides, according to a person familiar with the investigation.
Abedin was interviewed for about two hours at the FBI's field office in Washington on April 5, according to the source, who spoke on condition of anonymity because the investigation is ongoing.
Abedin is one of Clinton's longtime confidantes and the interview is the latest indication that FBI agents have completed much of their background work and are nearing a conclusion in the politically sensitive probe.
Abedin's lawyer, Karen Dunn, could not be reached for comment. Mike Kortan, a spokesman for the FBI, did not immediately return phone messages seeking comment.
Clinton said recently that the FBI has not approached her for an interview, but that she would fully cooperate if they do.
Brian Fallon, a spokesman for the Clinton campaign, said she has offered to answer any FBI questions and remains confident that she and her aides acted appropriately.
"From the start, Hillary Clinton has offered to answer any questions that would help the Justice Department complete its review, and we hope and expect that anyone else who is asked would do the same," Fallon said in an email. "We are confident the review will conclude that nothing inappropriate took place."
It could not be determined if other aides have been questioned, or what was the scope of questions Abedin was asked.
Most legal experts, including a number of former federal prosecutors, believe that Clinton faces little risk of being prosecuted for using the private email system to conduct official business when she served as secretary of State.
Using a private email system was not banned at the time, her supporters note, and other senior government officials also have used personal email to transact official business.
The FBI investigation has caused Clinton considerable political pain as Republican rivals insist her use of a private email server should lead to her indictment.
In a statement, Reince Priebus, chairman of the Republican National Committee, accused Clinton of putting national security at risk by using the private email server.
"These FBI interviews are another reminder of the gross negligence Hillary Clinton displayed as Secretary of State when she set up an off the books email server that exposed classified information on thousands of occasions," he said. "This reckless attempt to skirt government transparency laws put our national security at risk, and underscores just how big of a risk a Hillary Clinton presidency truly is."
As investigators interview Clinton aides, they will try to verify information and look for inconsistencies.
The primary question is whether Clinton or her aides distributed classified material in email systems that fell outside the department's secure classified system.
Even if prosecutors determine that she did, the chances that she will be found criminally liable are low, experts say. Federal law makes it a crime only if someone knowingly or willfully retains classified information, handles it in a grossly negligent manner or passes it along to someone not entitled to see it.
"Based on what we know now, it is extremely unlikely that Clinton will be charged for mishandling classified materials," said Steven Levin, a former federal prosecutor in Maryland who handled cases involving classified information.
"For a prosecutor to bring a case, even a misdemeanor, against such a high-profile target of a criminal investigation, he or she would want to have overwhelming evidence of guilt. To date, we have yet to see that kind of evidence as significant questions remain about what materials were classified at the time, whether Clinton knew any materials were classified, and whether Clinton mishandled any classified materials with a bad purpose in mind. "
ALSO
Clinton is campaigning and raising cash in California
House Speaker Paul Ryan 'not ready' to support Donald Trump
Mitt Romney joins list of Republicans who plan to sit out GOP convention
---
UPDATES:
3:45 p.m.: This article was updated with a comment from the Republican National Committee chairman.
The first version of this post was published at 2:03 p.m.
Get our Essential Politics newsletter
The latest news, analysis and insights from our politics team.
You may occasionally receive promotional content from the Los Angeles Times.