Senate investigators may seek Rohrabacher testimony about his meeting with WikiLeaks founder Julian Assange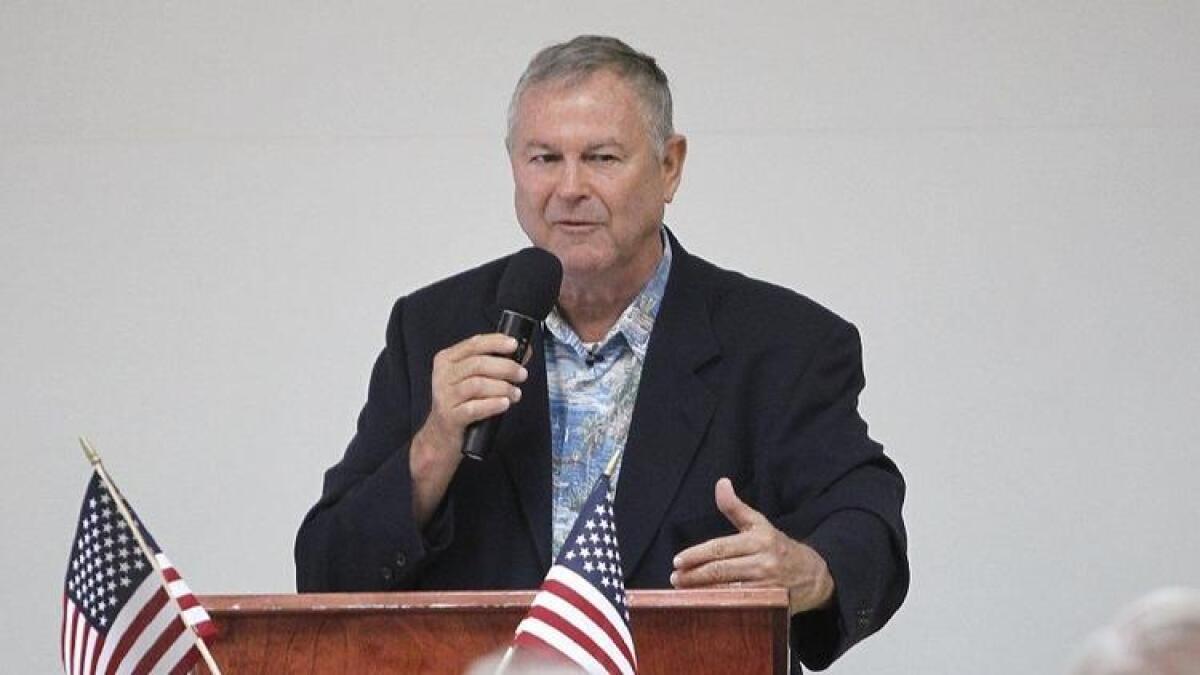 The Senate Select Committee on Intelligence might want to talk with Orange County Rep. Dana Rohrabacher about his meeting this month with WikiLeaks founder Julian Assange.
CNN reported Thursday that two sources confirmed that the committee members are deciding if they will call on Rohrabacher (R-Costa Mesa) to testify as part of its ongoing investigation into Russian attempts to influence the outcome of the 2016 election and what the Trump campaign might have known. It's one of several congressional investigations into the issue.
In a statement to the Los Angeles Times last week, Rohrabacher said that during his meeting with Assange at the Ecuadorean embassy in London, the fugitive "emphatically stated that the Russians were not involved" in the theft of Democratic National Committee emails during the 2016 presidential campaign. The emails were published by WikiLeaks and put Democratic nominee Hillary Clinton on the defensive for much of the campaign. The belief of the majority of U.S. intelligence agencies is that Russia played a role in stealing and leaking the emails.
Rohrabacher said on Sean Hannity's radio show earlier this week that a "rendezvous" is being set up with President Trump so the congressman can tell him more about what he learned from Assange.
Rohrabacher's spokesman, Ken Grubbs, said "he's not yet been contacted by the Senate Intel Committee, but will be happy to talk with them after he's talked with President Trump."
The House Democratic campaign arm jumped at the CNN report, with spokesman Tyler Law saying in a statement that Rohrabacher "has no business chairing the Foreign Affairs Subcommittee that oversees Russia." They called on House Foreign Affairs Committee Chairman Ed Royce (R-Fullerton) to strip his colleague of his subcommittee post.
Democrats are hoping to oust Rohrabacher and Royce in 2018.
Royce has given Rohrabacher, and his at-times-outside-of-the-Republican-mainstream views toward Russia, a lot of leeway over the years. He has stepped in occasionally, including halting a planned hearing over the Russia sanctions that led the country to ban adoptions to the United States, and squashing Rohrabacher's plans to visit Russia last spring as the House and Senate investigations heated up.
Rohrabacher's interest in improving relations with Russia has been long-known in Congress, and the Republican has previously told The Times that he sees his continued role leading the House Foreign Affairs Subcommittee on Europe, Eurasia and Emerging Threats as proof his colleagues don't demean his view.
"I have no complaints that my colleagues have in any way shut me out of consideration of what I'm saying or belittled me for taking a position that is clearly not the position of the vast majority of the establishment of our country," he said in a February interview. "If they wanted to be unfair to me, all they would have to say is, 'Well, we don't like your point of view and this is an important job, you're not going to be the chairman anymore,' and that's not happened."