'My reputation is destroyed': Former state Sen. Ron Calderon sentenced to 42 months in prison in corruption case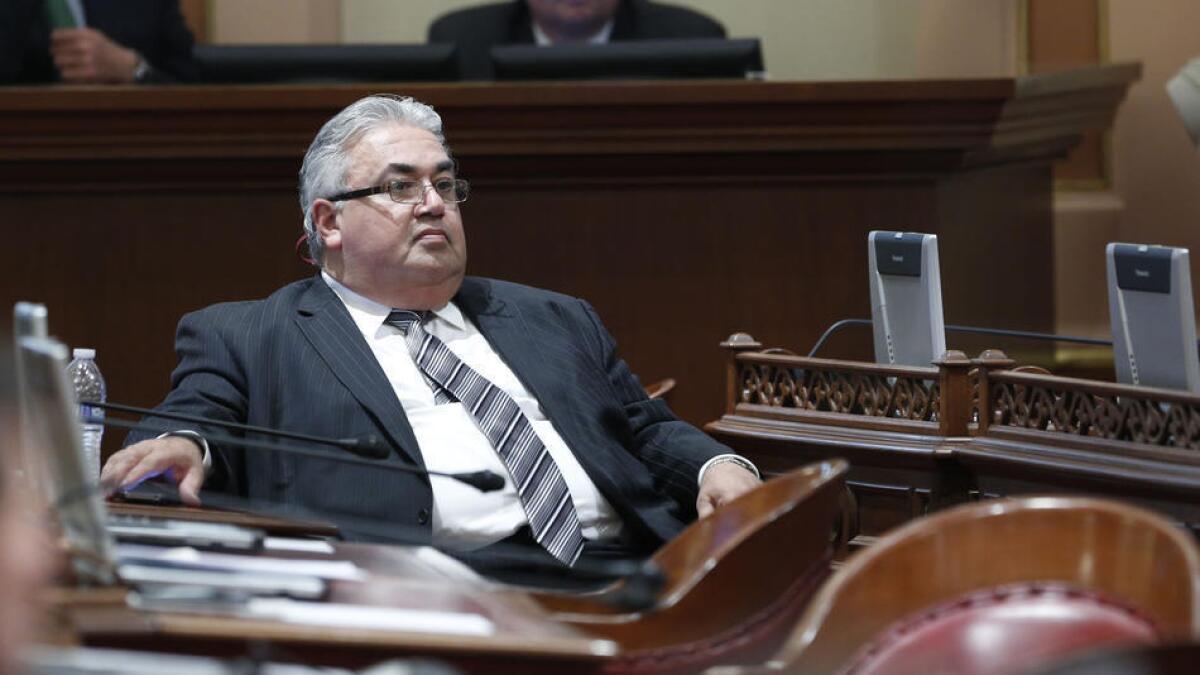 Former state Sen. Ronald Calderon, once the most powerful member of a politically influential family, was sentenced Friday in Los Angeles to 42 months in prison after he pleaded guilty in a federal corruption case.
The Montebello Democrat, who served in the state Senate for eight years ending in 2014, admitted in a plea deal in June that he had accepted tens of thousands of dollars in bribes from undercover FBI agents and a hospital executive in return for official favors.
Federal prosecutors had asked for a five-year sentence for a charge for which the maximum possible penalty was 20 years. U.S. District Judge Christina Snyder, who handed down the sentence to Calderon, said five years was too severe but that a significant prison sentence was needed to punish Calderon and send a message to other elected officials that corruption will not be tolerated.
"The crime is significant," she said during the court hearing. "This is a true public corruption case."
In addition to three and a half years in prison, Calderon was sentenced to one year supervised release and 150 hours of community service, but no fine. Instead of having Calderon taken into custody immediately, Snyder granted him a reprieve, allowing him to surrender to prison officials in January.
"Mr. Calderon betrayed the public trust," said U.S. Atty. Eileen Decker. "A basic premise of our society is that elected officials will not exchange their votes for monetary gain and that's what Mr. Calderon did."
Mark Geragos, Calderon's attorney, suggested during the court hearing that his client should serve no time in prison. He alleged that the government had entrapped Calderon and raised the former lawmaker's poor health. The former state senator's legacy has been ruined by his guilty plea in the case, he added.
"This is going to be the opening paragraph of his obituary, unfortunately," Geragos told Snyder.
When Snyder rebuffed Geragos' appeal and said Calderon needed to spend some amount of time behind bars, Geragos switched tactics, asking her to consider a two-year sentence.
Striking a defiant tone throughout, Calderon, 59, refused to admit any wrongdoing or to apologize.
"My goal was always to do the right thing for California," he said. "At no point did I intend to break the law."
Faced with the prospect of going to trial on nearly two dozen charges that could have sent him to prison for many years, Calderon said he had been put in a "tough situation" when the government proposed its plea agreement.
He said he ultimately decided to plead guilty to one count of mail fraud in order to spare his family the ordeal of a trial, but persisted in his innocence, saying he never agreed to any quid pro quo to benefit himself or his family.
Calderon, his voice wavering with emotion at times, then told Snyder of the toll the case has taken on him and his family, saying he had "learned a hard lesson."
Unemployed and tens of thousands of dollars in debt, he said he was not only banned from running for public office again but had been stripped of his real estate license and had been unable to get a job. His wife, he said, would likely have to declare bankruptcy and sell their house.
"I had so much potential for life after politics," he bemoaned.
Professional relationships had been ruined as had his relationship with his brother, he said.
"My reputation is destroyed," Calderon said.
Snyder was unmoved.
"I did not really hear Sen. Calderon accept responsibility or apologize," she said. "It was really about himself."
Snyder said that after listening to Calderon she was tempted to tack on several months to his sentence, but chose to stick with the 42 months.
Calderon learned his fate a month after his brother former state Assemblyman Tom Calderon was sentenced to a year in federal custody for laundering bribes taken by his brother.
As part of the plea, Ronald Calderon admitted accepting trips to Las Vegas, jobs for his adult son and daughter and cash for him and Tom Calderon.
In exchange, Calderon advocated for legislation that would help a hospital owner. He also acknowledged that he had pushed for a law to give tax credits to independent films while an undercover FBI agent posing as a film producer showered him with bribes.
Assistant U.S. Atty. Mack E. Jenkins wrote a blistering brief urging the federal judge for a prison sentence for the former state senator, who had asked to be allowed to serve time in home detention or be released after the brief time he already served in jail.
"Here, defendant's trafficking in his legislative votes (for, by contrast, over $150,000 in benefits) caused a reverberation of negative effects throughout California and put a stain not just on his career, but on the reputation of the state legislature," Jenkins wrote.
"Here, defendant sold his vote not just to help pay for the expenses of living beyond his means, but for the more banal and predictable aims of corruption — fancy luxuries, fancy parties and fancy people," Jenkins wrote, attaching to the file a photo Calderon took with rappers Nelly and T.I. at a Las Vegas event.
The Calderon family was a political dynasty for decades in California. A third brother, former Assemblyman Charles Calderon, was not implicated in the corruption scandal. Ronald Calderon's nephew Ian Calderon is a state assemblyman and the last family member in state elected office. He was not alleged to have any part in the scheme.
The indictment of Ronald Calderon in 2014 was part of an ugly chapter for the state Senate, which saw two other members also suspended after being charged with crimes.
Former Democratic Sen. Leland Yee of San Francisco was sentenced in February to five years in prison for doing political favors in exchange for campaign cash in a separate scheme. Former Democratic state Sen. Roderick D. Wright served a brief jail sentence in 2014 after he was convicted of eight felony counts, including perjury and voting fraud, for lying about living in his state Senate district.
Senate President Pro Tem Kevin de León (D-Los Angeles) said Friday that with the sentencing of Calderon, "the Senate can close the book on a very dark period in its history.
"But its lesson will not be forgotten — that those who seek to trade a sacred trust for self-enrichment will be disgraced and punished," he added. "There is no room for corruption in this house of democracy.
Good government advocates, including Kathay Feng of California Common Cause, were generally supportive of the judge's decision. "The sentence of three [and a half] years sends a message that bribery does not pay," Feng said.
Assemblywoman Cristina Garcia (D-Bell Gardens), whose district overlapped Calderon's and who had been first to call on Calderon to resign, said, "Today, our community received some justice for his crimes," She added that the "dark cloud over our community will live with us longer than" Calderon serves in prison.
Patrick McGreevy reported from Sacramento and Joel Rubin reported from Los Angeles.
patrick.mcgreevy@latimes.com; joel.rubin@latimes.com
Follow @mcgreevy99 and @joelrubin on Twitter
ALSO
Sen. Ron Calderon surrenders to authorities in corruption case
Ex-Assemblyman Tom Calderon is sentenced to a year in federal custody in bribery case
Former state Sen. Ron Calderon's guilty plea in corruption case marks blow to political dynasty
---
UPDATES:
4:30 p.m.: This article was updated with additional quotes.
Get our Essential Politics newsletter
The latest news, analysis and insights from our politics team.
You may occasionally receive promotional content from the Los Angeles Times.