Actor Rob Lowe says a tax board member made an anti-Semitic comment
Hollywood actor Rob Lowe has alleged that the former chairman of the state tax board made an anti-Semitic comment in a meeting held last year with Lowe's wife and attorney to discuss a dispute over a tax bill.
The meeting was held with Jerome Horton, then the chairman of the state Board of Equalization, to discuss Horton's opposition to a board decision that reduced a tax bill Lowe owes on the sale of his Montecito mansion for $25 million in 2005.
Lowe's attorney, Mark Bernsley, warned the board Monday that he is reviewing possible legal action over public comments in which Horton implied Lowe underpaid his taxes.
Lowe, in an email obtained by The Times, told a board staff member that he was offended by comments Horton made to his wife, actress Sheryl Berkoff.
"In the presence of his (Horton's) staff and my council, in a closed door meeting, he asked my Jewish wife if she 'Jewed down' the contractors who built our house," Lowe wrote. "Appalled, we asked him to explain his comment. He doubled down, saying, 'C'mon. You know what I'm saying. Did you Jew them down? You must have.' "
Horton, who continues to serve as an elected member of the board, disputed the allegations.
"Theirs is a misrepresentation of the facts," he said. "I am a lifetime supporter of Israel and related issues. This is about them wanting a 12 million (dollar) tax break which I thought they were not entitled to and I stand by my decision."
Horton was replaced as board chairman last week by Fiona Ma, who said Monday: "I was not at the meeting. However, I believe he should apologize if he made those remarks."
Lowe said he plans to pursue the matter.
"As the Anti Defamation League's Man Of The Year two years ago, I will be bringing these statement [sic] to their attention and weighing other options to combat this virulent and unapologetic anti-semitism in the people of California's Board Of Equalization," Lowe wrote.
Seth Brysk, central pacific regional director of the Anti-Defamation League, voiced concern Tuesday although he said his group has no independent corroboration about the allegations.
"If the allegations are true, we are disturbed by the comments and their blatant anti-Semitic stereotypes," Brysk said in a statement. "We have confidence that the Board of Equalization will investigate these claims and take appropriate action."
Bernsley confirmed in an interview that legal action is being considered. In an email to board staff, the attorney said Horton's criticism of the settlement of the tax dispute has taken on new meaning.
"Malice is certainly evident from Mr. Horton's anti-Semitic comments informally reported to the board immediately after they were made at our ex parte meeting with Mr. Horton," Bernsley wrote.
Leader of congressional Asian group disappointed in Oscars joke
Rep. Judy Chu (D-Monterey Park), chair of the Congressional Asian Pacific American Caucus, said in a statement Monday that she is disappointed Academy Awards host Chris Rock used Asian children as the punchline of a joke Sunday night.
In Rock's skit involving the tabulation of Academy Awards votes, he introduced the would-be PriceWaterhouseCoopers representatives overseeing the count.

"They sent us their most dedicated, accurate and hard-working representatives," he said. "Please welcome Ming Zhu, Bao Ling and David Moskowitz."
Three Asian children dressed in suits and carrying briefcases walked toward center stage. When the crowd barely responded, Rock added: "If anybody's upset about that joke, just tweet about it on your phone that was also made by these kids."
The skit drew outrage on social media immediately.
"It is not right to protest the exclusion of one group by making jokes at the expense of another," Chu said. "While much attention was paid to the way African Americans have been ignored by Hollywood, true diversity must include other minorities as well. It is outrageous that the only role that Asian Americans had at last night's Oscars was to appear as the butt of a joke."
MCO tax package passes Legislature
With a less-close-than-expected decision in the Assembly, the package of bills involved with a new tax on healthcare plans has passed the Legislature.
Here's how the final decision went down:
One GOP senator jumps on board the MCO tax
The Legislature has begun discussing a new tax on healthcare plans this afternoon. For the measure to pass, according to our Melanie Mason, at least one GOP senator and three Republicans in the Assembly will have to vote yes. 
It looks like we already have that one GOP Senate vote.
MCO 101: A primer on today's tax vote
The debate over a new tax on healthcare plans — a lengthy, wonky affair that has consumed the Capitol for months — may finally come to a close on Monday.
Legislators are scheduled to vote on a package that will overhaul a tax on managed-care organizations, in an effort to secure more than $1 billion in federal money to help pay for Medi-Cal, the state's public healthcare program for the poor.
Here's everything you need to know about the complicated plan known in Sacramento shorthand as the "MCO" tax.
Torch-passing in San Jose
Outgoing Assembly Speaker Toni Atkins posted this tweet as the torch-passing celebrations continue. 
Anthony Rendon officially becomes Speaker on March 7.
Melanie Mason sat down with Atkins for an exit interview. She shared her regrets and triumphs, and what it's really like working with Gov. Jerry Brown.
California judge nominated to U.S. 9th Circuit Court of Appeals
President Obama has nominated U.S. District Judge Lucy Haeran Koh to serve on the U.S. 9th Circuit Court of Appeals.
Koh has served as U.S. district judge for the Northern District of California since 2010. The Senate confirmed her then by a 90-0 vote.
Koh has presided over several major Silicon Valley cases, including approving a $415-million settlement in September to end a lengthy legal saga over allegations that several technology companies conspired to prevent their workers from getting better job offers. She also presided over patent battles between Apple and Samsung over the iPhone.
In a statement praising the nomination, Sen. Dianne Feinstein said that, if confirmed, Koh would be the first Korean American woman to serve on a federal appeals court.
"Lucy Koh has excelled in her role as a District Judge for the Northern District of California, and I'm so pleased she is being nominated to the 9th Circuit," the California Democrat said in the statement.

Rep. Michael Honda (D-San Jose) called Koh "a leading jurist who knows, and deeply understands, the complexities of an emerging body of law that addresses the challenges of Silicon Valley and a new world of technology."
Koh would replace Judge Harry Pregerson, who at 92, announced plans to step down over the summer.
Koh graduated from Harvard Law School in 1993 and worked for the Senate Judiciary Committee and the Department of Justice before serving as an assistant U.S. attorney in the Central District of California from 1997 to 2000.
In private practice, she worked as a senior associate in the Palo Alto office of Wilson Sonsini Goodrich & Rosati and as a partner in the Palo Alto office of McDermott Will & Emery LLP.
In 2008, Gov. Arnold Schwarzenegger appointed her to the California Superior Court for Santa Clara County.
Koh is married to California Supreme Court Associate Justice Mariano-Florentino Cuéllar.
"Judge Lucy Haeran Koh has distinguished herself as a first-rate jurist with unflagging integrity and evenhandedness. I am grateful for her service to the state of California and look forward to adding her considerable wisdom and experience to the Ninth Circuit Court,"
President Obama in a statement on her nomination.
Orange County Rep. Loretta Sanchez sides with Apple in iPhone dispute with FBI
Rep. Loretta Sanchez, a Democratic candidate for U.S. Senate, on Thursday said she supports Apple's decision to fight a federal court order to unlock the iPhone of a terrorist involved in the deadly attack in San Bernardino in December.
Sanchez, a member of the House Armed Services Committee and House Homeland Security Committee, said the legal fight raises complex issues that Congress, not the courts, is better equipped to investigate.
"I fully support Apple's decision to fight the court order through the judicial process AND I believe Congress must address the broader policy issues raised by this case," Sanchez said in a statement released Thursday evening.
The congresswoman questioned whether compelling Apple to open a "backdoor" into the terrorist's encrypted cellphone would create vulnerabilities that could be exploited by hackers as well as "hostile governments and even ISIS itself."
"If we can order Apple to create a backdoor, what happens when China does the same?" Sanchez said.
Her statement comes a day after state Atty. Gen. Kamala Harris, her top rival Democrat in the Senate race, told reporters that she was not going to pick sides in the dispute between Apple and the federal government.
"We want law enforcement to have access to the material that we need to be able to save lives ... but the issue is also what we are going to do in terms of policy going forward," Harris said, according to the Associated Press.
The federal court order requires Apple to write new software to allow FBI agents to circumvent the phone's security features. The phone belonged to Syed Rizwan Farook, one of two assailants in the Dec. 2 attack in San Bernardino that killed 14 people.
Last week, Sanchez also addressed the Apple iPhone dispute during a campaign event in Northern California.
According to the San Francisco Chronicle, she appeared to suggest that Apple could open the iPhone without creating a backdoor on other phones:
"We have to respect individual privacy. No one can come and search your house without getting a court supported warrant. Likewise, the government cannot peek into people's phones. The answer is that Apple can open this one phone for the information without giving the government a backdoor to everyone's phone."

Brown asks California Supreme Court to greenlight parole initiative
Less than 24 hours after a judge blocked his ballot initiative on overhauling prison parole, Gov. Jerry Brown has asked the California Supreme Court to intervene.
Brown formally filed his appeal with the state's highest court on Thursday afternoon. The appeal is an emergency petition, the governor's only chance to quickly get his proposed ballot measure cleared for gathering voter signatures.
On Wednesday, a Sacramento judge ruled Atty. Gen. Kamala Harris had improperly allowed Brown to add amendments in late January -- provisions to revamp the rules for granting parole to some prisoners convicted of nonviolent crimes -- to an existing initiative that dealt with juvenile justice.
Judge Shellyanne Chang said that the 2014 state law allowing amendments to be made to pending initiatives also was designed to allow for public comment. Brown's changes were made after the public comment period ended.
It's unclear when the state Supreme Court will act. Political consultants who specialize in ballot initiatives have said any measure aimed for the Nov. 8 election will risk missing the ballot if its signatures aren't turned in to elections officials by early May.
Best way to increase voter turnout? Elections officials trade notes in L.A.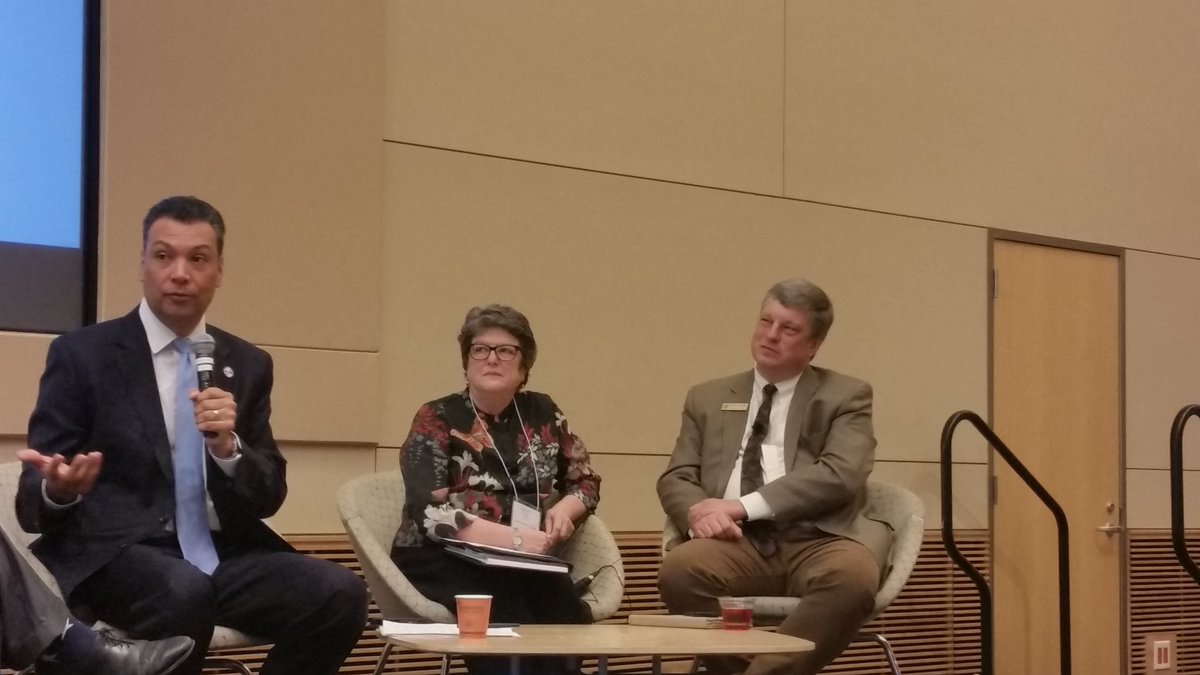 California Secretary of State Alex Padilla was joined by his counterparts from Colorado and Oregon on Thursday to discuss ways to get more voters to the polls.
Padilla credited moves in both states with helping inspire election law changes in California.
The state's new "motor voter" law, for example, took cues from a similar measure signed into law in Oregon last year.
And a pending proposal, SB 450, which would automatically mail a ballot to every registered voter in the state and set up centralized voting centers in each county, drew inspiration from similar systems in Colorado, Padilla added.
Padilla said it's up to California, which has a much larger, diverse population, to prove that it can implement such policies effectively.
"If we can do it here, there's no longer any excuse for any other state in the nation to say they can't do it," Padilla said after the event.
Discussions about how to boost voter turnout have been especially urgent in Los Angeles County, which saw only 10% of voters turn out to the polls for a municipal election last March. 
House Republican tries to raise cash with Supreme Court warning

In a campaign fundraising email Thursday, Rep. Mimi Walters (R-Irvine) referenced the dispute about filling the Supreme Court vacancy left by the death of Justice Antonin Scalia.
"In the wake of Supreme Court Justice Antonin Scalia's tragic death, President Obama has wasted little time before announcing that he is determined to force the issue and push for a replacement," it reads. "That's really too bad -- if not, unfortunately, surprising. Barack Obama is determined to put his stamp on the Supreme Court once more -- with yet another radical liberal judicial activist appointment."
The Senate considers and votes on presidential nominations, and House members have no say. Senate Republicans have vowed that they will not consider any nominee for the Supreme Court that Obama puts forth.

It's been more than a hundred years since an opposition party has approved a president's nominee during an election year -- for good reason.
That's why I will oppose any new Obama nomination -- and I stand strong in support of my Republican colleagues in the Senate who are determined to resist President Obama's assault on the bench.
But my efforts on Capitol Hill will only continue if I successfully defend my seat in Congress, and with time running out in February, I've just learned from my campaign team that we're more than $3,500 short of our crucial February fundraising goal.
Rep. Mimi Walters
She isn't the first member to raise funds off the fight.

Last week, Senate Majority Leader Mitch McConnell of Kentucky and Sen. Patti Murray (D-Wash.) each sent out pitches while the body of the late justice was lying in repose in the Supreme Court building.
Walters, a freshman who represents California's 45th District, raised $972,888 in 2015 and had $728,085 in cash on hand at the end of the year, according to her most recent campaign finance report.
Her Republican primary-election opponent, Mission Viejo Mayor Pro Tem Gregory Raths, and Robert Edmund Lauten of Brea, an independent, haven't yet filed financial reports with the Federal Election Commission.
Female legislators press incoming speaker for equal representation in leadership roles
When Assemblyman Anthony Rendon (D-Paramount) is sworn in as speaker on March 7, he's expected to shake up committee chairmanships and other leadership roles.
The women in his Democratic caucus want to make sure they're well positioned to get those plum roles.
Nearly all female Democratic Assembly members have signed onto a letter to Rendon urging him to promote a more equal gender balance in committee assignments.
Women make up 25% of the state Legislature. In the Assembly, there are 19 women: 11 Democrats and 8 Republicans. 
Of the 31 standing Assembly committees, women currently chair four of them. Three committees have no female legislators -- from either party.
"Women are poorly represented on committees that provide the kind of significant fundraising opportunities that allow for the advancement of careers," the letter reads.
The lawmakers request that Rendon ensure half of the committee chair posts are held by women, that every committee have an equal number of women and men, and that women are "adequately represented" in other leadership roles.
The letter notes that last year, Canadian Prime Minister Justin Trudeau appointed women to half of his Cabinet posts. Asked the reason, he said: "Because it's 2015." 
Ten Democratic assemblywomen signed the letter: Susan Bonilla (Concord), Cheryl Brown (San Bernardino), Autumn Burke (Marina Del Rey), Nora Campos (San Jose), Susan Eggman (Stockton), Cristina Garcia (Bell Gardens), Lorena Gonzalez (San Diego), Jacqui Irwin (Thousand Oaks), Patty Lopez (San Fernando) and Shirley Weber (San Diego).