News of a minimum wage hike deal in California is met with relief -- and anxious arithmetic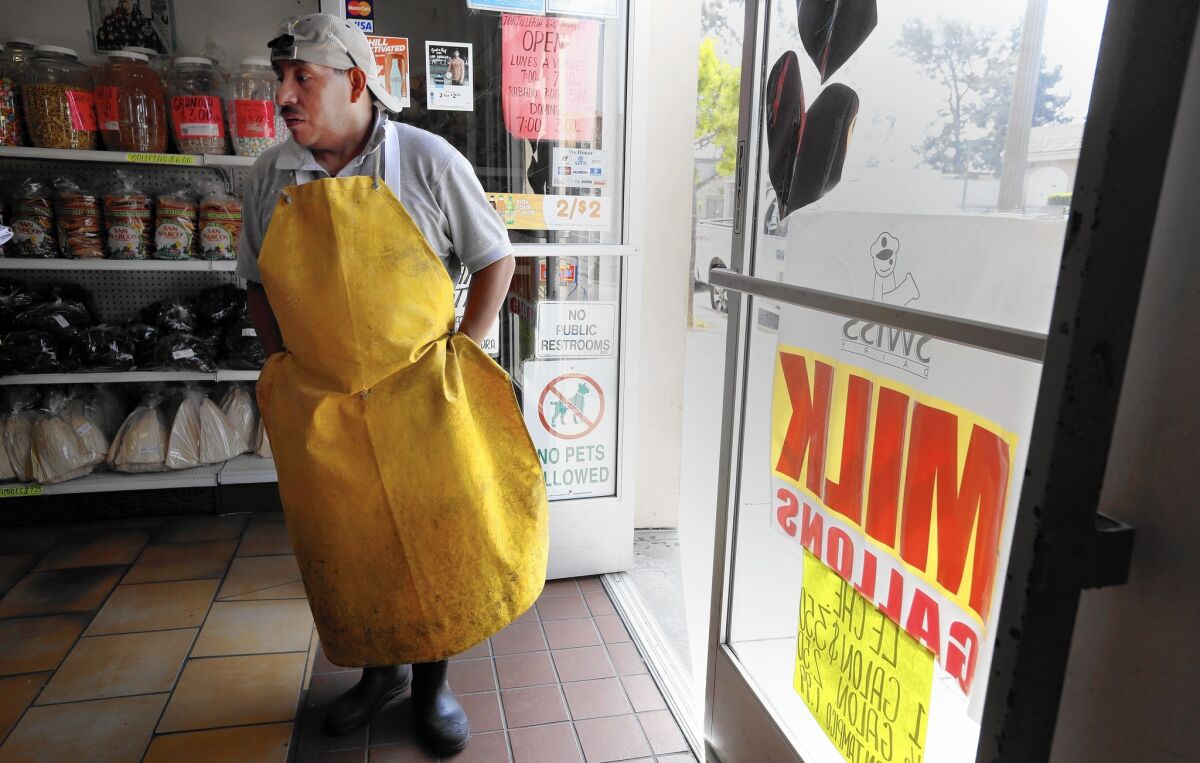 Behind the counter of Tortilleria San Marcos in Boyle Heights, news that lawmakers and unions had arrived at a deal that would boost California's minimum wage to $15 was greeted with relief, then anxious arithmetic.
At the register, Sandra Carrera, 38, of Los Angeles can't make enough on minimum wage to cover $1,050 in rent and bills each month, so she sells party supplies to make up the difference. But that income has dwindled. A wage hike couldn't come soon enough, Carrera said.
In the kitchen, Miguel Sanchez, 43, of Highland Park puzzles through a similar math problem as he makes tortillas with masa-caked hands. After rent and bills, his income from two minimum-wage jobs leaves him about $440 to buy food and take care of his wife and two young daughters.
See the most-read stories this hour >>
The increase would give him some breathing room, but he doesn't plan to quit his second job.
"Will the cost of things go up? Are employers going to cut back hours because they can't afford it? I worry," Sanchez said.
If the Legislature approves it, the $15 minimum wage deal would set a statewide standard at a time when unions and other groups have been demanding that local governments boost wages.
Los Angeles and San Francisco are among the cities that have already agreed to increase the minimum wage over the next few years. But other municipalities have expressed little desire to join them, prompting some to wonder if businesses would move to avoid the higher pay requirements.
Backers of the state deal say it would end this patchwork approach and prevent the chaotic economic competition between cities that some have feared.
The deal, which would boost California's minimum wage to $10.50 an hour next year and then gradually to $15 by 2022, was reached after lawmakers were threatened with two union-sponsored initiatives that would have raised the minimum to $15 on faster timelines — one of which recently qualified for the Nov. 8 statewide ballot. Numerous statewide polls showed voters would approve such a hike, and Democratic presidential candidates Bernie Sanders and Hillary Clinton have both endorsed a union-led nationwide push for a $15 minimum wage.
Last year, the city and county of Los Angeles adopted a $15 minimum wage plan that will take effect by 2020, two years sooner than the state deal proposes. Cities such as Long Beach, Santa Monica and Pasadena adopted similar timelines, but the majority of the county's 87 cities haven't followed suit.
The proposal would create a "much more uniform" minimum wage, said Los Angeles County Supervisor Sheila Kuehl.
"I'm happy to see that there won't be a conflict between two different initiatives and that the Legislature is doing this for the state without any kind of a ballot fight," Kuehl said.
Lawmakers could approve the deal as early as this week.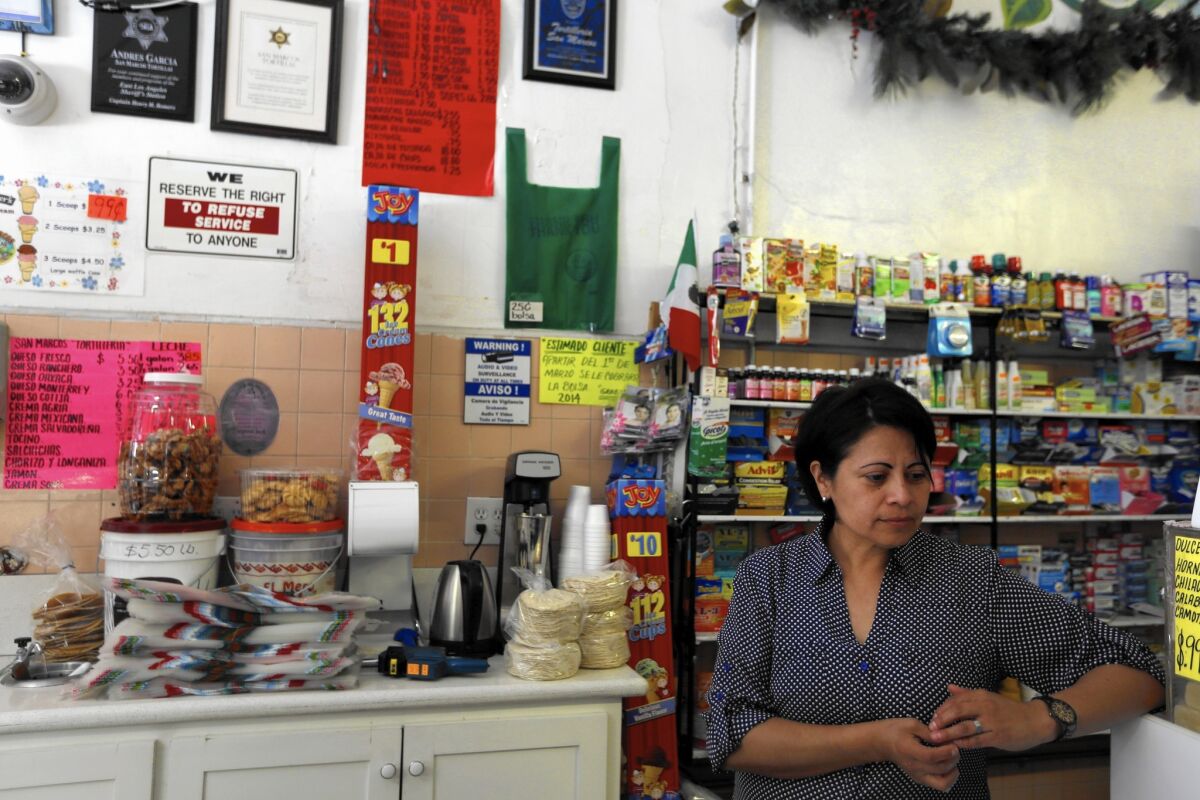 On Sunday, both employers and employees were trying to calculate how the higher wage would affect them. And in some cases, the answers were different.
Selwyn Yosslowitz, co-founder of Marmalade Cafe, which has seven restaurants across the Southland, said he already operates on slim profit margins and he's concerned about how even a gradual increase in the higher minimum wage would affect his bottom line.
Waiters, some of whom earn up to $35 an hour with tips, will receive a significant raise in hourly compensation, Yosslowitz said. Cooks, managers and hostesses already making $15 an hour or above could demand raises as well. Yosslowitz supports a fair wage but said the proposed statewide hike has him thinking about how to "re-engineer" his menu and his labor force.
"First you have to raise prices, otherwise you'll be out of business," Yosslowitz said.
He's thinking about cutting the number of busboys he employs — giving servers their bussing duties — and coming up with menu items that require less labor.
In Koreatown, restaurant owners said the previous state minimum wage hike from $9 to $10, which took effect in January, has already had economic consequences.
"Fifteen dollars. I can't believe it," said So Young Jin, owner of Lee's Noodles in Koreatown.
During Jin's morning supply rounds, the chatter at the markets was dominated by discussions of struggling business owners, downsized kitchens and reduced staffing. Some waiters and cooks are working second and third jobs because their employers were forced to reduce their hours, Jin said.
After January's wage increase, Jin tried to keep her prices the same, but she was recently forced to raise the prices of some menu items by a dollar.
"Every time I go to the market, I hear about this restaurant closing, that restaurant having a hard time," Jin said.
Though the federal minimum wage has remained at $7.25 an hour since 2009, more than a dozen states have passed minimum wage increases since 2014, according to data from the National Employment Law Project. Experts say the success of the wage push across the country is tied to the newfound cachet of income inequality as a political issue.
In California, more than 5 million low-paid workers, or 38% of the state's workforce, could receive an average pay increase of about $4,000 each, according to Michael Reich, a labor researcher and professor at UC Berkeley. Reich calls the price increases for the state's consumers "moderate" and said the policy wouldn't substantially change California's employment picture.
Jiwon Park, 22, a server at Lee's Noodles and one of Jin's employees, is worried about prices going up as well. But in the meantime, a higher minimum wage means more money for textbooks and ESL classes, groceries for his mother and a chance to save up and start his own restaurant or store someday. He said the statewide wage hike that took place in January has already made a difference for him.
"It's a dollar," Park said, "but if you work 50 hours, it's $50. If you work 500, it's $500."
Times staff writer Geoffrey Mohan contributed to this report.
------------
FOR THE RECORD
March 28, 11:55 a.m.: An earlier version of this article said San Diego was among the cities that have agreed to increase the minimum wage over the next several years. The San Diego City Council voted to increase the minimum wage, but that action was blocked by referendum, and the issue is on the June ballot.
------------
ALSO:
Deal reached to raise minimum wage to $15
Lawmakers forced to choose: Raise California's minimum wage, or leave the issue to voters
How pay for the lowest wage earners has turned into a national fight
Cities want to raise the minimum wage. But it's complicated
Santa Monica votes to raise its minimum wage
Get our Essential Politics newsletter
The latest news, analysis and insights from our politics team.
You may occasionally receive promotional content from the Los Angeles Times.