Some restaurants face pressure to trim menus and staffs under California's wage hike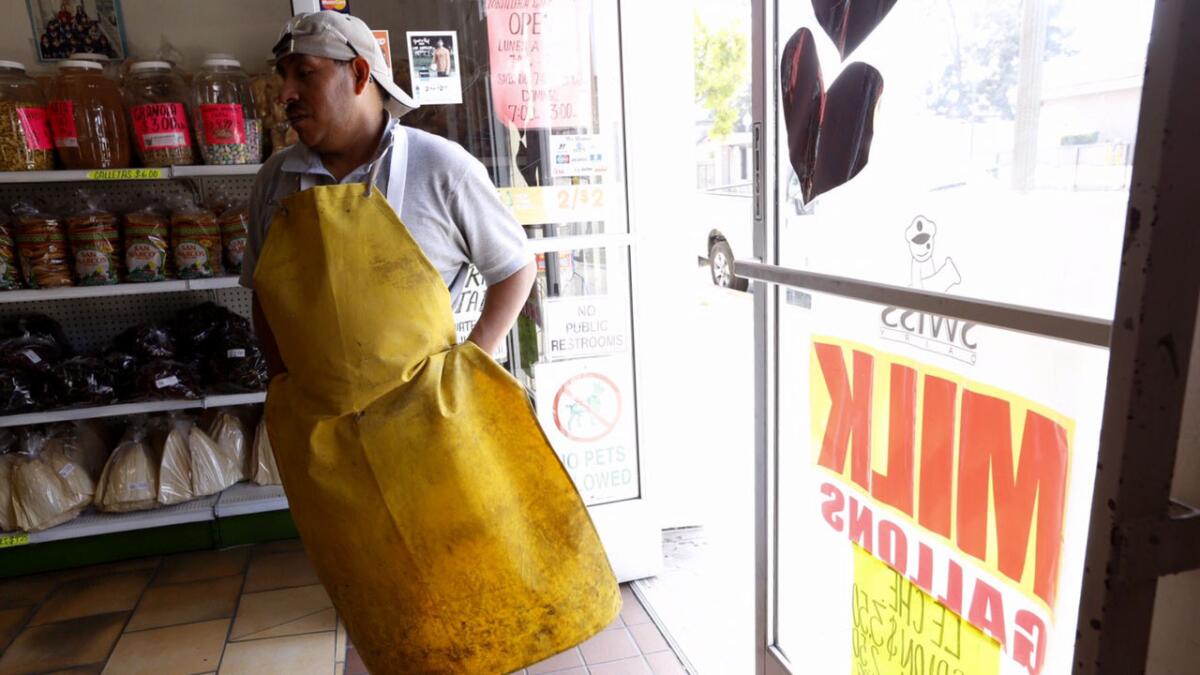 A deal that would raise California's minimum wage to $15 an hour was met with a mixture of joy and anxiety across the state Sunday.
Some workers and labor officials hailed it as a breakthrough in providing higher-wage jobs in fields where it's a struggle to make ends meet. But some business owners feared the shift would hurt their bottom lines -- and perhaps even put them out of business.
The debate is likely a preview for the weeks ahead as the minimum wage proposal works its way through Sacramento.
Selwyn Yosslowitz said that minimum wage hikes add increased pressure to restaurants, which already operate on very slim margins. With the minimum wage going up, Yosslowitz said he's going to have to rethink his menu and what dishes his restaurants serve.
"First, you have to raise prices, otherwise you'll be out of business," said Yosslowitz, president of the Marmalade Café, which operates seven Southland restaurants and an outlet at LAX. Restaurant owners also have to think about "re-engineering the menu" to require fewer kitchen workers.
"We will try to re-engineer the labor force," he said. "Maybe try to reduce the number of bus boys and ask servers to bus tables."
SIGN UP for the free Essential Politics newsletter >>
His comments came a day after lawmakers and labor unions struck a tentative deal to raise the statewide minimum wage to $10.50 an hour next year and then gradually to $15, averting a costly political campaign this fall and possibly putting California at the forefront of a national movement.
The deal was confirmed Saturday afternoon by sources close to the negotiations who would speak only on condition of anonymity until Gov. Jerry Brown makes a formal announcement as early as Monday.
The minimum wage compromise ends a long debate between the Democratic governor and some of the state's most powerful labor unions. For Brown, it's political pragmatism; numerous statewide polls have suggested voters would approve a minimum wage proposal — perhaps even a more sweeping version — if given the chance.
According to a document obtained by The Times, the negotiated deal would boost California's statewide minimum wage from $10 an hour to $10.50 on Jan. 1, 2017, with a 50-cent increase in 2018 and then $1-per-year increases through 2022. Businesses with fewer than 25 employees would have an extra year to comply, delaying their workers receiving a $15 hourly wage until 2023.
Future statewide minimum wage increases would be linked to inflation, but a governor would have the power to temporarily block some of the initial increases in the event of an economic downturn.
Los Angeles County and city have already approved similar minimum wage increases.
Yosslowitz said he supports a fair wage, but his biggest bone of contention is that minimum wage legislation doesn't take into account that servers can make many times their hourly pay in tips. He said some of his servers can make $25 to $35 an hour in tips alone.
"So you are paying $15 an hour to someone who is already making $25, $30 an hour," he said. "The problem we have is that they don't take into consideration the total compensation our service staff are already making."
The other big worry: that employees already making $15 an hour, before the hike, will demand a raise as well, Yosslowitz said.
"It's a chain reaction," he said.
At Tortilleria San Marcos in Boyle Heights, Sandra Carrera, 38, welcomed the news.
She said she's been working part-time at the market for the past 16 years and also operates a party supply business from her home to make ends meet. Her combined income helps cover her $800 a month rent and another $250 in bills.
"You can't live off minimum wage anymore," she said. "You have to have two jobs to take care of your responsibilities."
Carrera hopes the minimum wage hike means that she will not always have to depend on her side business.
"It's great that they're raising the minimum wage," she said. "It's better than having to have two jobs."
Making tortillas in the back, Miguel Sanchez, 43, of Highland Park, also a part-time worker, said he was happy to hear a statewide deal had been reached.
"Life is going to get a little easier," said Sanchez, who works at another tortilla market at least twice a week. "It's good for workers, but I imagine this is not going to be good news for employers and small businesses."
He said his second job supplements the $1,600 he earns each month from Tortilleria San Marcos. But with a $1,000 month rent and nearly $300 in bills, he said he's left with very little for food and other expenses.
He said he's the only one in the family working at the moment. He has a wife and two girls, ages 14 and 7. He said he began working his second job three years ago.
Although he welcomes the extra money, he said that raising the minimum wage also concerns him.
"Will the cost of things go up?" he said. "Are employers going to cut back hours because they can't afford it? I worry."
For more about the California wage plan, click here.
ALSO
Donald Trump leads in California primary race but threatens a GOP fracture
Slaying of British tourist in San Francisco brings shock, outrage
Valley councilwoman's aides sought $5 and $10 donations that are focus of U.S. inquiry
Get our Essential Politics newsletter
The latest news, analysis and insights from our politics team.
You may occasionally receive promotional content from the Los Angeles Times.