Michael Avenatti arrested by LAPD on suspicion of domestic violence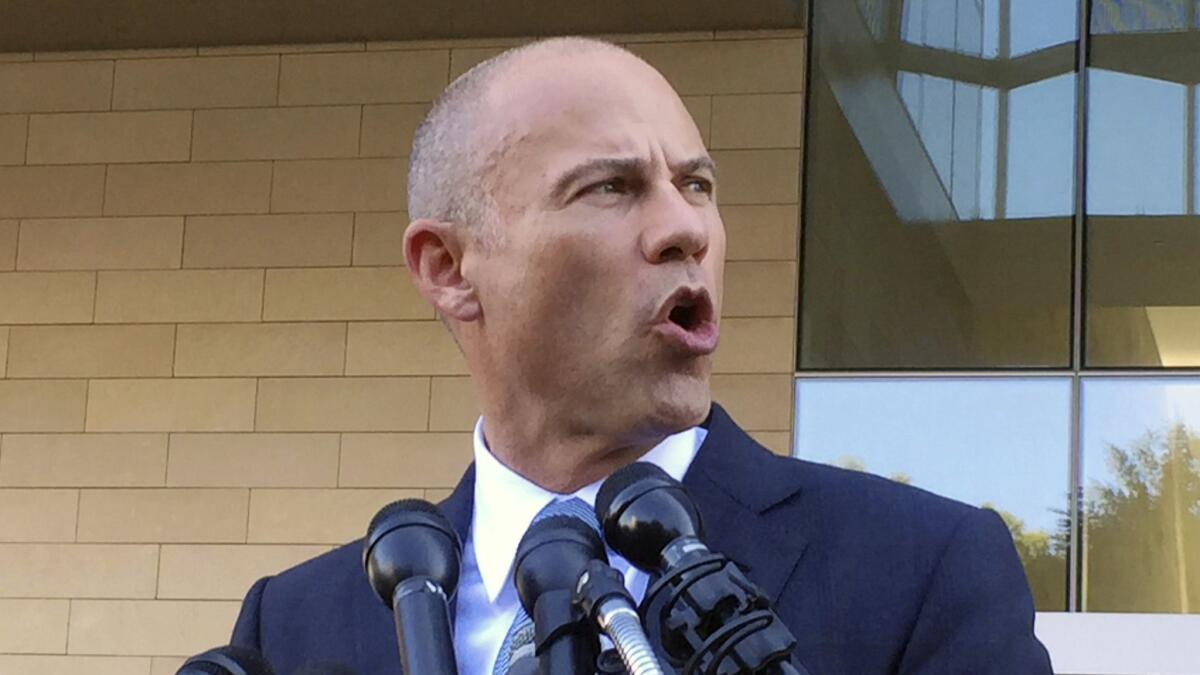 Michael Avenatti, the lawyer for porn actress Stormy Daniels, has been arrested in Los Angeles on suspicion of domestic violence, police said.
The celebrity attorney was arrested around 2 p.m. Wednesday in the 10000 block of Santa Monica Boulevard based on allegations stemming from an incident that took place in West L.A. on Tuesday, said Officer Jeff Lee, a Los Angeles Police Department spokesman. Avenatti has lived in a luxury apartment complex in that section of Century City.
The allegations were made by a woman who had "visible injuries," including bruises, according to a law enforcement official who spoke on the condition of anonymity.
Avenatti was released after posting $50,000 bond late Wednesday.
"I wish to thank the hard working men and woman of the LAPD for their professionalism they were only doing their jobs in light of the completely bogus allegations against me," a statement from his law office read. "I have never been physically abusive in my life nor was I last night. Any accusations to the contrary are fabricated and meant to do harm to my reputation. I look forward to being fully exonerated."
Avenatti exited the LAPD's Pacific Division shortly before 6 p.m. and described himself as an advocate for women as he walked past a throng of cameras.
"I have never struck a woman," he said. "I will never strike a woman."
Lee said he could not comment on what, if any, injuries the victim suffered, and he declined to say where the alleged incident took place. The LAPD generally does not identify victims in domestic violence cases, and a case has yet to be presented to the Los Angeles County district attorney's office.
Avenatti is slated to make his first court appearance Dec. 5, according to online booking records.
The attorney, who has been tormenting President Trump for almost nine months over the $130,000 payoff that Daniels received to keep quiet about her alleged affair with Trump, is considering a run for the 2020 Democratic presidential nomination.
But he has been facing growing legal and financial challenges in recent months.
He was struck with a personal judgment of $4.85 million last month for his failure to pay a debt to a former colleague at his longtime Newport Beach firm, Eagan Avenatti.
The same day, the firm's landlord, Irvine Co., won a court order evicting him and his staff from their offices because Eagan Avenatti skipped the last four months of rent.
Avenatti was scheduled to attend Democratic events in Vermont on Friday and Saturday, but ticket holders will get refunds, according to the state party.
"We have not heard from his people, but while there is some kind of arrest and investigation to ensue, we're not going to step into that arena with him," R. Christopher Di Mezzo, the party's communications director, told the Burlington Free Press.
Avenatti's arrest marked the second time this month that one of Trump's loudest public foils found themselves in handcuffs. Alec Baldwin, who has repeatedly performed a less than flattering impersonation of Trump on "Saturday Night Live" since the 2016 election, was arrested on suspicion of misdemeanor assault in New York City on Nov. 2 after he allegedly punched a man following a parking dispute, police have said.
Times staff writer Richard Winton contributed to this report.
Twitter: @finneganLAT
Twitter: @JamesQueallyLAT
---
UPDATES:
6:05 p.m.: This article was updated with additional comments from Avenatti and the LAPD.
5:10 p.m.: This article was updated with additional information from police.
4:50 p.m.: This article was updated with a statement from Avenatti.
4:35 p.m.: This article was updated with the cancellation of Avenatti's Vermont events.
4:00 p.m.: This article was updated with a comment from police.
3:40 p.m.: This article was updated with information about the reason for the arrest.
This article was originally published at 3:30 p.m.
Get our Essential Politics newsletter
The latest news, analysis and insights from our politics team.
You may occasionally receive promotional content from the Los Angeles Times.