5 protest movements that shook college campuses in California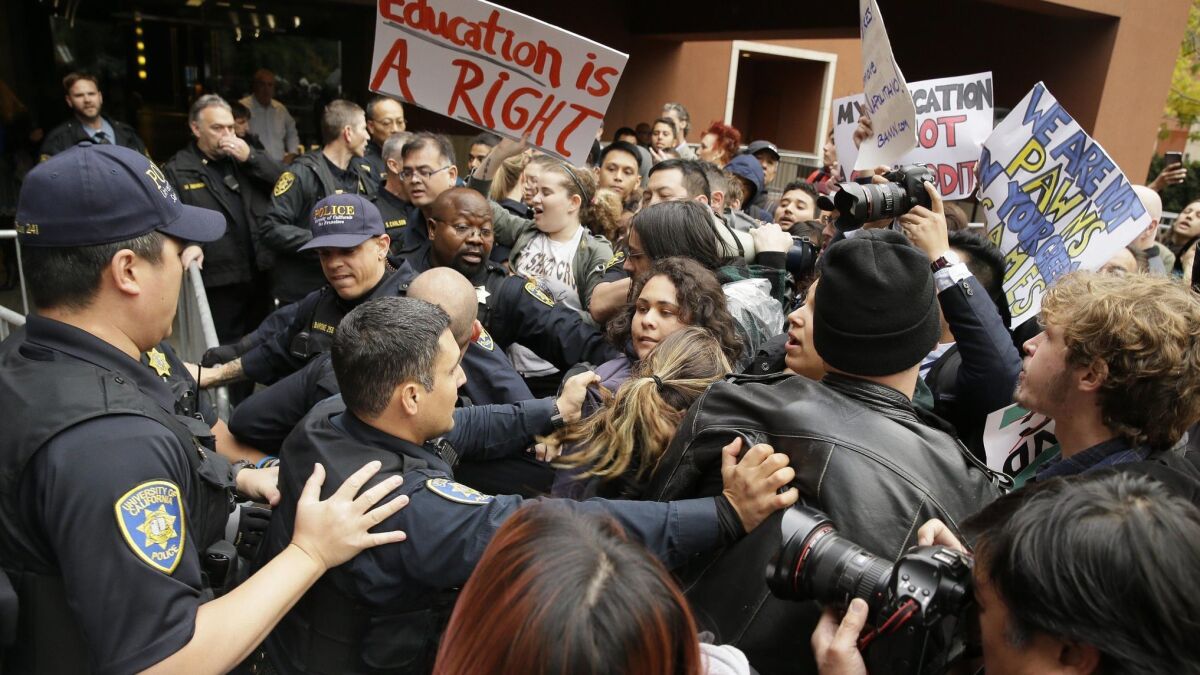 A series of confrontations between right-wing demonstrators and counter-protesters sparked unrest at college campuses across California last year.
The incidents, including a melee at UC Berkeley over a proposed speech by right-wing provocateur Milo Yiannopoulous, also prompted debate in the California Legislature.
Lawmakers are considering several proposals that seek to address how far the law should go to protect unpopular speech and prevent violence between those with opposing political views.
Here are some other protest movements that arose from college campuses and, in some cases, inspired lasting change.
Free Speech Movement
In what some would later describe as a blueprint for subsequent campus demonstrations, protests erupted at UC Berkeley after student groups were told they could no longer use a plaza for "off campus" political action. On Oct. 1, 1964, a crowd of students gathered around a police car to prevent the arrest of an activist who had defied the policy.
The movement culminated with a sit-in at the university's main administration building on Dec. 2 that saw hundreds of protesters arrested.
In the end, the Free Speech Movement succeeded in overturning the campus ban on promoting off-campus movements. Many also credited the movement with introducing to college campuses civil disobedience tactics widely employed in connection with the civil rights movement.
Antiwar demonstrations
Though protests against the Vietnam War took place at college campuses throughout the 1960s, unrest intensified with President Nixon's announcement April 30, 1970, that the war was expanding into Cambodia.
UC Santa Barbara was a hotbed of activity, and on Feb. 25, 1970, protesters burned down the Isla Vista branch of the Bank of America. Gov. Ronald Reagan called in the National Guard to quell what had become a full-fledged riot.
That April, a student trying to defend the temporary bank set up to replace the one that had burned was accidentally shot and killed by police.
In mid-May, UCLA officials declared the first state of emergency in the school's history when hundreds of students smashed windows and clashed with police officers in what The Times called "one of the worst disruptions on California campuses."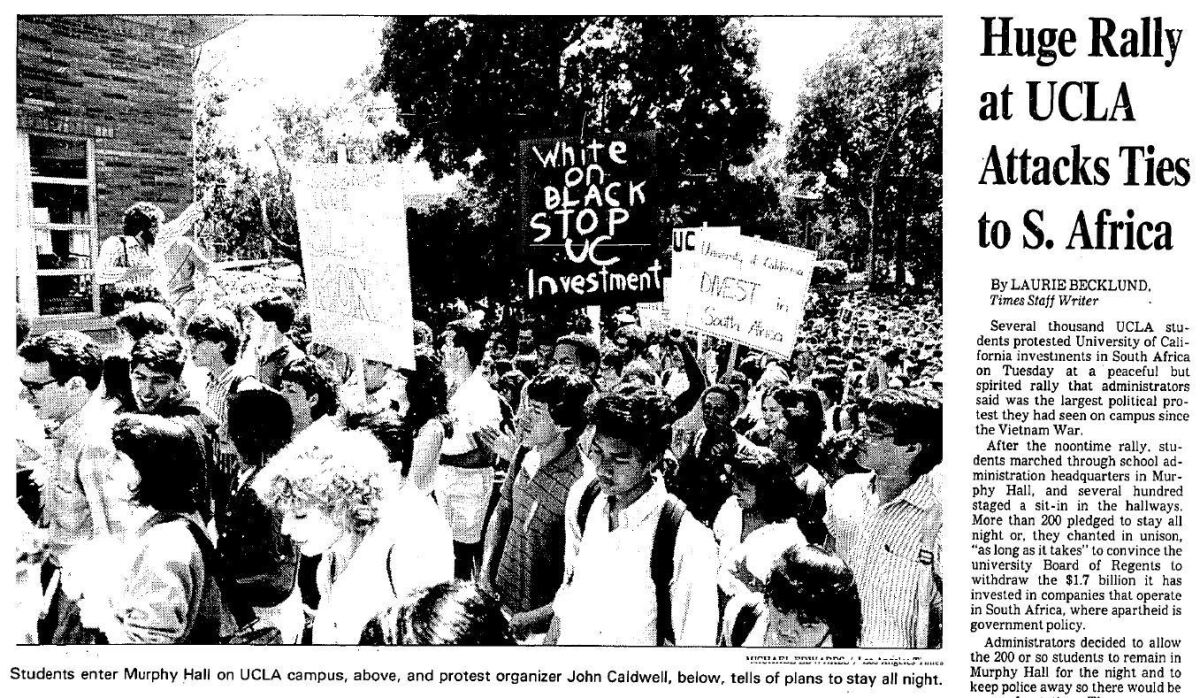 Anti-apartheid protests
Throughout the 1980s, student activists demanded that universities withdraw investments from corporations doing business with South Africa's apartheid government.
Protests took place at all nine UC schools. UCLA administrators called one April 1985 demonstration the campus' largest political protest since the Vietnam War.
A demonstration at UC Berkeley the following year, in which protesters reportedly hurled bottles at baton-swinging police officers, was described to The Times as the university's most violent since the 1960s.
The Board of Regents voted in July 1986 to totally divest stock in companies tied to South Africa, and several other area colleges followed suit.
At Occidental College, where students erected a shantytown on campus to symbolize their opposition, trustees ultimately rejected a petition for divestiture. But the movement reportedly inspired a young Barack Obama, who called his role in organizing an anti-apartheid rally at Occidental his "first act of political activism."
Chicano studies at UCLA
A demonstration at UCLA on May 11, 1993, caused more than $50,000 in damage at the faculty center and led to 99 arrests. Protesters were responding to Chancellor Charles E. Young's decision not to upgrade Chicano studies to an independent department.
Berta Cueva, who helped organize a peaceful demonstration the next day, said that by denying departmental status to Chicano studies, UCLA "just emphasizes the Eurocentric academic perspective" and denigrates other cultures so important to California life and history.
In June, hundreds of demonstrators marched 14 miles across Los Angeles to show support for nine UCLA hunger strikers demanding the separate department.
The hunger strike was settled after 14 days, when the university agreed to create a Chicano studies center named for labor leader Cesar Chavez. The agreement gave Chicano studies the substance of a department without the name.
It wasn't until January 2005 that Chicano studies became a full-fledged academic department.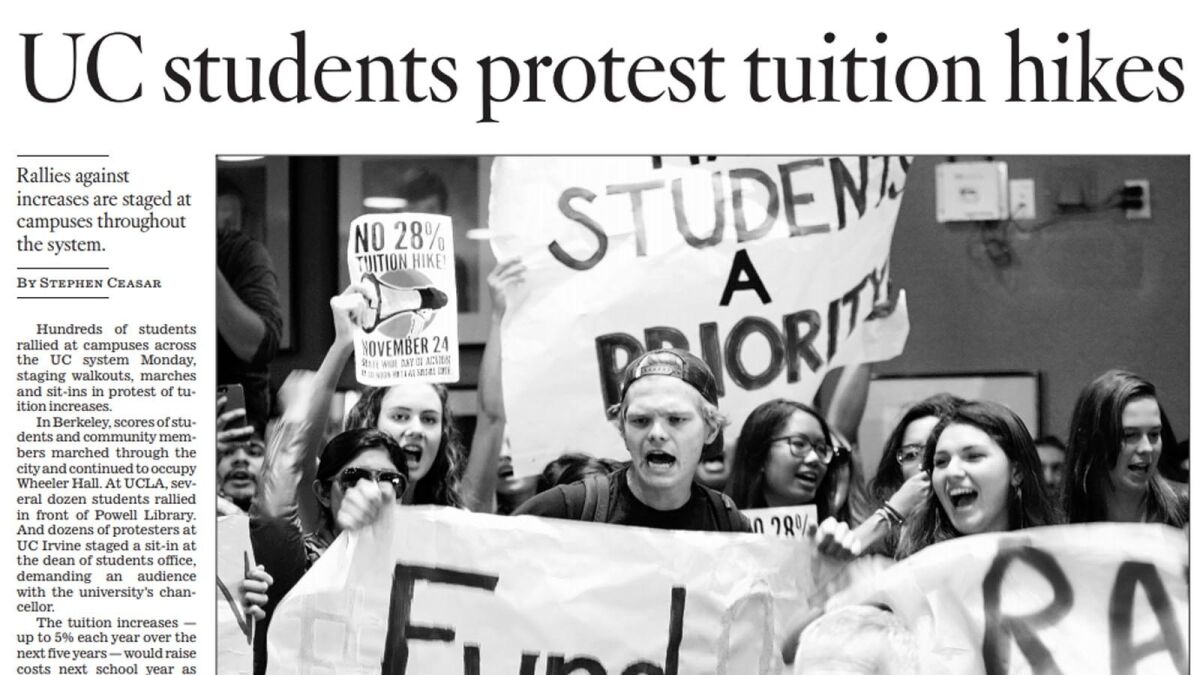 Tuition protests
On Nov. 19, 2014, students rallied outside a regents committee meeting at UC San Francisco to protest a plan to increase tuition as much as 5% in each of the next five years. Some were involved in a tussle with police, and there was one arrest.
Days later, hundreds of students demonstrated at campuses across the UC system. In Berkeley, scores of students and community members marched through the city and continued to occupy Wheeler Hall. At UCLA, several dozen students rallied in front of Powell Library. And dozens of protesters at UC Irvine staged a sit-in at the dean of students office, demanding an audience with the university's chancellor.
Two years later, UC regents were still considering tuition hikes when more than 80 chanting students interrupted their San Francisco meeting. Police ordered the students to leave or face arrest.
A 5% tuition increase was approved in March 2017.
---
Life is stressful. Our weekly mental wellness newsletter can help.
You may occasionally receive promotional content from the Los Angeles Times.