A tale of two scandals, with a rich Trump donor, kickbacks and a Playboy playmate
The motorcade of President George W. Bush curled through the lush streets of Bel-Air one night in October 2006 and slowed to a stop at the Colonial Revival mansion of Elliott Broidy.
It was a big moment for Broidy, certifying his arrival in the upper tier of Los Angeles wealth and power. He'd summoned 250 blue-chip donors to hear Bush speak on the lawn, then gather on the tennis court for dinner. The banquet yielded $1 million for the Republican National Committee.

For the record:
11:35 a.m. Aug. 11, 2018An earlier version of this article stated that Elliott Broidy gave up his board seat at the Republican Jewish Coalition. Broidy did not give up his seat on the board there.
Broidy was founder and chairman of Markstone Capital Partners, a private equity fund. The firm, it turned out, was built on a foundation of corruption. Broidy got caught in 2009 paying kickbacks and pleaded guilty.
He avoided prison, but was fined $18 million. He stepped down from Markstone. He and his wife sold the mansion and moved to a smaller rental in Beverly Hills. Friends stopped returning calls. Foes tried to kick him out of Hillcrest Country Club. In politics, his name for a time was toxic.
"He went from hero to zero," said Matt Gohd, a friend. "It was humiliating."
After years of discreetly forging his way back into the Republican Party's highest ranks, Broidy, 61, is back in the news as he fights a lawsuit by Shera Bechard, a former Playboy playmate.
Broidy, she says, got her pregnant during a lengthy extramarital affair, then reneged on his vow to pay her $1.6 million in exchange for her silence.
In a complaint filed July 6 under seal and released last week with portions blacked out at Broidy's request, Bechard says she had an abortion in December.
The Broidy lawyer who helped craft this hush-money arrangement was Michael Cohen, the longtime Donald Trump fixer who paid porn actress Stormy Daniels to stay silent about her alleged 2006 sexual encounter with Trump.
When news broke in April of Broidy's nondisclosure pact with Bechard, the consequences were swift: He resigned as deputy finance chairman of the RNC.
It was a severe blow to a man whose prodigious fundraising for Trump and the GOP had given him entrée to the Oval Office despite his history of corruption.
Bechard is just part of Broidy's new troubles.
One of his business partners, George Nader, was reportedly granted immunity by prosecutors in special counsel Robert S. Mueller III's investigation of Russian interference in the 2016 presidential election. It's unclear what Nader has told them, but there is no sign Broidy is a target.
Broidy was embarrassed, though, when his emails with Nader and others were hacked and leaked anonymously to news outlets. The correspondence exposed Broidy's efforts to trade on his access to Trump as he sought foreign government contracts for Circinus, the global security firm he now owns.
Nothing unusual there, his friends say.
"You think he's the first major donor to basically ask the president or the White House for help for a commercial interest?" said Gohd, an investment banker who has known Broidy for 30 years. "Oh my God, he's the 10,430th guy who's done this."
Broidy, the son of a teacher and nurse, grew up in Westwood. He earned a bachelor's degree in accounting at USC.
"I put myself through USC working as a commercial salmon fisherman on a 28-foot, 2-man aluminum boat on Winchester Bay in Oregon," said Broidy, who declined to be interviewed but responded to questions by email.
Broidy saved $10,000 and bought an East L.A. laundromat that he visited almost every day. It provided him steady income while at USC.
After college, he went to work in Arthur Andersen's tax department. One of his clients, Taco Bell founder Glen Bell Jr., hired him away to manage his vast personal investments. The job turned Broidy into a rich man.
He left the taco tycoon after nine years and in 1991 launched his own investment firm, Broidy Capital Management, followed by Markstone just over a decade later.
As their wealth grew, Broidy and his wife, former 20th Century Fox executive Robin Rosenzweig, set their sights on Bel-Air. They bought a house that they rented out in 2001 to actress Angelina Jolie. Eventually, they tore it down and replaced it with the mansion, modeled after the Long Island estate of steel heir Howard Phipps Jr.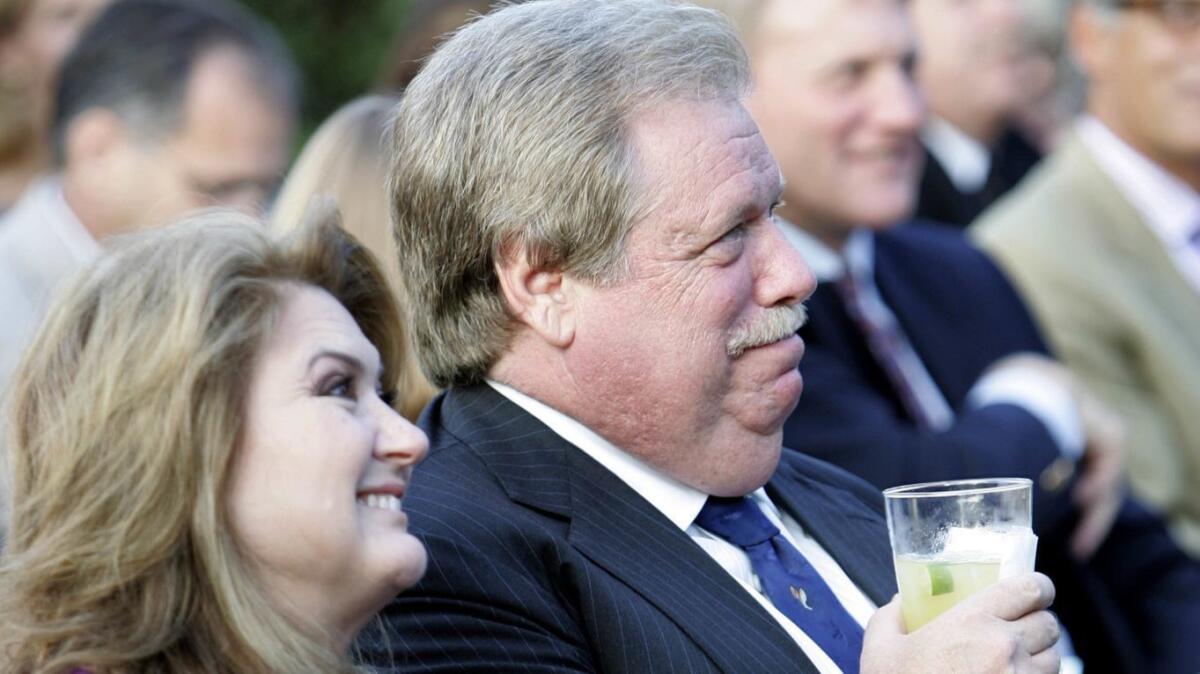 Broidy got more engaged in politics, mainly by raising money for Republicans. He also landed appointments to prestigious boards outside politics, among them Cedars-Sinai, Wilshire Boulevard Temple and USC's Marshall School of Business.
One of his main interests was Israel. When he set up Markstone, the firm's strategy was to invest in companies there. Broidy met with Ariel Sharon, then prime minister, and Benjamin Netanyahu, then finance minister; they welcomed Markstone's arrival.
To raise the investment firm's $800 million, Broidy sought out elected officials who oversaw the pension funds of government workers in New York, California and other states. His biggest success was a $250-million commitment from the state of New York. Broidy would later admit that he paid nearly $1 million in payoffs to Comptroller Alan Hevesi and his top aides.
"I have never made any excuses for my actions," Broidy said.
He pleaded guilty to a felony, which was reduced to a misdemeanor after he cooperated with prosecutors. His testimony was crucial to the conviction of Hevesi, who went to prison for 20 months.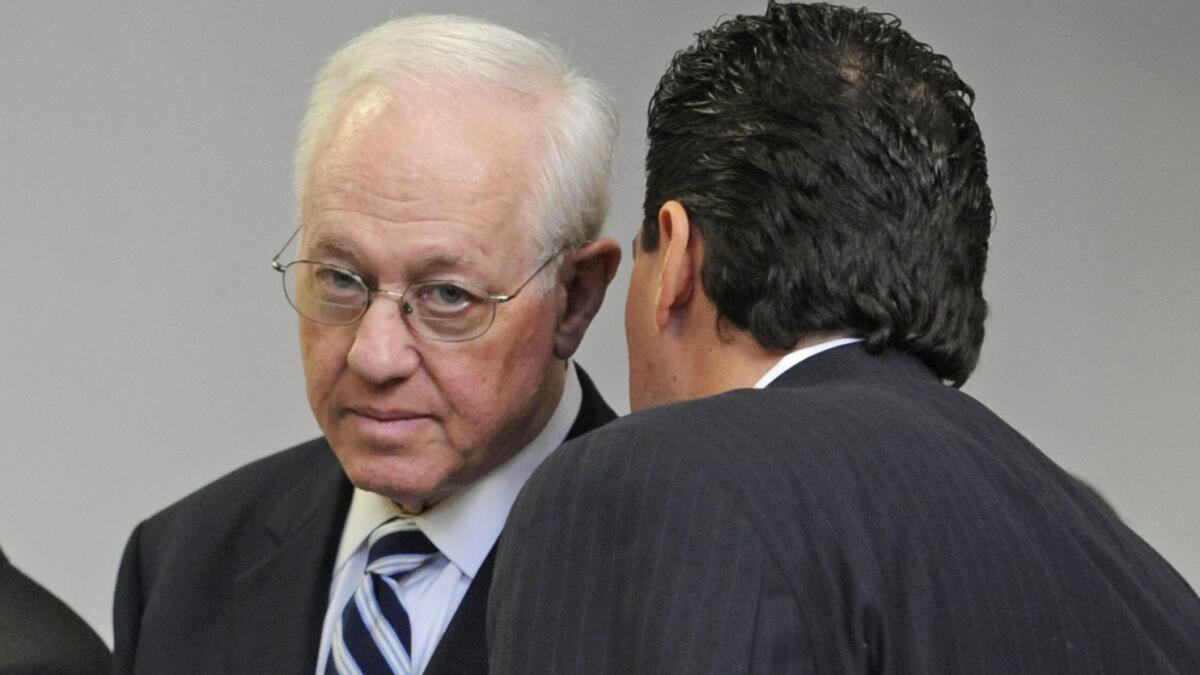 To Broidy's friends, it was no coincidence that Democrat Andrew Cuomo, now New York governor, was the state attorney general who prosecuted the case after Broidy led GOP fundraising for the party's 2008 presidential nominee, John McCain, and running mate Sarah Palin.
"The money guy for McCain and Palin and Bush — and if you're a politically crusading attorney general, this is a pretty good target to have," Gohd said.
Over time, Broidy's political fundraising would advance his business interests. The Bush administration put him on its Homeland Security Advisory Council, giving him a footing in national security that would help him recover from the New York scandal.
About three years ago, Broidy bought Circinus, a company that deploys former military and intelligence operatives as security consultants to foreign governments and businesses.
He kept a low profile after his downfall in 2009, but re-emerged as a top fundraiser in the last presidential race. Broidy backed Republicans Lindsey Graham, Marco Rubio and Ted Cruz before setting to work collecting money for Trump's campaign and, eventually, his inaugural committee.
"A lot of people talked a big game, but when he said he could raise big money, he actually did," said Bruce Bialosky, a veteran L.A. activist in the Republican Jewish Coalition.
Broidy paid a visit to the White House in October, meeting first with Trump's son-in-law, Jared Kushner, then privately with the president, according to a Broidy memo attached to one of his hacked emails.
Trump was "extremely enthusiastic" about the pitch by Broidy's company for a huge security contract from the United Arab Emirates, Broidy wrote, and they also discussed Republican fundraising for the upcoming midterm election.
The president asked Broidy what he thought of Rex Tillerson, the secretary of State whom Trump would fire months later.
"I responded that he was performing poorly and should be relieved but only at a good time, politically," Broidy said in the memo, first reported by the New York Times.
Broidy's political undoing — the second time around — was the Wall Street Journal's disclosure of the affair with Bechard, Playboy's Miss November 2010, and his hiring of Cohen to strike a deal to keep her quiet.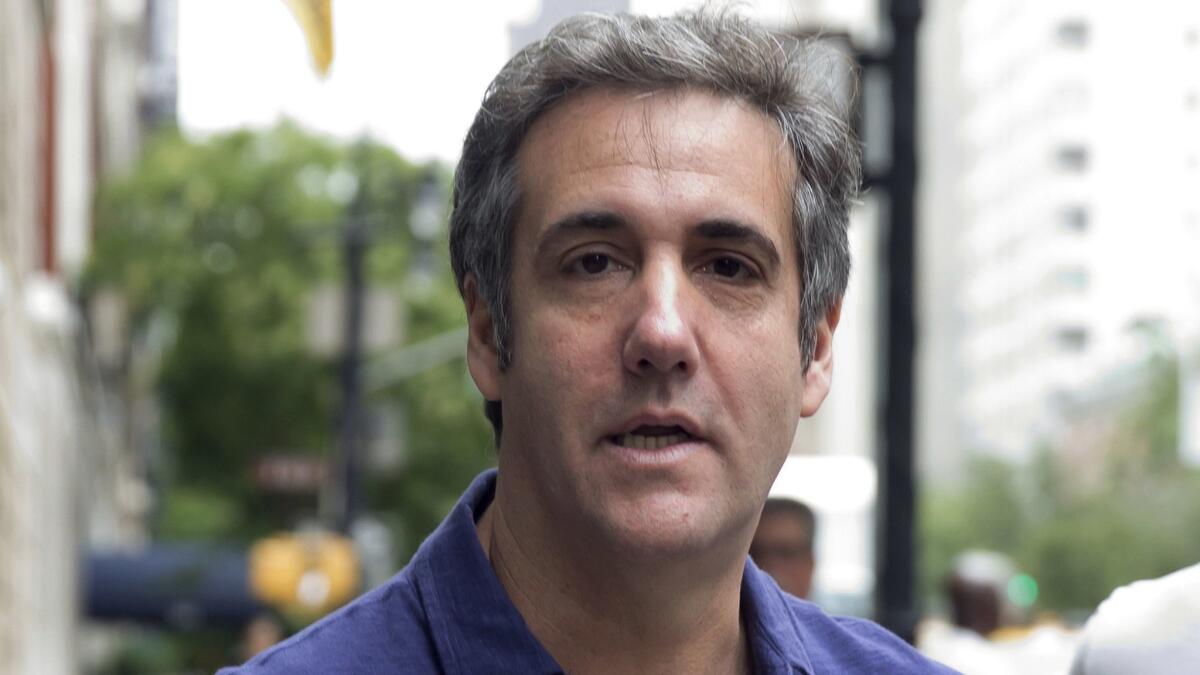 Former Sen. Bob Kerrey, a Circinus advisor who has known Broidy for years, said the publicity was devastating to the father of three.
"He spends a lot of time trying to hold his family together, which is not easy to do when you make a mistake like that," Kerrey said.
It could get still more distressing.
Bechard's lawsuit includes what Broidy's lawyers describe as "sensational allegations" about his sex life. A judge has let Broidy keep that part of the complaint under seal, but only temporarily. If the court rejects his request to block the disclosure permanently, those details will soon become public.
Twitter: @finneganLAT
Get our Essential Politics newsletter
The latest news, analysis and insights from our politics team.
You may occasionally receive promotional content from the Los Angeles Times.