Eighteen candidates are competing to be the Democratic Party's nominee for president — that is, if we're counting just the more prominent ones. Here are the 13 men and five women aiming to face off against President Trump in 2020.
Michael Bennet, Colorado senator
The decade Michael Bennet has spent in the Senate has given him a reputation as a straight-talker. The moderate has said he was compelled to run because of the "toxicity" of partisan politics. The descendant of Holocaust survivors, he grew up in Washington, where his father was an aide to Vice President Hubert Humphrey.
Joe Biden, former vice president
From the moment he announced, and perhaps even before it became official, Joe Biden was considered a front-runner, leading to attacks from his rivals and President Trump. Biden has decades of political experience — 36 years in the Senate and eight as Barack Obama's vice president — which has given his rivals a long record to criticize. He has apologized for nostalgic remarks about working with segregationist senators and faced attacks from Sens. Cory Booker and Kamala Harris over his work on busing and criminal justice issues as a senator from Delaware. House Democrats have launched an impeachment inquiry into Trump, who has attempted to enlist the help of foreign governments — first Ukraine and now China — to investigate Biden and his son on unsubstantiated allegations of corruption. The former vice president recently joined the call for Trump to be impeached.
Cory Booker, New Jersey senator
Sen. Cory Booker of New Jersey has proposed a national license for gun owners as part of a sweeping gun control agenda. His policy proposals include a plan for clemency reviews of federal prisoners, which could shorten sentences for as many as 20,000 nonviolent offenders, and an immigration plan that focuses on executive orders. The Rhodes scholar and vegan has campaigned on a message of love and unity, and he earned praise for his performance at the second debate. But in September, he said he would be forced to drop out if he did not reach a short-term fundraising goal of $1.7 million in donations. He eventually met his goal.
Steve Bullock, Montana governor
Steve Bullock, Montana's governor since 2013, has presented himself as a political reformer who has achieved results in his Republican-leaning state by showing a capacity to work across partisan lines. He has made a shift on gun control and now supports a ban on semiautomatic weapons and universal backgrounds checks for gun purchasers. Bullock waited until the Montana Legislature finished its every-other-year session before entering the race in May.
Pete Buttigieg, mayor of South Bend, Ind.
Pete Buttigieg faced unexpected early success when he launched his bid. The son of two Notre Dame professors, Buttigieg (pronounced BUDDHA-judge) is a Rhodes scholar and Afghanistan war veteran. The two-term mayor of South Bend, Ind., faced anger from constituents over a white police officer's killing of a black man, highlighting resentment among African American residents. Buttigieg raised the most money of any candidate in the second quarter, amassing $25 million and followed with $19.1 million the next quarter. Buttigieg is positioned to rise, with centrists' support, if Biden stumbles.
Will the Trump impeachment inquiry dominate the Democratic debate in Ohio? Will Joe Biden face Ukraine questions? Which candidates will go on the attack?
Julián Castro, former HUD secretary
Julián Castro has described himself as the "antithesis of Donald Trump." Castro, who served as Housing and Urban Development secretary under President Obama, has called for a sharp increase in federal spending to address homelessness, saying he views housing "as a human right." The former San Antonio mayor is the only Latino vying for the Democratic nomination. After the deadly El Paso mass shooting, he released an ad on Fox News accusing President Trump of inciting racism leading to the massacre. Castro's grandmother immigrated to the U.S. from Mexico, and his identical twin is Joaquin Castro, a Democratic congressman from Texas. He recently escorted LGBTQ and disabled asylum seekers to Texas from Mexico to highlight vulnerable people stuck in the Trump administration's Remain in Mexico program.
John Delaney, former Maryland congressman
Instead of running for reelection, former Rep. John Delaney of Maryland announced in 2017 that he would run for president. With his early campaign kickoff, the political moderate has made numerous trips to New Hampshire and Iowa — yet has hardly registered in polls in either state. He has largely self-financed his campaign. Before being elected to the House, he created two publicly traded companies; he was considered one of the wealthiest members of Congress.
Tulsi Gabbard, Hawaii congresswoman
At 21, Tulsi Gabbard became the youngest person elected to the Hawaii Legislature and in 2012 became the first Hindu elected to Congress. Gabbard, who served in the National Guard in the Middle East, took two weeks off the campaign trail in August to go on a training mission in Indonesia. The frequent critic of U.S. foreign policy has been criticized herself for a 2016 Syria trip and meeting with President Bashar Assad, who has been accused of war crimes during the country's civil war. She questioned the U.S. intelligence community's assessment that Assad was responsible for a chemical attack on civilians that killed dozens.
What time is the Democratic debate, and where can I watch it? A dozen candidates will crowd onstage in Ohio on Tuesday for the largest primary debate ever.
Kamala Harris, California senator
Kamala Harris, a former San Francisco district attorney and California attorney general, started campaigning on her record as a prosecutor. The first-term senator has gained a reputation for tough questioning of President Trump's appointees and Cabinet members. Democrats, she says, need a nominee who can "prosecute the case" against Trump in the general election. But at a time when many in the party are denouncing the mass incarceration of African Americans, her criminal justice background is not entirely an asset. After a breakout performance in the first Democratic debate — in which she criticized former Vice President Joe Biden's past stances on school integration in forcefully personal terms — Harris surged in the polls, but she has since struggled to maintain that momentum. She has also fallen behind in her home state.
Amy Klobuchar, Minnesota senator
Amy Klobuchar is using her Minnesota background to appeal to a Midwestern audience. The senator, who overwhelmingly won her third term and captured rural counties Trump carried in 2016, entered the race mostly unknown to those outside her home state. She drew national attention last year during the confirmation hearings for Supreme Court Justice Brett M. Kavanaugh when she asked whether he had ever blacked out from drinking alcohol. The candidate hits many of the same points as other Democrats but has avoided using language that appeals to the party's left.
Beto O' Rourke, former Texas congressman
Beto O'Rourke entered the race with high expectations after he nearly unseated Republican Sen. Ted Cruz in GOP-leaning Texas in the marquee congressional contest of 2018. O'Rourke raised more than $6.1 million in 24 hours, but his star faded. O'Rourke, a former El Paso mayor, has tried to distinguish himself with far-reaching policy proposals on immigration and climate change. He temporarily left the campaign trail to return to his hometown after the deadly mass shooting that targeted Latinos there, and he has been a fierce critic of President Trump's anti-immigrant rhetoric. He has followed an unconventional campaign path, spending less time in early-voting states and focusing on places "where Donald Trump has been terrorizing and terrifying and demeaning our fellow Americans."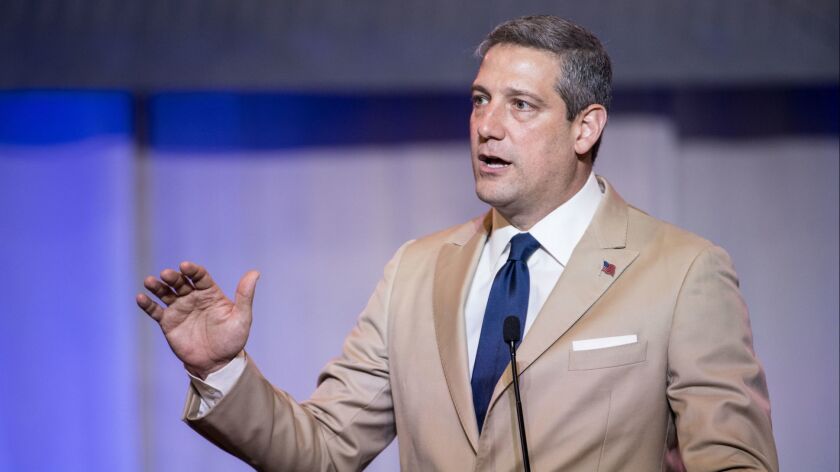 Tim Ryan, Ohio congressman
Rep. Tim Ryan of Ohio, a political moderate, has said that he wants Democrats to focus on engaging with the business community instead of attacking it over income inequality. Ryan, considered a long-shot candidate, ran unsuccessfully to replace Nancy Pelosi as House minority leader in 2016. One of Ryan's policy ideas includes promoting yoga and meditation as a suicide prevention strategy for veterans.
Bernie Sanders, Vermont senator
Bernie Sanders, the lone democratic socialist in the race, emerged as an improbable campaign rock star by mounting a surprisingly strong but unsuccessful challenge to Hillary Clinton in the 2016 race for the Democratic presidential nomination. Now Sanders is staking ground as an avatar of the party's left with his calls that echo his 2016 campaign for free college tuition and "Medicare for all." But he's no longer in a one-on-one fight against a Clinton who embodied the party establishment, and some of his former supporters have moved on or are shopping around. In early October, the 78-year-old suffered a heart attack while campaigning in Las Vegas. He returned to the trail at the October Democratic debate.
Joe Sestak, former Pennsylvania congressman
Former Pennsylvania congressman Joe Sestak is a retired Navy admiral and calls himself "Admiral Joe" on his campaign website. He announced his candidacy in Iowa in June, saying he delayed joining the race because he wanted to spend time with his daughter while she battled brain cancer; he said she has beaten the disease. According to his campaign videos, he supports paid family and medical leave and child care. He proposes public investment in infrastructure expansion of $1 trillion over 10 years, and says the U.S. needs foreign policy leadership. He has focused recently on campaigning in Iowa and New Hampshire.
Tom Steyer, former hedge fund manager
Tom Steyer, who has toyed for years with a run for public office in California, announced in January that he would not join the race for president. Six months later, he changed his mind. Steyer built his fortune as the founder and manager of Farallon Capital Management, a San Francisco hedge fund. After leaving the fund in 2012, he became a top Democratic donor. He has also promoted the fight against climate change and the drive to impeach President Trump. The big question for Steyer is whether Democrats want a billionaire with no government experience to challenge the one who now occupies the White House. The October Democratic debate was his first.
Elizabeth Warren, Massachusetts senator
Elizabeth Warren has offered, bit by bit, the most sweeping array of policy proposals, including universal child care, student debt relief, opioid addiction relief, abortion rights protections and more. Her campaign mantra is "I've got a plan for that!" At an event in Los Angeles, she riled up the crowd over pennies — her proposed tax on the ultra-wealthy that would amount to two cents on every dollar over $50 million. The former Harvard law professor has steadily gained momentum in town halls and candidate forums, fending off skeptics who have questioned her electability. She often spends hours after her rallies taking selfies with her supporters; her campaign estimates she's taken thousands. A self-proclaimed capitalist, she calls for stricter market regulation and is known for her sharp criticism of big banks. She has become known for jogging into rallies and for standing for hours after events to take selfies with fans.
Marianne Williamson, author
Marianne Williamson, the author of "Tears to Triumph: The Spiritual Journey from Suffering to Enlightenment," ran unsuccessfully for a U.S. House seat representing the California coast from Malibu to Palos Verdes in 2014. Now, the self-help writer says her presidential campaign offers Americans a "genuine pattern disruption," not just the "same-old, same-old politics." Williamson apologized in June for calling mandated vaccinations "draconian" and "Orwellian" at an event in New Hampshire. When she failed to qualify for the third Democratic debate, Williamson offered her own commentary at an event in Beverly Hills. She also did not qualify for the October debate.
Andrew Yang, businessman
Andrew Yang has a small but enthusiastic group of followers. His loyalists, known as the "Yang Gang," come out in full force when he speaks. In September, hundreds showed up to Yang's Los Angeles rally, where he dropped f-bombs and one-liners that the crowd enthusiastically endorsed. Yang is polling in the single digits, but he has inched past better-known lawmakers in qualifying for primary debates. His signature proposal is to provide a universal basic income — $1,000 a month — for every American adult in an effort to counter job losses brought about by automation.
Who has dropped out?
New York Mayor Bill de Blasio, New York Sen. Kirsten Gillibrand, former Colorado Gov. John Hickenlooper, Washington Gov. Jay Inslee, Massachusetts Rep. Seth Moulton and Bay Area Rep. Eric Swalwell have all left the race. Inslee, Moulton and Swalwell are all seeking reelection, and Hickenlooper will run for the U.S. Senate. Wayne Messam, mayor of Miramar, Fla., appears to no longer be seriously campaigning; his campaign raised $5 in the third fundraising quarter and spent nothing, according to the Federal Election Commission.
2020: Democratic primaries and key dates on the presidential election calendar »
---