Twelve major candidates are competing to become the Democratic Party's nominee for president now that New Jersey Sen. Cory Booker dropped out. With the start of the nominating process less than a month away, here are the nine men and three women aiming to face President Trump in 2020.
Michael Bennet, Colorado senator
The decade Sen. Michael Bennet has spent in the Senate has given him a reputation as a straight-talker. The moderate has said he was compelled to run because of the "toxicity" of partisan politics, but he has struggled to stand out in the crowded field. In January, Bennet released a $6-trillion "Real Deal" proposal that outlines his plan for issues such as climate change, housing affordability and healthcare — he offers a public option called Medicare-X while leaving room for private insurance. The descendant of Holocaust survivors, Bennet grew up in Washington, where his father was an aide to Vice President Hubert Humphrey.
~~~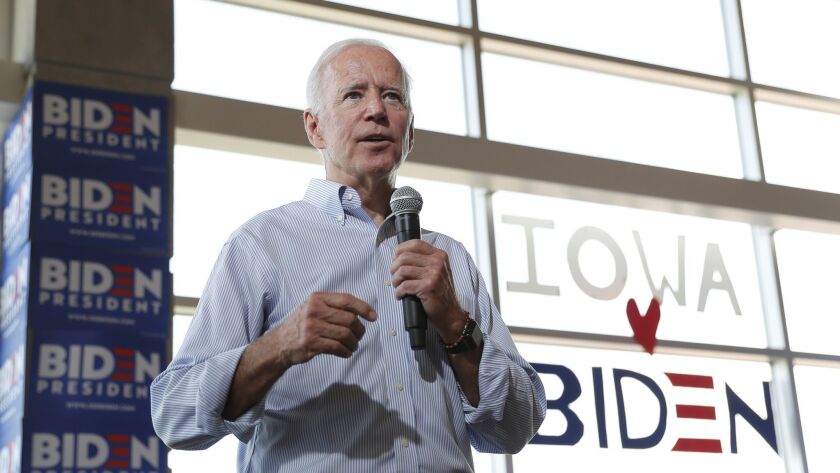 Joe Biden, former vice president
Former Vice President Joe Biden led as front-runner for much of the race, leading to attacks from several of his rivals and President Trump. Biden, a moderate, has decades of political experience — 36 years in the Senate and eight as Barack Obama's vice president — which has given his rivals a long record to criticize. He has apologized for remarks about working with segregationist senators and was forced to acknowledge President Obama's legacy of deportations at the southern border. House Democrats voted to impeach Trump for attempting to enlist the help of Ukrainian government officials to investigate Biden and his son on unsubstantiated allegations of corruption. Biden has dominated the Democratic endorsement primary, including gaining the support of Los Angeles Mayor Eric Garcetti.
~~~
Michael Bloomberg, former New York mayor
Billionaire Michael Bloomberg launched his campaign on Nov. 24, far later than most candidates. The former New York mayor is positioning himself as a moderate and "a new choice for Democrats," according to his campaign website. He opposes "Medicare for all" plans, insisting every American will have access to affordable healthcare without phasing out private insurance. He has come under harsh criticism for his decision as mayor to mandate stop-and-frisk searches that disproportionately targeted black and Latino men. He recently apologized, despite having defended the practice as recently as January 2019. One of the richest men in the world after starting his company Bloomberg LP, he has previously funded Democratic causes such as gun control and addressing climate change. He is self-funding his campaign has spent well over $100 million on television ad buys across the country, primarily targeting states where voters will cast primary ballots on Super Tuesday on March 3. He is all but skipping the four states with earlier primary votes.

~~~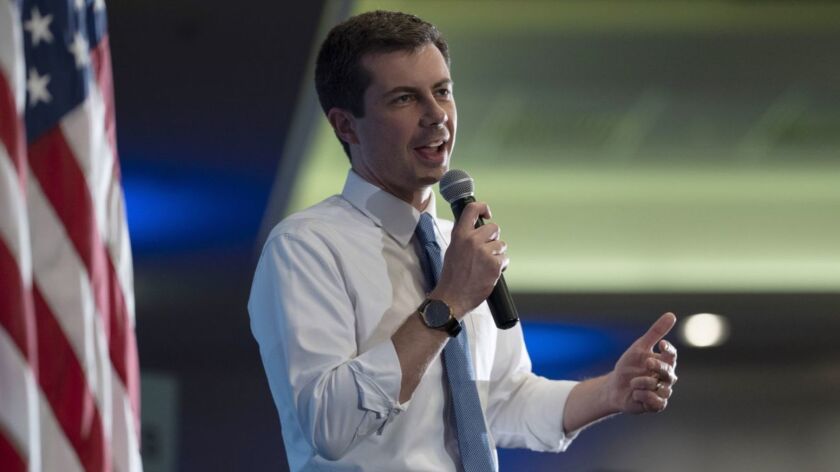 Pete Buttigieg, former mayor of South Bend, Ind.
Pete Buttigieg (pronounced BUDDHA-judge) faced unexpected early success when he launched his bid. Buttigieg recently ended his two terms as mayor of South Bend, Ind., to mixed reviews from residents of color. He faced anger from constituents over a white police officer's killing of a black man. He continues to struggle in the polls with black voters, a key electorate for Democrats, but with centrists' support, he is surging in Iowa, a state that is mostly white. Buttigieg is also unpopular with the progressive left, a sector that views him as something of a punching bag. Buttigieg would be the first openly gay presidential nominee of a major party, has had success in fundraising but has faced attacks from some rivals over courting big-dollar donors.
~~~
John Delaney, former Maryland congressman
In 2017, former Rep. John Delaney of Maryland announced he would run for president, making his one of the lengthiest campaigns in a fluctuating race that, at one point, fielded more than 20 candidates. The political moderate has made numerous trips to New Hampshire and Iowa yet has hardly registered in polls in either state. Delaney has largely self-financed his campaign. Before being elected to the House, he created two publicly traded companies; he was considered one of the wealthiest members of Congress. He was the first 2020 presidential candidate to visit all of Iowa's 99 counties. He speaks to voters about centrist policy ideas and bipartisan ideals. Delaney says eliminating private health insurance is "bad policy" and calls his healthcare plan BetterCare.
~~~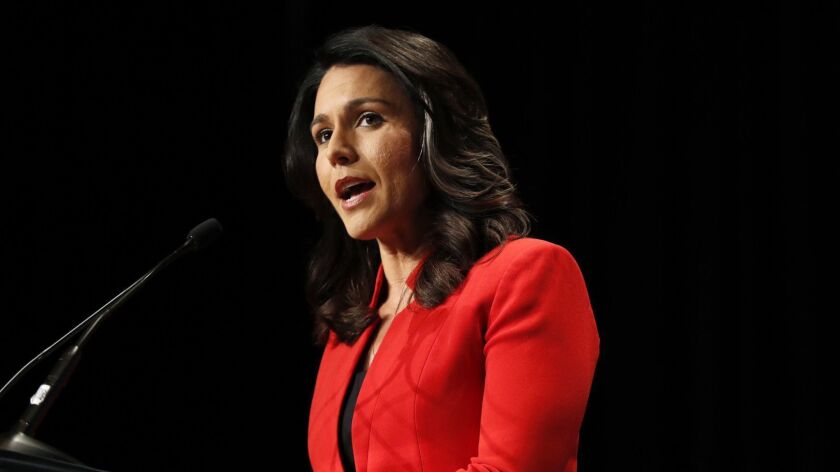 Tulsi Gabbard, Hawaii congresswoman
Rep. Tulsi Gabbard, who famously left her position at the Democratic National Committee in 2016 and then endorsed Vermont Sen. Bernie Sanders' presidential bid, has taken a sharp turn away from the progressive left to somewhere less defined. Her specific positions on key democratic issues are unclear, although she has been a frequent critic of U.S. foreign policy and an advocate for ending what she calls "regime change wars." Gabbard, who became the first Hindu elected to Congress, still serves as a major in the Army National Guard. She has been criticized for a 2016 Syria trip and meeting with President Bashar Assad, who has been accused of war crimes during the country's civil war. She questioned the U.S. intelligence community's assessment that Assad was responsible for a chemical attack on civilians that killed dozens.
~~~
Amy Klobuchar, Minnesota senator
Sen. Amy Klobuchar is using her Minnesota background to appeal to a Midwestern audience in early states. The senator, who overwhelmingly won her third term and captured rural counties Trump carried in 2016, entered the race mostly unknown to those outside her home state. But she drew national attention in 2018 during the confirmation hearings for Supreme Court Justice Brett M. Kavanaugh when she asked whether he had ever blacked out from drinking alcohol. She has tried to carve out space in the presidential race as a moderate and has lobbed shots at rival pragmatist Pete Buttigieg. She has also been vocal about the unequal treatment women receive as candidates. In December, she announced that she visited all 99 counties in Iowa leading up to the caucus.
~~~
Deval Patrick, former Massachusetts governor
Deval Patrick is positioning himself as a pragmatist suited to take on President Trump, but his late entry in the race means he's playing catch-up. Patrick said he opposes Medicare for all but supports a "public option" that would allow people to enroll in a government-sponsored health plan. He headed the civil rights division of the Justice Department during the Clinton administration. Patrick, who has close ties to President Obama and his allies, grew up poor in Chicago and then attended Harvard University and Harvard Law School. He previously worked for Bain Capital, the private equity firm founded by Republican senator and former presidential nominee Mitt Romney. Campaign aides told the Associated Press that Patrick is looking for an opening to break out in January as senators will be forced to limit their campaign stops because of impeachment proceedings in Washington.
~~~
Bernie Sanders, Vermont senator
Sen. Bernie Sanders, the lone democratic socialist in the race, emerged as an improbable campaign rock star by mounting a surprisingly strong but unsuccessful challenge to Hillary Clinton in the 2016 race for the Democratic presidential nomination. Now, his bid echoes his 2016 platform as he calls for free college tuition and "Medicare for all," positions some of his rivals have endorsed, effectively splitting his progressive base. In early October, the 78-year-old suffered a heart attack while campaigning in Las Vegas but he came back with a raucous rally in New York, and small-dollar donors continue to fuel his momentum. He has said that his campaign has received more than 5 million individual donations, averaging about $18. His California strategy? Turn out voting groups like young Latinos in unprecedented numbers.
~~~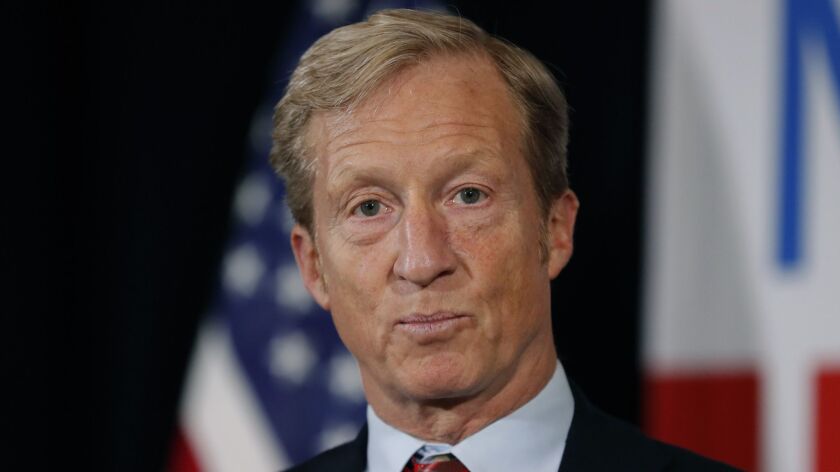 Tom Steyer, former hedge fund manager
Tom Steyer, who has toyed for years with a run for public office in California, announced in January that he would not join the race for president. Six months later, he changed his mind. The billionaire built his fortune as the founder and manager of Farallon Capital Management, a San Francisco hedge fund, and he's taking a risky bet of pitching that experience as a positive to voters. After leaving the fund in 2012, he became a top Democratic donor and has promoted the fight against climate change and the effort to impeach President Trump. Steyer, however, is not resonating with voters, even after he spent $47 million of his own money on campaigning during the first three months.
~~~
Elizabeth Warren, Massachusetts senator
Sen. Elizabeth Warren's sweeping array of policy proposals is striking a chord with the progressive left. At an event in Los Angeles, she riled up the crowd over pennies — her proposed tax on the ultra-wealthy that would amount to 2 cents on every dollar over $50 million. Her campaign mantra is "I've got a plan for that!" The former Harvard law professor has steadily gained momentum, but she is struggling with key groups like Latinos and fending off skeptics who question her electability. Her rise in the polls has made her a target for her moderate opponents, but she hits back. A self-declared capitalist, she calls for stricter market regulation and is known for her sharp criticism of big banks. She has become known for jogging into rallies and for standing for hours after events to take selfies with fans; her campaign estimates she's taken thousands.

~~~
Andrew Yang, businessman
Businessman Andrew Yang has arguably been a wild card candidate. His small but enthusiastic group of supporters has swelled, propelling him past politically experienced opponents, some of whom have dropped out. He was the only candidate of color on the debate stage in December, a sharp contrast in one of the Democratic Party's most diverse field of presidential candidates. His loyalists, known as the "Yang Gang," come out in full force when he speaks. In September, hundreds showed up to a Los Angeles rally. His signature proposal is to provide a universal basic income — $1,000 a month — for every American adult in an effort to counter job losses brought about by automation. He also proposed a tax on digital ads, targeting tech giants like Google and Facebook. His fundraising numbers have risen sharply each quarter, but he did not meet the polling requirement for the January debate.
Who has dropped out?
Sens. Cory Booker of New Jersey, Kamala Harris of California and Kirsten Gillibrand of New York; self-help author Marianne Williamson; former Housing and Urban Development Secretary Julián Castro; New York Mayor Bill de Blasio; former Colorado Gov. John Hickenlooper; Washington Gov. Jay Inslee; Montana Gov. Steve Bullock; former U.S. Reps. Beto O'Rourke of Texas and Joe Sestak of Pennsylvania; Miramar, Fla., Mayor Wayne Messam; and U.S. Reps. Seth Moulton of Massachusetts, Tim Ryan of Ohio and Eric Swalwell of the Bay Area have all left the race. Booker, Inslee, Moulton, Ryan and Swalwell are all seeking reelection, and Hickenlooper will run for the U.S. Senate.
Here are key dates and events on the the 2020 presidential election calendar, including dates of debates, caucuses, primaries and conventions.
---