O'Rourke busts into Spanish at debate, then Booker and Castro también
Beto O'Rourke, who used to represent El Paso in Congress, broke into Spanish several times during the Democratic presidential debate, prompting Cory Booker and Julian Castro to display their own bilingual skills. 
Beto O'Rourke was answering a question about raising taxes on the rich when he suddenly stopped speaking English early in the first Democratic presidential debate.
"Necesitamos incluir cada persona en el éxito de este economia," he said, befuddling rivals and television viewers who don't speak Spanish. "We need to include every person in the success of the economy," the former congressman from Texas said.
Yes, the debate Wednesday was in Miami, where much of the population is Latino. And many Spanish-speaking voters will cast ballots in the Democratic primaries.
Democrats debate immigration, taxes, climate change and guns »
But apart from that, it was not entirely clear why O'Rourke was answering a tax question in Spanish. The stunned looks on the faces of Sens. Cory Booker and Elizabeth Warren turned into instant memes.
O'Rourke's accent and grammar received some less-than-glowing reviews online.
At times he missed words or used masculine modifiers with feminine nouns. At one point, he appeared to try to say, "Every voter needs representation" but it came out as "every voter we need representation."
Booker soon took the opportunity to answer a question in Spanish — one on immigration.
"La situación ahora es inaceptable," he said, lamenting the current turmoil at the U.S.-Mexico border. Booker accented many of the wrong syllables as he spoke, making some words hard to understand.
Booker tweeted last week that he once did "immersion Spanish language study" in Ecuador. "Lived with a family and really improved my abilidad," he said.
O'Rourke, a former mayor pro tempore of El Paso on the Mexican border, learned Spanish in high school.
Julián Castro, the only Latino in the Democratic contest, is admittedly shaky in Spanish. A former mayor of San Antonio, Castro is the grandson of a Mexican immigrant.
The former Housing and Urban Development secretary told the audience in his closing statement that he was running for president — "estoy postulando por presidente de los Estados Unidos" — but used the wrong preposition. He later sent out a tweet with the grammar corrected: "me estoy postulando para presidente … ."
Even though none of the candidates' accents made them sound like native speakers, their attempts got some notice from candidates who would follow the next night.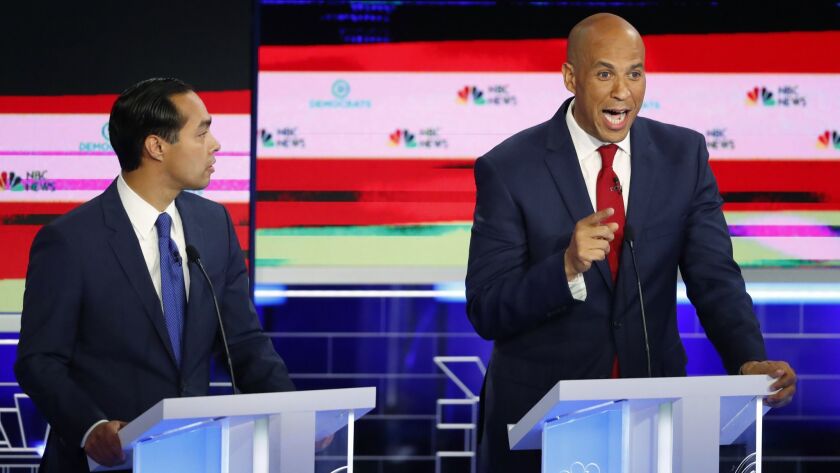 Marianne Williamson, the self-help author who will take the stage on Night 2 of the debate on Thursday, tweeted: "I need to learn Spanish by tomorrow night at 9."
The Democrats' use of Spanish marks a contrast with last election's Republican primary. Donald Trump berated his rival Jeb Bush for speaking Spanish on the campaign trail.
"He's a nice man," Trump told Breitbart News in 2015. "But he should really set the example by speaking English while in the United States."
Presidential candidates speaking Spanish — including some who don't spring readily to mind — is hardly a new phenomenon.
In 1988, Democrat Michael Dukakis spoke Spanish so often that supporters of his Republican rival, then-Vice President George H.W. Bush, somewhat defensively argued that that was no reason for Latino voters to support the Massachusetts governor.
And in a head-scratching moment during the 2008 campaign, the Spanish-language network Univision hosted a Democratic debate and instructed two of the Spanish-speaking candidates — Connecticut Sen. Christopher Dodd and New Mexico Gov. Bill Richardson — not to speak Spanish. The network, which provided real-time English-to-Spanish translation, said it would be unfair to the non-Spanish speakers onstage.
How do audiences react to candidates speaking Spanish during a debate? According to a YouGov survey this month, 42% of U.S. citizens polled said it would be pandering.
Among Hispanics, 37% thought it would be respectful for a candidate to speak Spanish during a debate — more than the percentage of whites who thought the same, according to the survey. White respondents were more likely to say it was pandering, 47%, compared with 27% of the Hispanic Americans polled.
Times staff writers Seema Mehta, Caroline S. Engelmayer and Mark Z. Barabak contributed to this report.
Eight takeaways from Night 1 of the Democratic debate »
Democratic debate Night 2: What to watch for Thursday in Miami »
---
Get our Essential Politics newsletter
The latest news, analysis and insights from our politics teams from Sacramento to D.C.
You may occasionally receive promotional content from the Los Angeles Times.