Trump's choice in Alabama Senate race is struggling ahead of Tuesday's primary as Republican loyalties split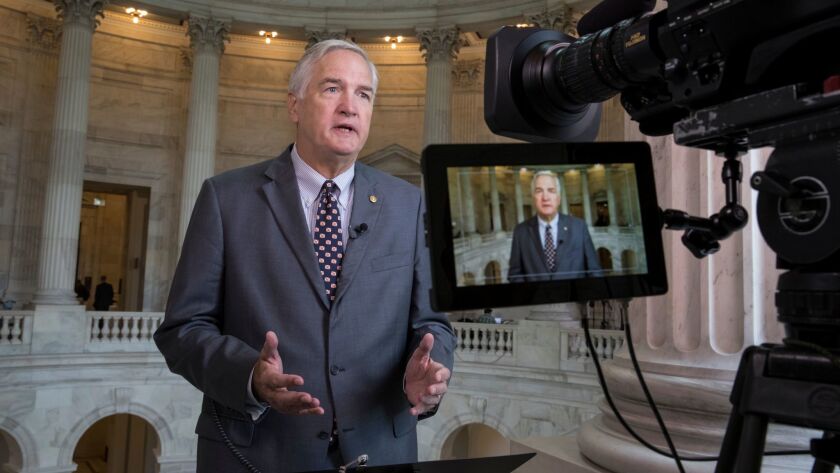 Reporting from Washington —
President Trump's preferred candidate in the Alabama Senate primary Tuesday faces an uphill battle in a contest that could set the tone for other Republican Party skirmishes ahead of the 2018 midterm election.
Trump endorsed Sen. Luther Strange, who should have had an easy lock on a seat he took over when Jeff Sessions, the state's longtime senator, resigned to become the Trump administration's attorney general.
But the race has become an early test of Trump's power to persuade his most dedicated supporters. Trump's approval rating remains sky-high in Alabama, but that enthusiasm has not spilled over to Strange, who is also favored by Senate Majority Leader Mitch McConnell (R-Ky.).
Strange is trailing fiery former judge Roy Moore, according to recent polling.
The outcome could foreshadow a deepening feud between the GOP's base voters and party leaders in the months to come.
Some voters will surely be inspired by Trump's endorsement of Strange. But others still have doubts about how Strange was appointed to replace Sessions and his ties to McConnell and other Republican leaders, who have grown increasingly unpopular among many in the base.
"They're confused," said Terry Lathan, chairwoman of the Alabama Republican Party.
With no candidate likely to emerge with a majority from a field that started with 10 Republicans, the top two vote-getters are expected to compete in a runoff in September.
More troubling for "Big Luther," as the towering 6-foot-9 Strange is known locally, is that Moore has held steady in polls and would be a formidable opponent if the two faced off next month.
Moore is a colorful and well-known figure in Alabama, the former chief justice of the Alabama Supreme Court who was removed for refusing to get rid of a Ten Commandments display. He was later reinstated by voters only to be suspended after not conforming with the U.S. Supreme Court decision upholding same-sex marriage.
Despite such setbacks, Moore at times seems more Trump-like in his outspokenness and popular support than Strange, the candidate Trump has supported through tweets and a robo-call.
"Luther has a tough battle on his hands," said Brent Buchanan, president of Cygnal consulting in Alabama, which is not working with any of the candidates. "You have to tear down Moore, but nobody's every figured out the effective formula to do that."
Democrats see almost zero chance to make inroads in Alabama, which has remained a Republican stronghold, though strategists in Washington are keeping tabs on developments.
But more telling will be the outcome for Republicans, who are facing several spirited primary campaigns leading up to a midterm election they once hoped would put Democrats on defense.
Two Republicans, Sens. Dean Heller in Nevada and Jeff Flake in Arizona, have long been known to be heading toward tough reelections in 2018. But now both are expected to face noisy primary campaigns with challengers from their right flank, testing their loyalty to Trump and to conservative issues.
As money has poured in for Strange, including $4 million from McConnell's aligned Senate Leadership Fund, the message being sent to challengers is that the official channels in Washington are sticking with the incumbent.
The group has been pounding the airwaves with ads critical of Moore, as well as another candidate in the race, Rep. Mo Brooks, hoping to ensure Strange can at least make the runoff.
A National Republican Senatorial Committee affiliate poured in $200,000 for Strange on Monday.
"Sen. Luther Strange has done a great job representing the people of the Great State of Alabama. He has my complete and total endorsement!" Trump tweeted last week. He followed up with another tweet Monday.
Voters, though, have had other ideas. Some are skeptical of Strange because of the way he was appointed to the job. As the state's former attorney general, he was selected by a governor who was facing investigation and impeachment proceedings for possible wrongdoing related to a reported affair. He has since resigned.
Others are still inspired by Moore for his strong stands, particularly on social issues.
Brooks also retains a strong following as a conservative member of the House Freedom Caucus who was initially critical of Trump as a candidate, preferring Sen. Ted Cruz of Texas. He has been criss-crossing the state on a "Drain the Swap" bus tour.
Strange's backers are counting on Trump's tweets of support to push him to the runoff, and ultimately to election.
"It showed that the president is willing to engage in the Senate races and spend some of his political capital to achieve the outcome he wants," said Steven Law, a former McConnell aide now running the Senate Leadership Fund. "That suggests he will take seriously his power and potential to impact the 2018 elections."
ALSO
Trump wants a border wall, but few in Congress want to pay for it
Trump's election has mobilized a resistance like no other, but will Democrats' answer to the tea party divide the ranks?
With a push from Trump, House Republicans pass Obamacare overhaul
More coverage of politics and the White House
---
Get our Essential Politics newsletter
The latest news, analysis and insights from our politics teams from Sacramento to D.C.
You may occasionally receive promotional content from the Los Angeles Times.