Trump's agenda at stake as sexual misconduct allegations against Roy Moore turn Alabama race into a tossup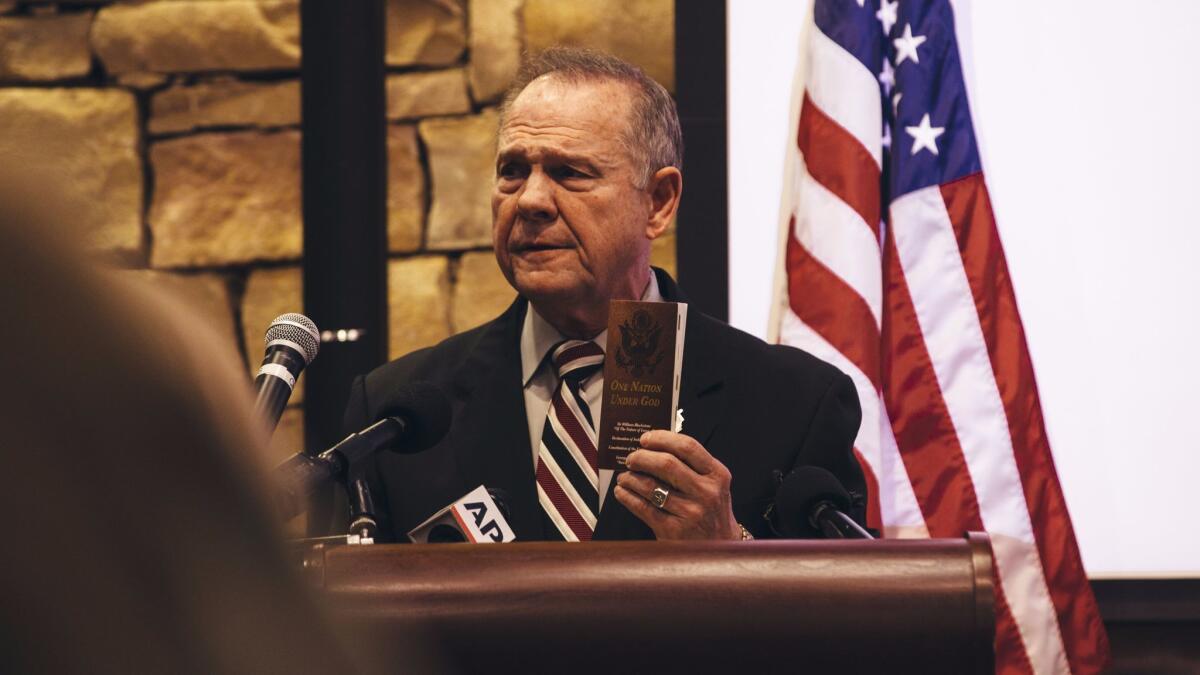 Reporting from Mobile, Ala —
Three days after allegations of sexual misconduct with teenage girls hit Alabama's Republican Senate candidate Roy Moore, the race here has become a tossup that threatens President Trump's agenda in Congress and has split Republicans over how far they're willing to go to save the seat from a Democrat.
The accusations that Moore, when he was in his 30s, dated teenagers and had sexual contact with a 14-year old have created an almost existential crisis for some Republicans.
The allegations come amid a national uproar over sexual harassment by high-profile leaders in entertainment and business, and many GOP senators and other officials swiftly called for Moore to leave the race. Others, including White House officials and Senate leaders, have equivocated.
On Sunday, a senior White House official said Moore "has to do more explaining than he has done so far," but should be given time to do so.
Republicans have only a slim, two-vote majority in the Senate on which Trump's agenda – including a pending tax cut bill — depends. If they fail to deliver, they risk being rejected by Trump voters in the coming midterm election.
A loss by Moore would make the Senate majority even more tenuous. But a win, some Republican strategists fear, could drag down other party nominees in next year's elections.
A new poll Sunday showed the race in Alabama nearly tied. The Democratic nominee, Doug Jones, a former federal prosecutor who won convictions against Ku Klux Klan members for one of the most notorious crimes of the civil rights era, held a narrow lead, within the poll's margin of error, the poll by Louisiana-based JMC Analytics found. That result would have been unthinkable just days ago in the heart of Trump country.
Moore, who enjoys folk-hero status among his most ardent supporters, has shown no signs of stepping aside despite pressure from national party establishment figures he scorns. That has left Republicans unsure of their next steps.
Some say only Trump's influence could convince Moore -- and his devoted supporters in Alabama – to go in a different direction, but it remains unclear if the president would be willing to intervene. He told reporters on his trip to Asia that he was monitoring the situation.
White House legislative director Marc Short tried to avoid committing himself during a television interview Sunday.
"There's no Senate seat more important than the notion of child pedophilia," Short said in the interview with NBC's "Meet the Press."
"But having said that, he has not been proven guilty," Short added, referring to Moore. "We have to afford him the chance to defend himself."
Short and White House advisor Kellyanne Conway, interviewed on ABC's "This Week," both said that Trump would consider the race more fully when he returns to Washington.
Even before the allegations, Moore's candidacy had split the party into opposing camps reflective of deeper Republican divisions in the Trump era.
Moore's supporters and conservative activists have celebrated his decades-long career as a controversial judge representing far-right religious views — refusing to take down a Ten Commandments display in the state courthouse, for example, and defying the U.S. Supreme Court's ruling that legalized gay marriage.
A decade ago, Moore wrote that Congress should refuse to seat Rep. Keith Ellison (D-Minn.), a Muslim, because of his religion, calling "Islamic philosophy directly contrary to the principles of the Constitution."
Earlier this fall, former Trump advisor Stephen K. Bannon latched on to Moore's primary campaign against incumbent Republican Sen. Luther Strange, making it a central part of his attack on the GOP establishment.
Centrist Republicans, affluent business leaders – and, crucially, some female voters, who often tip elections nationally — have reeled from the unwanted attention Moore brought to their state, with some fearing he would reinforce stereotypes of Alabama as a backwater.
How those establishment Republicans react now will probably chart the weeks ahead. Many have already voted with their checkbooks, declining to fund Moore's campaign. The National Republican Senatorial Committee backed out immediately after the allegations became public last week.
"No amount of money will be able to change – one way or the other – how people decide to vote in light of these very serious allegations," said Chris Pack, a spokesman for the Senate Leadership Fund, which is allied with Senate Majority Leader Mitch McConnell of Kentucky.
The 70-year-old Moore is taking a page from the Bannon playbook in fighting back, saying the allegations first reported by the Washington Post are "fake news."
"To think that grown women would want, 40 years later, to come right before an election," and make such charges, Moore told supporters Saturday in Birmingham, Ala. "Unbelievable."
But in a radio interview with Sean Hannity, the conservative host, Moore admitted that as a man in his 30s he had sometimes dated teenagers. He denied sexual contact with a 14-year-old.
Moore's strongest supporters have stuck with him.
"I don't believe any of it," said Joe Green, a retiree who waved a campaign sign for Moore along with his wife, son and other supporters Saturday on a street corner in Mobile. "The people in Alabama will see through that. They love Judge Moore."
That sort of backing leaves Republicans with few options. Even if Moore were to step aside, the deadline has passed to have his name removed from the ballot for the Dec. 12 election, which is being held to replace Jeff Sessions, now Trump's attorney general.
Some Republicans would like to see an alternative candidate wage a write-in campaign, with some fellow senators urging Strange to do so. But that might simply split the Republican vote.
"I think a write-in is something we should certainly explore. I think Luther Strange would be a strong candidate for a write-in. But a write-in is very difficult, let's face it. So there's no easy solution to this," Sen. Patrick J. Toomey (R-Pa.) said on "Meet the Press."
Other GOP officials suggested late last week that Republican Gov. Kay Ivey could delay the election to give them more time to push Moore out. Her spokesman rejected that idea Saturday.
Now McConnell is potentially facing the question of whether Moore should be allowed to be seated in the Senate if he wins the election.
Jones, meanwhile, continued campaigning, seeking to build support among voters who are less familiar with him.
Republicans have sought to portray Jones as a typical Democratic liberal, but the JMC Analytics poll suggested that has not worked. Only 31% of poll respondents said they saw him as a "liberal," with 26% calling him moderate and 37% saying they did not know.
Justin Gish, an engineer who said he usually keeps his political views to himself, has become so motivated by the special election he staked a lawn sign for Jones in his yard in Mobile's Midtown neighborhood.
"It would be great if Alabama – the most conservative state in the union – went in the other direction," he said. "If it was a reasonable conservative, I might not be so motivated. I'm more motivated now."
Mascaro reported from Mobile and Lauter from Washington, D.C.
ALSO
Keurig pulls ads from Sean Hannity's show after he defends Roy Moore. Hannity fans fight back
Mitch McConnell calls on Alabama Senate candidate Roy Moore to 'step aside' after sexual misconduct allegations
Is this small-town congressman from New Mexico tough enough to win Democrats the House majority?
Get our Essential Politics newsletter
The latest news, analysis and insights from our politics team.
You may occasionally receive promotional content from the Los Angeles Times.