Keurig pulls ads from Sean Hannity's Fox News show, and Hannity fans fight back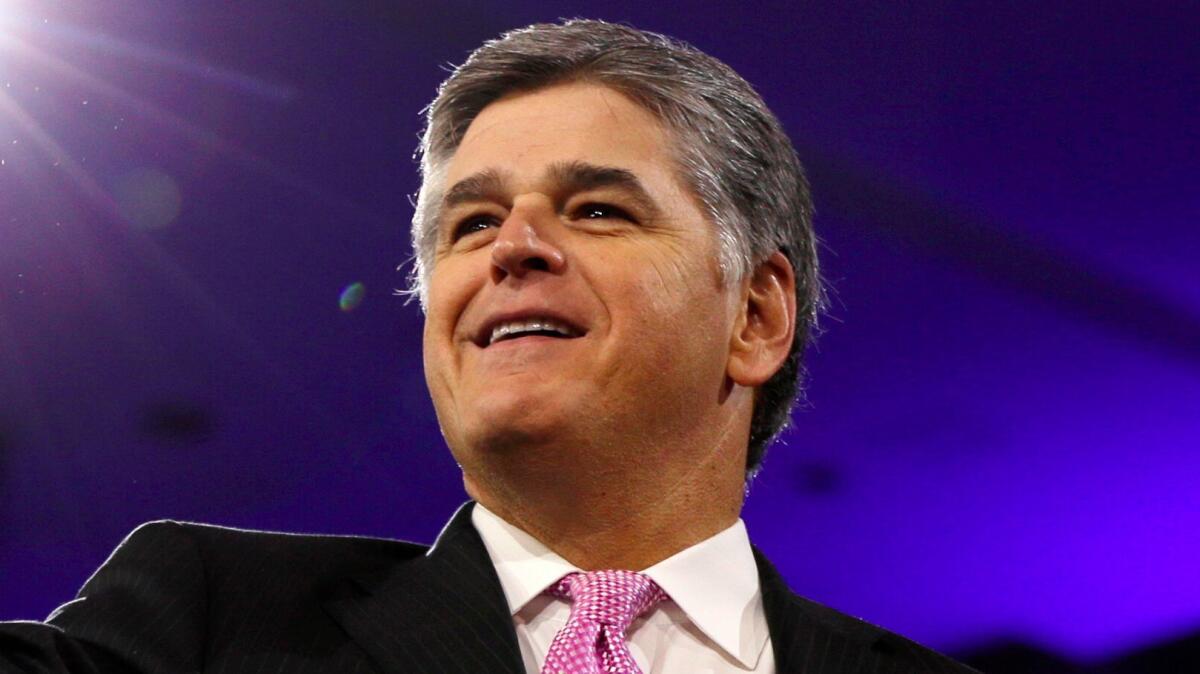 Fans of Fox News host Sean Hannity are fighting back against coffee maker company Keurig, which announced Sunday that it has pulled its ads from his program.
Vermont-based Keurig is one of several advertisers that have moved their commercials out of Hannity's program after he defended Roy Moore, the Republican candidate for U.S. Senate from Alabama, against allegations that Moore pursued romantic relationships with underage girls 40 years ago.
Hannity said that Moore should be given the benefit of the doubt and questioned the veracity of the accounts of the women, which first appeared in the Washington Post last week.
In response to Keurig's move, Hannity shared tweets from his fans that made derisive comments about the Keurig coffee maker. His supporters have also posted images showing the destruction of Keurig machines, which retail for $99.99 and up.
Hannity indicated that he will help in their protest, which has the hashtag #BoycottKeurig.
"Deplorable friends, I am buying 500 coffee makers tomorrow to give away!! Details on radio and TV. Hint; best videos!!" Hannity tweeted.
But Hannity called off the protest Monday afternoon after the Washington Post published a memo from Keurig's chief executive that apologized to employees, saying that the tweet announcing the "pause" in advertising on "Hannity" was "outside of the company's protocol." The memo said the decision was not intended to show that the company "was taking sides in a political flap."
The memo was apparently contrite enough for Hannity to get his fans to back down. "Hold on to your coffee machines @keurig has recognized it got caught up & misled by a bigot. Still giving away coffee machines, which brand has yet to be determined. Stay tuned," he wrote.
Boycotts have been called against Hannity before over positions he has taken on his show. None has resulted in a significant economic impact. The watchdog group Media Matters has urged advertisers to distance themselves from Hannity's program due to his "volatility and conspiracy spreading."
Hannity's fans have pressured advertisers to reverse their decisions to pull out in the past. USAA, which provides insurance to members of the military, reversed its decision to pull its ads from Hannity's show in May after a backlash on social media.
DNA testing website 23andMe, plus-size women's clothing retailer Eloquii and vitamin maker Nature's Bounty have also reportedly pulled ads from the "Hannity" program, which has scored the highest ratings in all of cable news in recent weeks. Realtor.com has removed a tweet that stated it pulled its ads.
Keurig and Fox News did not respond to requests for comment on the situation.
Advertiser pullouts led to former Fox News host Bill O'Reilly's firing, which followed reports that he and the network had paid out $13 million to women who accused him of sexual harassment and abusive behavior.
The boycotts against Hannity have been over views expressed on his program. The host has decried those boycotts, calling them an attack on free speech.
Twitter: @SteveBattaglio
ALSO
Mitch McConnell calls on Alabama Senate candidate Roy Moore to 'step aside' after sexual misconduct allegations
Trump's agenda at stake as sexual misconduct allegations against Roy Moore turn Alabama race into a tossup
Op-Ed: Roy Moore's alleged pursuit of a young girl is the symptom of a larger problem in evangelical circles
---
UPDATES:
2:47 p.m.: This article was updated to report the Keurig chief executive's apology to employees on the controversy and Hannity's response.
This article was originally published at 12:55 p.m.
Inside the business of entertainment
The Wide Shot brings you news, analysis and insights on everything from streaming wars to production — and what it all means for the future.
You may occasionally receive promotional content from the Los Angeles Times.