House Democrats say they may hold William Barr in contempt
William Barr is a no show at the House hearing.
Reporting from Washington —
House Democrats accused Atty. Gen. William Barr of lying to Congress and threatened Thursday to hold him in contempt, the latest salvo in a building constitutional clash between Democratic lawmakers and the Trump administration over access to witnesses and documents.
House Speaker Nancy Pelosi (D-San Francisco) said Barr broke the law when he testified on April 9 that he wasn't aware of concerns from members of special counsel Robert S. Mueller III's team that Barr had intentionally mischaracterized Mueller's findings in a letter to Congress.
"The attorney general of the United States of America was not telling the truth to the Congress of the United States," she told reporters. "That's a crime."
Mueller had complained to Barr in a private letter on March 27 that the attorney general's summary letter failed to "fully capture the context, nature and substance" of the investigation and added to "public confusion about critical aspects of the results."
As expected, Barr failed to appear for a scheduled House Judiciary Committee hearing on Thursday, leaving an empty chair and name card at the witness table, after Democrats voted to let staff lawyers question him for an hour. Rep. Steve Cohen (D-Tenn.) brought a bucket of KFC chicken to imply that Barr was a coward for not showing up.
The brief hearing quickly broke down, as Democrats and Republicans traded charges of bad faith. Rep. Doug Collins (R-Ga.), the ranking Republican, accused Democrats of staging a "stunt" to make Barr look bad after he had testified for five hours on Wednesday to the Senate Judiciary Committee.
The Justice Department also ignored a committee subpoena to provide Mueller's unredacted report and underlying evidence, which the panel had requested by Wednesday. Roughly 10% of the report's 448 pages were blacked out.
In a letter Wednesday, Assistant Atty. Gen. Stephen Boyd told the committee that lawmakers lack "any legitimate legislative purpose for seeking the complete investigative files."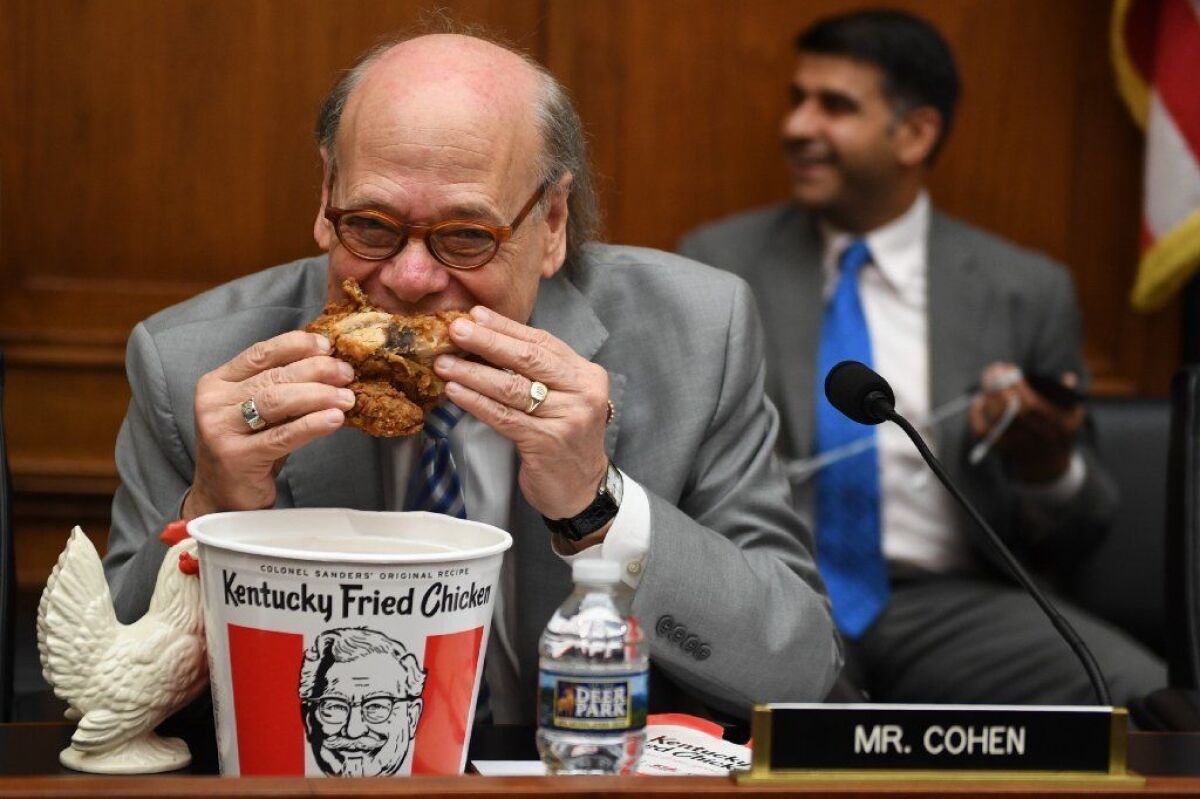 Rep. Jerrold Nadler (D-N.Y.), chairman of the Judiciary Committee, accused President Trump of trying to block legitimate congressional oversight of the executive branch and vowed to fight back.
"We will make sure that no president becomes a monarch," he said.
With several House committees investigating Trump's businesses, finances and other matters, the administration has refused to provide the president's tax returns, records on White House security clearances and other documents. It also has tried to limit or block testimony from current and former officials.
"We are at a very critical moment in this nation's history," said Rep. Elijah E. Cummings (D-Md.), chair of the House Committee on Oversight and Reform, whom Trump sued last week to block his demands for financial documents. The president "is blocking us from interviewing White House personnel, executive people in his administration."
The president's stonewalling has made some Democrats willing to consider impeachment proceedings, which party leaders have repeatedly said they oppose for now.
"They have succeeded in building a near-unanimous sense in the Democratic caucus that the executive branch of government is in defiance of the Constitution and the rule of law," said Rep. Jamie Raskin (D-Md.).
Although the White House generally cooperated with Mueller's team by providing documents and making officials available for interviews, Trump has vowed to block the Democratic-led inquiries and to fight "all the subpoenas."
Emmet Flood, a White House lawyer, said in an April 19 letter to Barr that Trump can "instruct his advisors to decline to appear before congressional committees."
"The president is determined to protect from congressional scrutiny not only the advice rendered by his own advisors, but also advisors to future presidents," Flood wrote.
The House Judiciary Committee could vote to hold Barr in contempt next week for ignoring their subpoena for the unredacted Mueller report, Democrats said.
If they do, Rep. Ted Lieu (D-Torrance) said Congress can levy fines or even order someone detained, although he said incarcerating a recalcitrant witness is unlikely.
"I don't think we would do that, but the courts have upheld that power because they understand that in the Constitution you have a system of checks and balances," he said.
President Obama's attorney general, Eric H. Holder Jr., was held in contempt by the Republican-led House in 2012 when he refused to hand over documents involving a gun-tracking operation. He was the first sitting Cabinet member sanctioned that way. A lawsuit over the dispute was settled years after Holder left office.
Republicans rallied around Barr and rejected Democrats' accusations that he had perjured himself.
"I do not believe Attorney General Barr lied," said House Minority Leader Kevin McCarthy (R-Bakersfield). "I believe he's been very transparent in all of this."
Kerri Kupec, a Justice Department representative, called Pelosi's statement "reckless, irresponsible and false."
Barr denied that he misled Congress during his April 9 appearance, when he suggested he didn't have any knowledge of concerns from members of the special counsel's office.
During his testimony to the Senate Judiciary Committee on Wednesday, he said he was only answering the question narrowly because of how it was worded.
Barr called the entire controversy over his characterization of Mueller's report "mind-bendingly bizarre" because the partly redacted document has now been released, allowing Congress and the public to assess the evidence Mueller assembled.
Get our Essential Politics newsletter
The latest news, analysis and insights from our politics team.
You may occasionally receive promotional content from the Los Angeles Times.