Michael Avenatti, Stormy Daniels' lawyer, decides not to run for president in 2020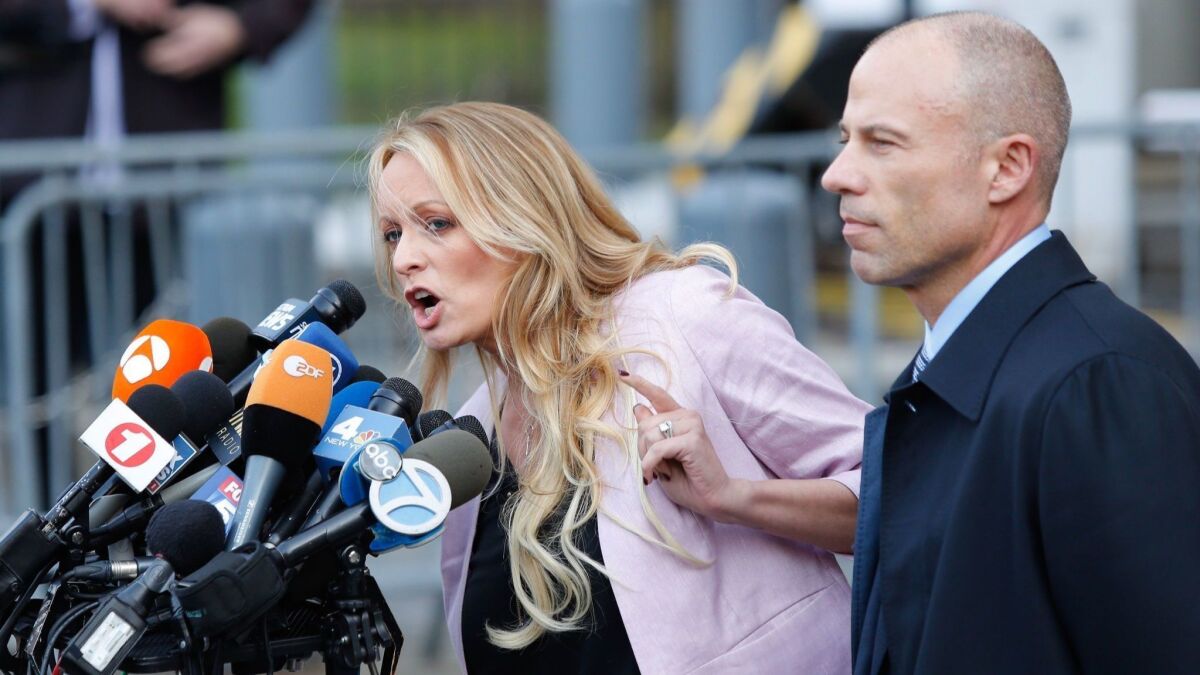 Celebrity lawyer Michael Avenatti, who was arrested three weeks ago on suspicion of domestic violence, announced Tuesday that he will not seek the Democratic presidential nomination in 2020.
In a statement on Twitter, the attorney for porn actress Stormy Daniels said it was at his family's request that he was declining to join the race.
"But for their concerns," he said, "I would run."
Avenatti, who is in the midst of divorcing his second wife, has three children.
For months, Avenatti's personal, financial and political troubles have been mounting. In October, he was hit with a personal judgment of $4.85 million for his failure to pay a debt to a former colleague at his longtime firm, Eagan Avenatti.
That same day, the Irvine Co. won a court order evicting his law practice from its Newport Beach offices because Eagan Avenatti had skipped four months of rent. The Orange County Sheriff's Office enforced the eviction last week, and the landlord locked out Avenatti and his staff.
Most politically damaging was Avenatti's arrest last month in an alleged domestic violence incident at his home in a Century City apartment tower. Mareli Miniutti, a 24-year-old actress, has alleged that a fight over money led Avenatti to shove her, twist her arm and drag her out of the apartment.
Avenatti has denied wrongdoing. Los Angeles County prosecutors have sent the case to the L.A. city attorney for possible misdemeanor charges.
Avenatti did not mention the matter in his statement on the presidential race.
"I will continue to represent Stormy Daniels and others against Donald Trump and his cronies and will not rest until Trump is removed from office, and our republic and its values are restored," Avenatti said.
"I will also continue with my nearly twenty years of speaking truth to power and representing those who need an advocate against the powerful."
Daniels, whose real name is Stephanie Clifford, is suing President Trump to void the confidentiality pact that bars her from talking about their alleged 2006 sexual encounter in Lake Tahoe.
Daniels also sued Trump for defamation over a presidential tweet attacking her credibility, but Judge S. James Otero of U.S. District Court in Los Angeles dismissed the case. Otero is weighing a request by Trump that Daniels be ordered to pay nearly $800,000 in legal fees and penalties.
In a statement last week to the Daily Beast, Daniels said Avenatti filed the defamation suit against her wishes.
"I'm tremendously grateful to him for aggressively representing me in my fight to regain my voice," she said. "But in other ways Michael has not treated me with the respect and deference an attorney should show to a client. He has spoken on my behalf without my approval."
A few days later, Daniels tweeted that she and Avenatti had sorted out their differences.
Avenatti was a relatively obscure plaintiff's lawyer until the Daniels matter rocketed him to fame in March. His pugnaciousness toward Trump made him popular with some Democrats who favor aggressive attacks on the president.
In exploring a run for the presidency, Avenatti traveled to Iowa, New Hampshire, Florida, Ohio and other states.
He was a star attraction at Democratic fundraisers during the midterm campaign, and he recently launched a political action committee, Fight PAC, that has been raising money for his political endeavors.
Twitter: @finneganLAT
---
UPDATES:
11:35 a.m.: This article was updated with background on Michael Avenatti's recent conflict with Stormy Daniels and his exploration of a run for president.
This article was originally published at 10:05 a.m.
---
Life is stressful. Our weekly mental wellness newsletter can help.
You may occasionally receive promotional content from the Los Angeles Times.