Avenatti charged with stealing from Stormy Daniels to cover lavish lifestyle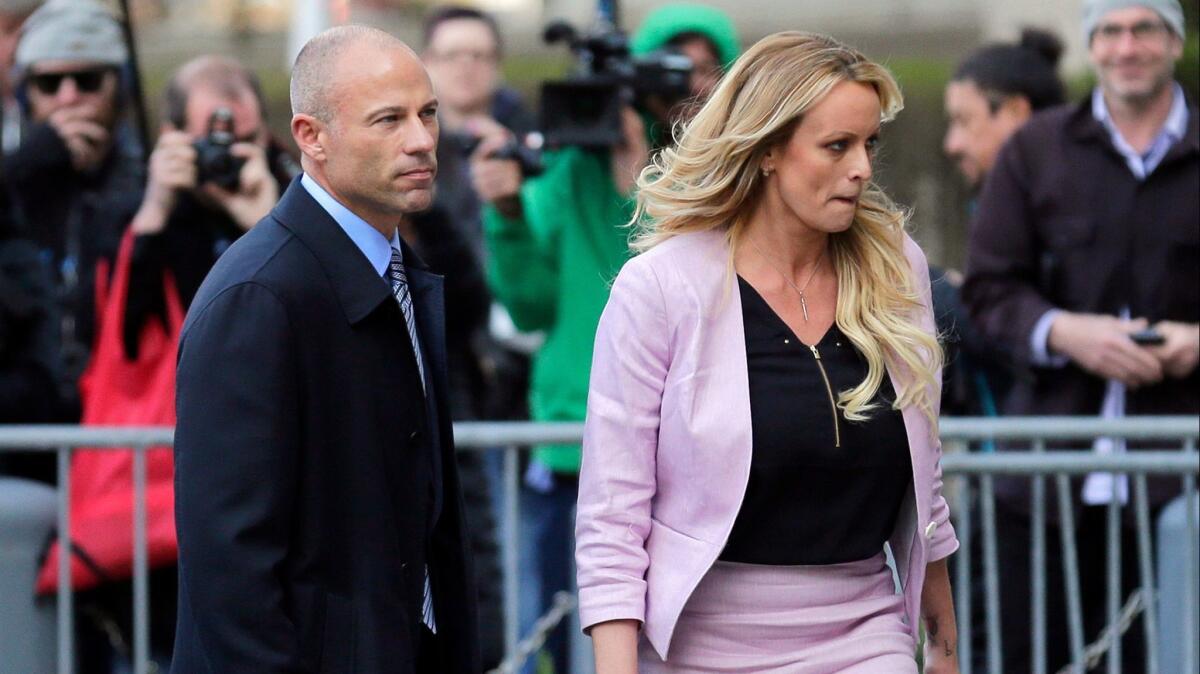 Los Angeles lawyer Michael Avenatti was indicted Wednesday on charges of stealing from his former client Stormy Daniels by skimming money from her deal to write a memoir detailing her alleged sexual affair with Donald Trump.
It was the third time in two months that federal prosecutors have charged the celebrity attorney with criminal wrongdoing. Daniels is the sixth Avenatti client whose money he is accused of embezzling.
A federal grand jury in New York accused Avenatti of forging Daniels' signature on a document instructing her literary agent to wire nearly $300,000 of her money to him.
Avenatti "blatantly lied to and stole from his client to maintain his extravagant lifestyle," said Geoffrey Berman, the U.S. attorney for the Southern District of New York.
"Far from zealously representing his client, Avenatti, as alleged, instead engaged in outright deception and theft, victimizing rather than advocating for his client," Berman said.
Avenatti spent roughly half the money on personal expenses, including the lease of a Ferrari, according to prosecutors.
On Twitter, Avenatti denied the charges. "No monies relating to Ms. Daniels were ever misappropriated or mishandled," he said.
The indictment charges Avenatti with wire fraud and aggravated identify theft. If convicted on both counts, he faces up to 22 years in prison. Combined with previous criminal charges brought against Avenatti over the last two months, he now faces a maximum penalty of 404 years in prison if convicted on all counts.
Daniels' new attorney, Clark Brewster of Tulsa, Okla., said he brought the case to the FBI and federal prosecutors earlier this year after she showed him the documentation cited Wednesday in the indictment.
"What I witnessed here was just the most base of criminality," Brewster said. "It really does take a calculated criminal mind to have done what he did over such a long period of time with such dishonesty — and all the while posing as her champion."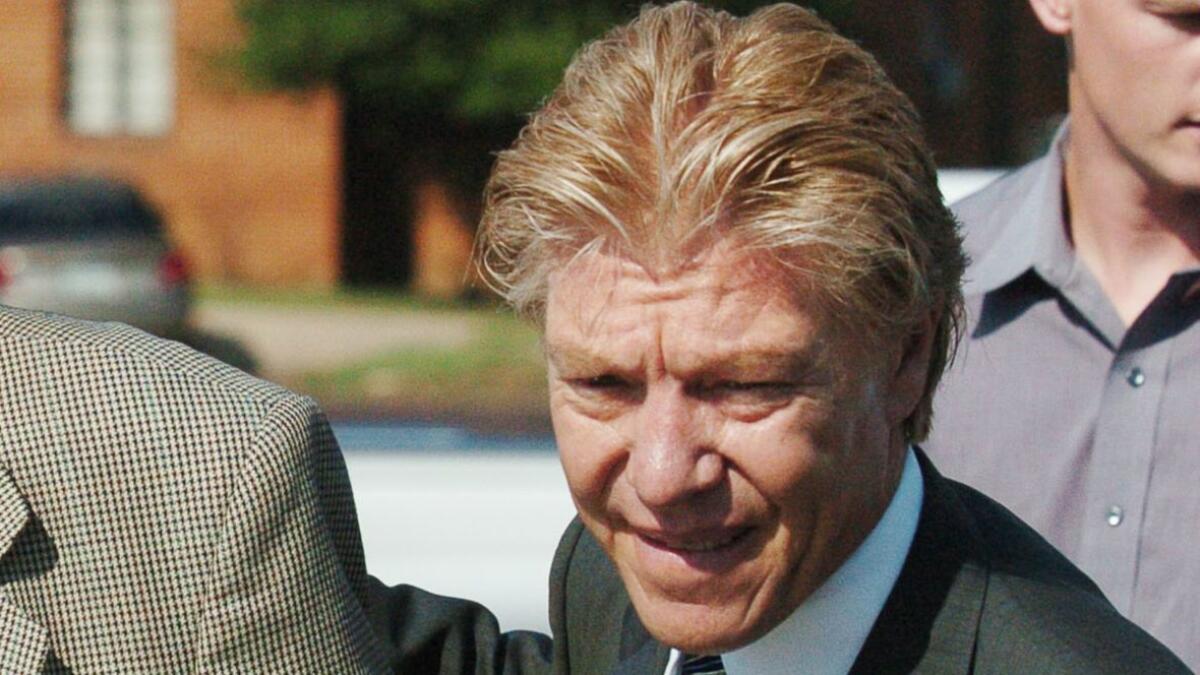 Under an April 2018 contract that Avenatti helped negotiate with Daniels' publisher, St. Martin's Press, and literary agent, Janklow & Nesbit Associates, Daniels was to receive an $800,000 advance in four installments for her memoir, "Full Disclosure."
The book featured graphic details of her alleged 2006 sexual encounter with Trump at a Lake Tahoe resort. It was published in October.
The publisher sent the first two installments — a total of $425,000 — to Daniels' agent, which forwarded the money to her after taking a fee, according to the indictment.
But Avenatti embezzled the third and fourth installments, the grand jury alleged. They say he did it by emailing a letter to Janklow & Nesbit on Aug. 1, 2018, instructing the agent to wire the remaining money to a bank account that Avenatti controlled. The letter purported to be from Daniels, with her signature.
But Daniels neither authorized nor signed the "false wire instructions," the indictment says.
When Avenatti received the two remaining installments, he spent the money on hotels, airline tickets, car services, restaurants, dry cleaning, a $3,900 lease payment on the Ferrari and various business expenses, according to the indictment.
Avenatti repeatedly lied to Daniels to cover up the theft, the grand jury alleged.
"When is the publisher going to cough up my money?" she asked him in December, according to the indictment.
Avenatti did not tell her he'd already received and spent the money, saying instead that he was threatening to sue the publisher for failing to pay her.
"They need to pay you the money as you did your part and then some," he allegedly told her.
In January, the indictment says, Avenatti told her falsely that St. Martin's Press was resisting making the payment due to purportedly poor sales.
Avenatti accused of embezzling nearly $2 million that NBA player paid ex-girlfriend »
Daniels made Avenatti famous last year by hiring him to sue President Trump to void a nondisclosure agreement she signed before the 2016 election. In exchange for her silence, the adult-film star was paid $130,000 to keep quiet about her alleged sexual encounter with Trump.
Michael Cohen, the president's former lawyer and fixer, pleaded guilty last year to a campaign finance felony for orchestrating the deal. Prosecutors say Trump directed Cohen to pay the hush money to Daniels, a stripper who has performed in more than 150 pornographic movies over the last two decades.
When the scandal broke in early 2018, Avenatti fueled the media frenzy in scores of interviews with Anderson Cooper, Megyn Kelly, George Stephanopoulos and other television news personalities.
Avenatti, who relished bashing Trump on television, explored a run for president, but his career in politics effectively died last fall when Los Angeles police arrested him on suspicion of domestic violence. Prosecutors declined to charge him.
Tensions between Avenatti and Daniels spilled into public view in November.
Daniels, whose real name is Stephanie Clifford, told the Daily Beast that Avenatti treated her with disrespect, ignored requests for an accounting of her crowdfunding money and, against her wishes, filed a second suit against Trump for defamation. Avenatti denied her allegations.
A federal judge dismissed both of Daniels' lawsuits against Trump. He ordered Daniels in December to pay Trump $292,000 to cover the president's legal fees. Two months later, Daniels and Avenatti parted ways for reasons neither disclosed.
"He knew that I was unhappy and looking for new counsel," Daniels told a crowd at a book promotion event in Washington.
The FBI arrested Avenatti in New York on March 25 after secretly recording what prosecutors allege was an attempt to extort sportswear giant Nike in conversations with the company's lawyers. He was formally indicted in that case, too, on Wednesday.
Prosecutors say Avenatti threatened to hold a news conference that would take billions of dollars off Nike's market value unless it paid a client $1.5 million and hired Avenatti and L.A. lawyer Mark Geragos for as much as $25 million to conduct an internal investigation.
Geragos, identified by prosecutors as an unindicted co-conspirator, was not charged with any crimes.
Avenatti's life of luxury hangs by a thread as IRS comes calling »
Still, the most serious legal threat to Avenatti is in California, where he faces a separate 36-count federal indictment.
In August, he is scheduled to be tried in Santa Ana on charges of embezzling millions of dollars from clients, dodging taxes, defrauding a bank by submitting fake financial papers to get loans and concealing assets from creditors and the federal court that oversaw his law firm's bankruptcy.
Avenatti denies wrongdoing.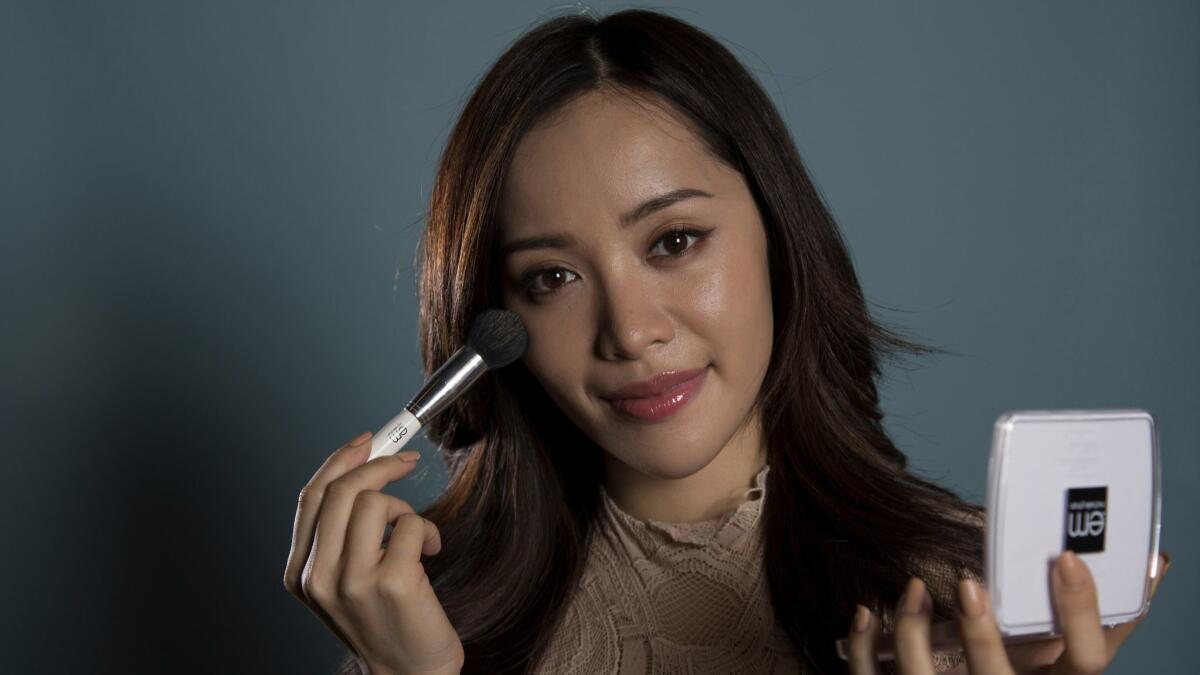 The clients whose money prosecutors say he stole include Geoffrey Ernest Johnson, a mentally ill paraplegic man on disability, and Michelle Phan, a makeup artist popular on YouTube.
He is also charged with embezzling most of a $2.75-million payment that Miami Heat basketball center Hassan Whiteside intended for an ex-girlfriend, Alexis Gardner, who was an Avenatti client.
Get our Essential Politics newsletter
The latest news, analysis and insights from our politics team.
You may occasionally receive promotional content from the Los Angeles Times.