Bernie Sanders decries anti-Muslim violence in mosque visit and downtown L.A. rally
Sanders addresses a campaign rally in Grand Park.
(Luis Sinco / Los Angeles Times)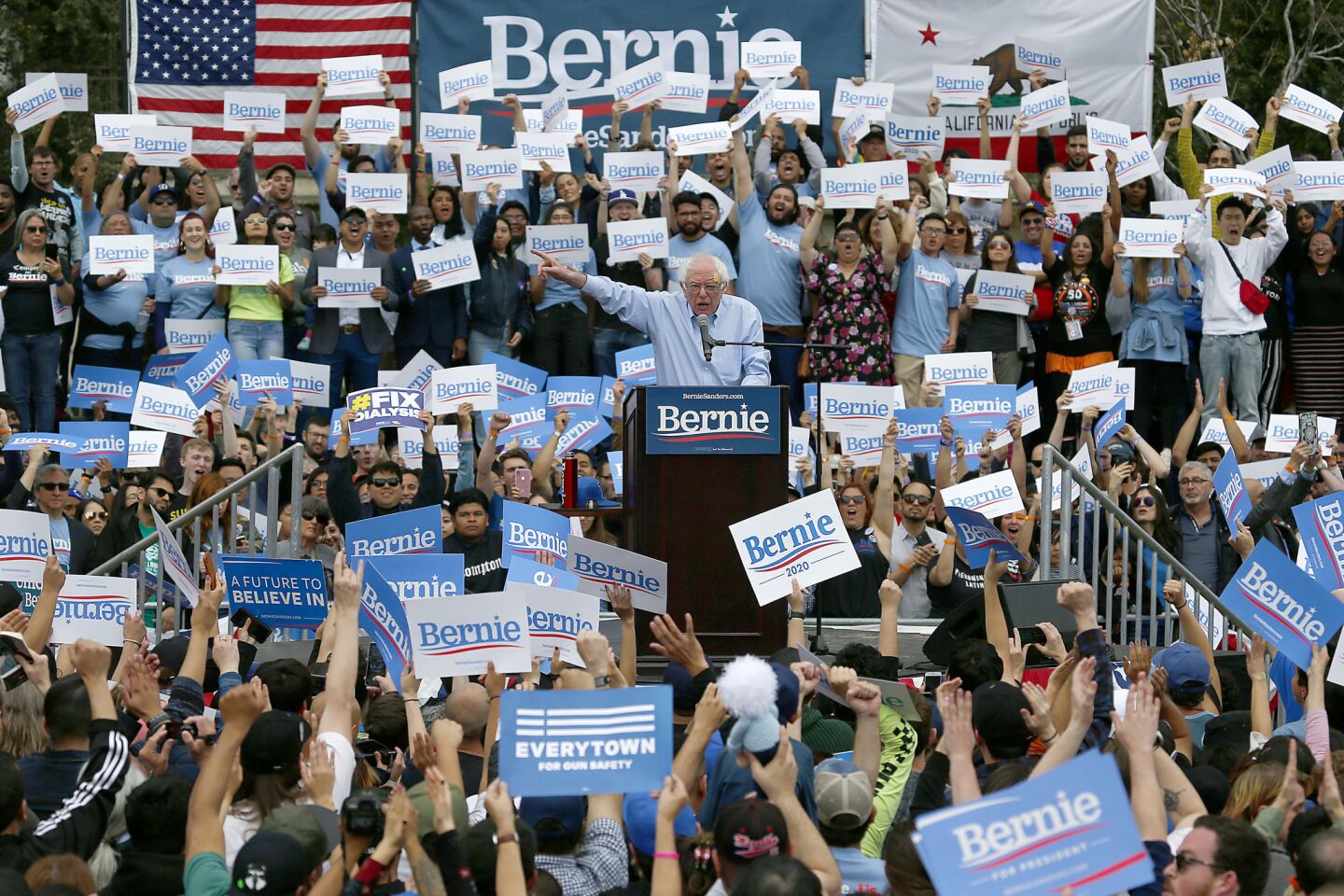 An estimated 12,000 people turned out for Sanders' rally in Grand Park.
(Luis Sinco / Los Angeles Times)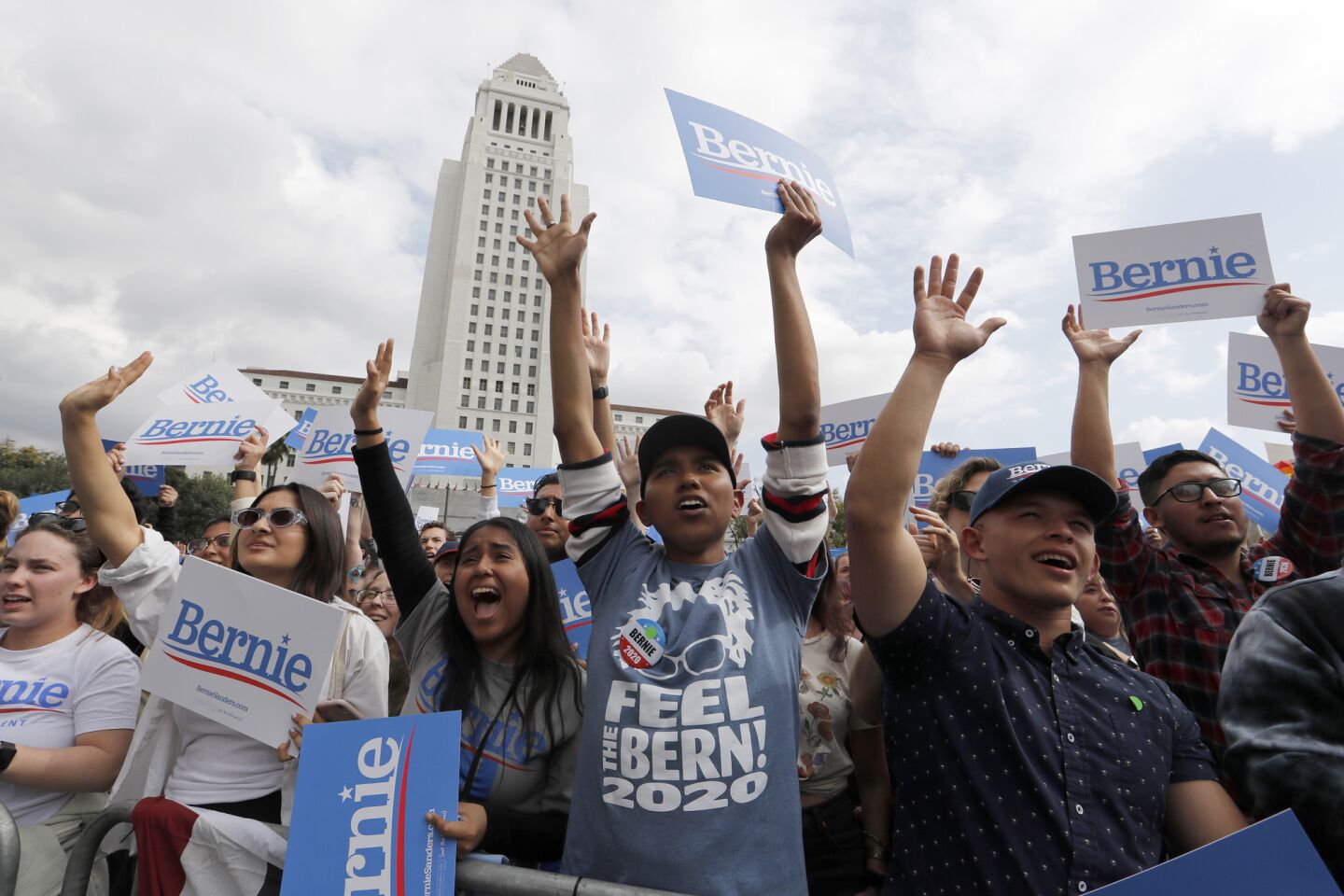 Supporters cheer Sanders in Grand Park.
(Luis Sinco / Los Angeles Times)
Costume designer Clamda the Fabulous wears a festive dress at the Sanders rally.
(Luis Sinco / Los Angeles Times)
Supporters cheer as Sen. Bernie Sanders speaks in Grand Park.
(Luis Sinco / Los Angeles Times)
Sanders prepares to speak at the Islamic Center of Southern California in Los Angeles.
(Luis Sinco / Los Angeles Times)
Sen. Bernie Sanders of Vermont called on Americans to "stand up to hatred of all kinds" on Saturday as he paid a visit to a Koreatown mosque to commemorate the victims of the mass shooting in New Zealand.
"Your background is different than mine," the candidate for the Democratic presidential nomination told about 200 Muslims at the Islamic Center of Southern California. "What a joy it is to share that."
The senator echoed that theme later in the day, telling an estimated 12,000 people at a downtown Los Angeles rally he was "shocked and disgusted" by the New Zealand shootings.
"As president of the United States, I will not have kind words to say about authoritarian leaders around the world who espouse bigotry and hatred," Sanders told the crowd. "Together we will make the United States the leader in the world in the fight for democracy and human rights."
Sanders' morning stop at the mosque came as he traveled the state to build support for his campaign nearly a year in advance of California's March 2020 primary.
It also coincided with his effort to diversify his team of top advisors following allegations that his 2016 campaign was dominated by white men and tolerated sexual harassment and discrimination.
Muslim community leaders in California invited Sanders to speak at the Islamic center to pay tribute to the 50 people killed March 15 at two mosques in Christchurch, New Zealand, by a gunman identified as a white supremacist.
Sanders, 77, who acknowledges he does not like to talk about himself, shared memories of crying when he was a boy as he read about the Holocaust.
Once the site of Bernie Sanders' last stand, California now is pivotal to his 2020 prospects »
"I never could understand why would people do such terrible and horrible things to people," he said at the mosque.
He mentioned the killing of Native Americans by European settlers in early America, the enslavement of African Americans, prejudice against Asians, Irish and Italians, and the genocides of the 20th century, saying there was reason to hope the world would now understand "that we share a common humanity."
"Who really stays up at night worrying that the color of your skin is darker than mine?" he said. "Who worries that your religion is different than mine?"
Sanders bemoaned hate crimes, the rise of authoritarianism and demagogues picking on minorities.
"Now is the time, as never before, for us to stand up to hatred of all kind," he said. He did not mention President Trump, whom he has described as racist.
The invited audience greeted Sanders with frequent applause.
"I like that he unites people," said Erica Schley Ali, 34, of La Cañada, a Sanders supporter who brought her three young children to hear him speak. "Minorities especially. I think our country needs that."
High school teacher Karima Razi, 54, a Sanders backer from Laguna Niguel, said she appreciated that his message at the mosque went beyond his usual economic agenda.
"It just shows that he has a vision that encompasses the best for everybody," she said.
Sanders followed the visit with a rally in Los Angeles, the second of three large events he planned in California this weekend. His final event will be a midday gathering in San Francisco on Sunday.
A Los Angeles Fire Department official estimated the downtown rally crowd Saturday at about 12,000.
Sanders drew on his biography to underscore his call for an economic revolution, noting that he grew up in a family that lived paycheck to paycheck.
"I know where I come from, and that is something I will never forget," he said.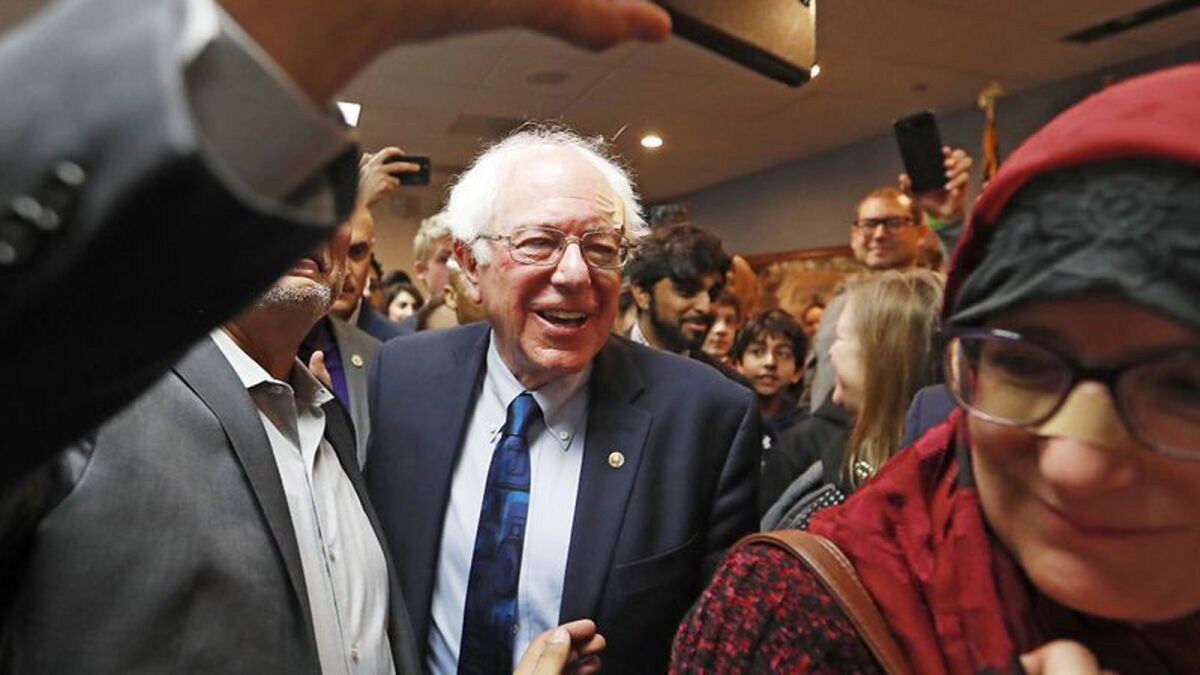 Supporters gathered in the grassy Grand Park outside of City Hall, watching opening acts of folk rock and hip-hop performers. Many said they were Sanders backers since 2016 — or even earlier.
Jane Jefferies, 66, said she's been a fan since the 1970s, citing his civil rights work. The retiree from Lancaster said the rally on Saturday felt "not as energetic," because fellow supporters were wary that the Democratic establishment was not supportive of Sanders.
"It looks like now they're focusing on the wrong people, like Beto," Jefferies said, referring to former Rep. Beto O'Rourke of Texas, who is also running. "He's always on the news — why?"
Others said they were intrigued by Sanders' Democratic rivals, especially Elizabeth Warren, the Massachusetts senator who has been a stalwart antagonist of Wall Street.
"They're almost all good, in my opinion," said David Siegel, a 60-year-old computer analyst from Beverly Hills. Sanders ranks No. 1, Siegel said, and Warren a close second. No matter what, he said, he'd vote for the Democratic nominee.
"That's not even a question," he said.
Life is stressful. Our weekly mental wellness newsletter can help.
You may occasionally receive promotional content from the Los Angeles Times.