Beto O'Rourke travels California seeking direction and his old spark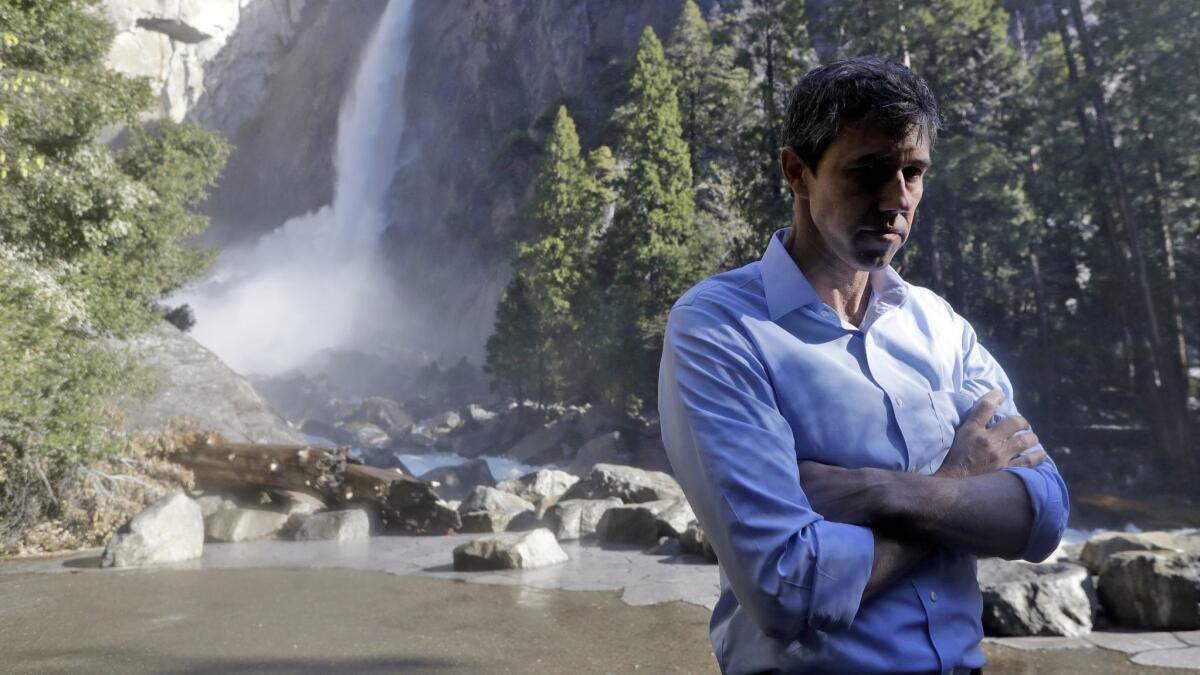 Reporting from San Francisco —
Vincent Casalaina is quite captivated with Beto.
The 73-year-old Berkeley retiree spent a month last year in Texas working unsuccessfully to elect Beto — that would be Beto O'Rourke — to the United States Senate. He was on hand this weekend, clad in his "Beto for Senate" T-shirt, when the former El Paso congressman brought his much-hyped presidential bid to San Francisco.
Casalaina has been worried, though, about Beto, who has lost altitude — Oprah! Vanity Fair! — since his March launch. He needs to draw more attention, Casalaina said, suggesting O'Rourke follow President Trump around the country and draft on the gust of Democratic outrage that invariably follows.
But Jessica Freels, who recently crossed the bay from Walnut Creek to join hundreds of candidate-shoppers at San Francisco's United Irish Cultural Center, counseled the opposite. "Dry matches and good batteries," said the 47-year-old photographer, a maxim she described as keeping your head down, maintaining a steady balance and focusing on the basics.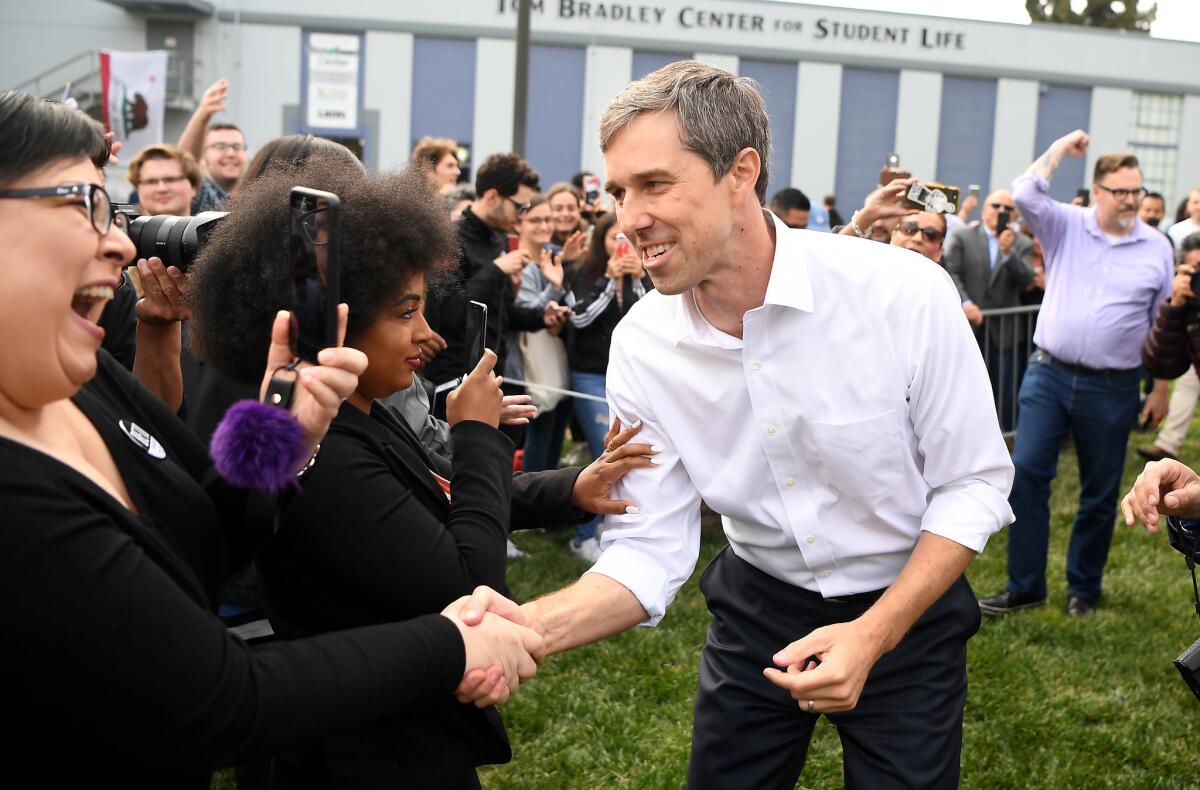 Who's running for president and who's not »
Supporters are not the only ones trying to figure out where O'Rourke goes from here. As he spent four days meandering through California, the White House hopeful seemed just as much in flux, searching for direction even more than votes in the state's March 3 primary.
He toggled between policy and photo-ops, between big crowds and intimate settings. He took copious notes, filled his Instagram feed with luxuriant photos of Yosemite and spoke over and over about the strategy that propelled his Democratic Senate candidacy to a near-upset victory in deep-red Texas: Show up. Listen.
"I may have picked up a total of two or three votes in Guthrie, Texas," O'Rourke told the San Francisco audience, referring to a town of fewer than 200 people that cast 96% of its votes for Trump. "But it made me a better candidate, it made me a better public servant going forward. We have so much in common. And if we choose not to write each other off or take each other for granted, I think there's no stopping us."
The crowd responded with applause and chants of "Beto! Beto!"
Some observers, however, suggest O'Rourke and his fledgling campaign team have been too reliant on his experience as a Senate candidate, assuming a bid for the White House was a mere extension of his live-stream, skateboard-through-parking-lots, wait-for-the-next-viral-moment campaign.
"It's one thing to run a largely uncontested Democratic Senate primary ... and then run against Ted Cruz," a Republican incumbent personally disliked by members of both parties, said Jim Henson, who teaches government studies at the University of Texas. "It's a whole other thing to enter a crowded presidential field where, at the outset, there were a lot of people who were more heavy and had other assets to bring to the table."
The last few weeks have been a steep learning curve for O'Rourke, 46, who has worked to bulk up his campaign with more seasoned professionals and reined in some of his personal idiosyncrasies, like a penchant for jumping on countertops and other elevated platforms, that quickly lapsed into cliche.
Still, given the sprawling Democratic field and fleeting voter attention spans, even those adjustments haven't kept O'Rourke from losing some of his early luster.
The Democrat of the moment, Pete Buttigieg, shares some of O'Rourke's attributes — relative youth, a fresh face — but his cool, articulate demeanor contrasts with the Texan's edgier, more frenetic approach. To a greater extent than anyone, the South Bend, Ind., mayor has damped the blaze of Beto-mania — but how long his moment lasts is an open question.
For all the buildup, O'Rourke has proved a fairly commonplace candidate.
His stump speech, delivered in seamless English and Spanish, amounts to standard Democratic fare: gun control, paid family leave, universal healthcare, LGBTQ rights, a $15-per-hour minimum wage, campaign finance reform, a more humane immigration policy.
He places particular emphasis on voting rights, calling for same-day registration, automatic enrollment of 18-year-olds and an end to gerrymandering, which stifles competition in legislative races. Carving up the country based on voters' race and ethnicity, he said, serves to "diminish the power of their votes, to silence their voices."
On Monday, O'Rourke broke fresh ground when he unveiled a plan to fight climate change by spending trillions of dollars to wean the country off fossil fuels.
The announcement, coinciding with a tour of Yosemite National Park, reflected the candidate's twin impulses, answering criticism his campaign lacks substance while shunning the familiar trappings — academic setting, speech from a lectern — of a major policy rollout.
As details circulated in the world outside, O'Rourke walked the Lower Yosemite Falls Trail along with a local climate change researcher and an environmental justice advocate from Tulare County. They discussed how global warming has affected the park's ancient sequoias and air quality in the nearby Central Valley.
The visit, with its stunning vistas, resulted in little interaction with any of California's 14 million eligible Democratic primary voters but provided plenty of fodder for those following on social media. One jogger shimmied around O'Rourke and his entourage, which included a pack of reporters and staff members, without breaking stride.
Others he encountered reacted with polite curiosity.
Shingo Kumagai, a tourist from Japan, walked up to O'Rourke for a handshake and said, "I have no idea what this is."
O'Rourke introduced himself and Kumagai asked whether he was president of the United States. "I'm running to be president," O'Rourke said.
"So you will be president then?" Kumagai asked.
"I hope so," O'Rourke replied.
Democratic candidates tune out voter anxieties over border security »
A handful of other tourists posed for selfies before the candidate got into a minivan and drove himself to Modesto Junior College for a roundtable session with farmers, scientists and community activists. O'Rourke mentioned his newly unveiled climate change initiative a few times, but mostly scribbled in a thin green notebook he otherwise kept tucked in his waistband.
Miguel Montejano and Stephen Ortiz, two 19-year-olds studying irrigation, attended a private lunch with the White House hopeful and fellow students. They said politics never came up and O'Rourke didn't explicitly solicit their votes. "He was asking lots of questions," Montejano said, "like he wants to know more."
Perhaps the best news for O'Rourke is that many months remain before the first 2020 votes are cast and, while former Vice President Joe Biden and Vermont Sen. Bernie Sanders sit atop most preference polls, there appears to be no breakaway front-runner.
"He seems to have hit a wall," Paul Maslin, a veteran Democratic strategist who is staying out of the Democratic primary, said of O'Rourke. "But maybe all of them will hit walls and then, eventually, one breaks through. We just don't know when or who or how."
Get our Essential Politics newsletter
The latest news, analysis and insights from our politics team.
You may occasionally receive promotional content from the Los Angeles Times.