Analysis: An asset or a disruption? What the White House might look like with Bill Clinton in the East Wing
Reporting from Philadelphia —
When Bill Clinton walks onto the stage at the Democratic convention on Tuesday — the night his wife officially wins the Democratic nomination for president — the couple will rest on the edge of history. Never before has the spouse of a former president become a major party's nominee for the post.
If Hillary Clinton wins the presidency, obvious questions arise. Among them: How would power flow in a new Clinton White House and how would a Vice President Tim Kaine fit into a very crowded West Wing? Would the former president's undisciplined nature prolong his more orderly wife's decision-making? Would Bill Clinton's philanthropic activities conflict with the couple's public responsibilities?
Those questions arise because of Bill Clinton himself: a man capable of offering his wife unique counsel — but also capable of blundering into controversy.
The most recent brush with Bill Clinton's problematic side came last month when the former president, in Phoenix, bounded over to a plane carrying Atty. Gen. Loretta Lynch and struck up a conversation with the woman whose department was investigating his wife's use of a private email server while secretary of State. Lynch later recused herself from deciding the case, and FBI agents and prosecutors determined that no criminal charges would be filed against Hillary Clinton.
The incident and the outrage that followed from Republicans served as a small reminder of the willfulness and lack of self-discipline that were at the root of the former president's worst problems while in office.
For all his problems, however, Bill Clinton also offers advantages to his wife's campaign and administration that can far outweigh the disadvantages.
Leon E. Panetta, the former California congressman who served as Bill Clinton's chief of staff and budget director, said the former president would be a "great asset" given his knowledge and intuition about a wide range of issues and conflicts.
But to get the benefit of all that requires having staff members who can keep Bill Clinton in line, he said when asked about the controversial Lynch meeting. That is to maintain Hillary Clinton's authority — and also to prevent embarrassments.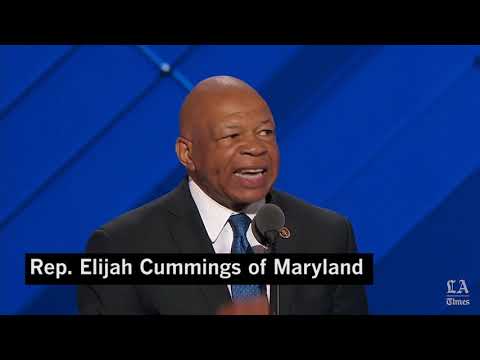 Watch: Day one of the Democratic National Convention in less than 3 minutes. More convention coverage at latimes.com/trailguide.
"Like everyone else, he is who he is," he said. "He was always good with me about that — if I told him there was something he shouldn't do because of the appearance, he would listen to me.
"You really have to learn how to use his greatest strengths and try to avoid the weaknesses as much as possible."
A second area of tension could be competition for influence between the former president and the vice president.
Both Hillary Clinton and Kaine, currently a senator from Virginia, brushed away any concerns about such conflicts on Sunday in a side-by-side interview with CBS's "60 Minutes."
"Senator, you're going to be vice president in a White House with two presidents," anchor Scott Pelley said.
"I mean, it's an embarrassment of riches," Kaine replied.
Clinton said her prospective administration would be "all hands on deck time."
"I will be the president," she added. "But it does happen to be a historical fact that my husband served as president for eight years. And there's a lot that happened which helped the American people during those eight years."
She cast him as one of several former presidents she would consult.
"I'm also going to be relying on President Obama," she said. "You know, I've already put him on notice. I'm going to be picking up the phone. I'm going to be calling and asking for his advice. And so we're going to put 'em all to work."
Panetta said that when he took over as Bill Clinton's chief of staff, he made a point of meeting with Hillary Clinton to fill her in about his activities — a gesture he said would be beneficial when dealing with her husband.
Panetta and others suggested that Bill Clinton probably would be involved in diplomatic missions abroad. That would mean travel, which would have a secondary benefit: keeping him distant from Kaine's orbit.
That would be particularly true if the new vice president was focused on building the administration's relationships on Capitol Hill, a logical post for a senator with bipartisan friendships.
The relationship between the president's spouse and the president's running mate makes for some fierce echoes for Clinton administration veterans of the feuding between the first lady's office and then-Vice President Al Gore. Having two competing centers of power in one White House is trouble enough; having three is exponentially worse.
Roger Salazar, a California-based political consultant who worked in the White House from 1994-1999, drew a distinction between how three ambitious principals — the two Clintons and Gore — acted when in their 40s, as opposed to how the Clintons and Kaine would behave now.
"He will not be a disruptive asset at this point," Salazar said of Bill Clinton, because the couple has gained "a tremendous amount of wisdom" about running a government in the years since.
Salazar also predicted that Bill Clinton might take on a smaller role than most presidential spouses, given his philanthropic activities.
That has its own complications, namely that the Clinton family's international foundation work could pose conflicts of interest with the couple's public responsibilities and Hillary Clinton's policy prerogatives. Already, in the current campaign, Republicans have raised questions about whether donors to the Clinton family foundation gained an advantage when Hillary Clinton was secretary of State.
Those who worked with both Clintons in the 1990s and others who have observed the two suggested that Bill Clinton's renowned ability to forge personal connections with voters and his credibility with overseas governments would be key strengths in his wife's administration. But few know precisely how the two would proceed in such unexplored territory.
Two months ago, in what seemed an exuberant comment, Hillary Clinton said that her husband would be in charge of "revitalizing the economy."
"Because, you know, he knows how to do it," she said. Afterward, her campaign said that role would be hers.
However the Clintons arrange their roles in the White House, Bill Clinton has secured the job of first-ranking surrogate in the campaign to get them there.
In part that is because he is far more popular than his wife. While she is viewed favorably by only about 4 in 10 voters, his support hovers in the mid-50s. That makes him more popular, overall, than Obama.
His combination of policy fluency and political charm has been effective in the past not only with Democrats but also independents and some Republican-leaning moderates, who are among the campaign's targets this year.
"His charisma is still off the charts," said Rep. Ted Lieu of Torrance. "He can be employed virtually everywhere…. Bill Clinton is absolutely a positive."
Twitter: @cathleendecker
ALSO
Trump aims at the voters he already has, figuring they can secure his victory in November
Cruz's provocative speech sparks a new battle over conservatism
Anger and optimism vie for dominance in the Republican party
Updates on California politics
Get our Essential Politics newsletter
The latest news, analysis and insights from our politics team.
You may occasionally receive promotional content from the Los Angeles Times.