Trump moves to eliminate nearly all asylum claims at U.S. southern border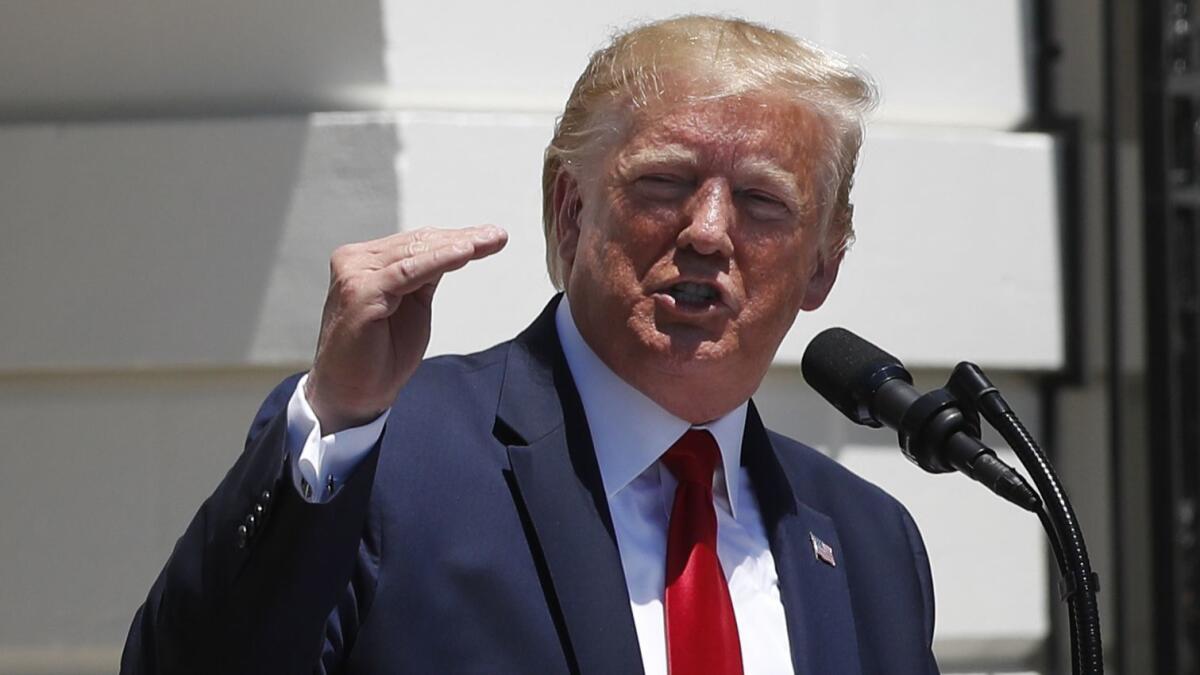 Reporting from Washington —
The Trump administration moved Monday to effectively end asylum for any migrant who arrives at the U.S.-Mexico border, an enormous shift in U.S. immigration policy that could block hundreds of thousands of people from seeking protection in the U.S. — and is certain to draw legal challenges.
The new rule, published in the Federal Register and set to take effect Tuesday, would bar asylum claims for nearly all migrants from any country. It would do so by prohibiting claims from anyone who has passed through another country en route to the U.S., which essentially would cover anyone other than Mexican residents.
Only in rare cases, such as when a migrant applies for asylum elsewhere and is denied, would a person be eligible to apply for protection in the U.S.
The rule would, in effect, nearly wipe out U.S. asylum law, which establishes a legal right to claim protection for anyone who arrives at the U.S. border and can make a case that they face torture or persecution at home. The law applies regardless of how a migrant reaches the border.
The law currently provides a major exception in cases in which the U.S. has negotiated a "safe third country" agreement with another government. Under those agreements, such as the one the U.S. has with Canada, migrants must apply in the first safe country they reach.
The new proposal would short-circuit that, effectively requiring migrants to apply in any country they land in, whether the U.S. formally considers that country safe or not.
The new rule was issued by the Justice and Homeland Security departments, which administer the asylum system, and it was written to take effect immediately when it's formally published on Tuesday. It would apply only to those arriving to the U.S., not migrants already in the country.
The sweeping change drew an immediate threat of a legal fight.
"This rule is inconsistent with both domestic and international law, and we intend to sue immediately to block it," Lee Gelernt, deputy director of the ACLU's national Immigrants' Rights Project, said.
"If allowed to stand, it would effectively end asylum at the southern border and could not be more inconsistent with our country's commitment to protecting those in danger."
The rule would most directly affect Central American families and unaccompanied minors, who account for most of a recent surge in migrants arriving at the border. But it applies to any nationality, including the large numbers of Haitians, Cubans and Africans who transit South and Central America and Mexico in order to claim asylum at the border.
"With limited exceptions, an alien who enters or attempts to enter the United States across the southern border after failing to apply for protection in a third country outside the alien's country of citizenship, nationality, or last lawful habitual residence through which the alien transited en route to the United States is ineligible for asylum," the rule states.
The rule would place a major burden on Mexico, which has already been inundated with a record number of asylum requests. Mexico's Commission for Aid to Migrants projects that it will receive 80,000 asylum requests this year, up from 29,648 last year and 2,137 five years ago.
Last month, Mexico agreed to ramp up its immigration enforcement, and in exchange, Trump agreed to hold off on imposing tariffs on Mexican imports for 45 days. Many in Mexico reacted angrily on Monday, saying Trump had reneged on that agreement and had unilaterally imposed a policy that would hurt Mexico.
At a news conference, Mexican Foreign Secretary Marcelo Ebrard said Mexico disagrees with the new rule, but said he did not see it as a violation of the June immigration deal because Mexico does not have a safe third country agreement with the U.S.
"Our country has made it very clear that we will not enter into any phase of negotiation on a safe third party agreement without the express authority of [the Mexican] Congress," he said.
Ebrard avoided answering a question about what will happen to migrants currently waiting in Mexico for their chance to apply for asylum in the U.S. Those migrants who have already been screened by U.S. officials and are waiting in Mexico until their court hearings under the administration's Remain in Mexico plan will be able to complete the asylum process in the U.S., he said.
Acting Homeland Security Secretary Kevin McAleenan said the rule was necessary despite a recent $4.6-billion bill to address humanitarian challenges at the border, and would deter migrants crossing through Mexico "on a dangerous journey."
"The truth is that it will not be enough without targeted changes to the legal framework of our immigration system," McAleenan said in a statement Monday.
But Sen. Dianne Feinstein (D-Calif.), called the new rule "not only illegal, it's heartless and it's cruel."
"These families are fleeing some of the most violent, dangerous countries in the world such as El Salvador, Guatemala and Honduras," Feinstein said in a statement. "Allowing them to seek protection in the United States isn't a loophole, as the president says and Republicans continue to repeat, it's a fundamental part of what makes us American."
The new proposal includes some exceptions: If a migrant has been trafficked, has applied for protection in a prior country and was denied or has passed through a country that is not a signatory to the primary international treaties governing refugees. Mexico and all the countries of Central America have signed those treaties, however.
Michael Knowles, president of Local 1924 of the American Federation of Government Employees, a union representing federal asylum officers in the Washington, D.C., area, said he spent the morning fielding calls, texts and office visits from officers concerned and shocked by the new rule.
"It flies in the face of the law as we have been trained and guided with great precision for decades," Knowles said.
"They're not even changing the law; they're twisting it beyond recognition," Knowles said.
"It sends a message to every other country in the world that looked up to us for leadership and human rights and says, 'We're not doing that any more,'" Knowles said. "Which means by extension, maybe they don't have to either."
Despite years of intense lobbying, the Trump administration has failed to obtain an agreement with Mexico — or countries farther south — to serve as a "safe third country."
Guatemalan President Jimmy Morales canceled a trip to Washington set for Monday after reports that the Northern Triangle country, one of the primary countries of origin for migrants arriving at the U.S. southern border, would sign a "safe third country" agreement.
A suit has been filed in Guatemala to block such a move, and the Guatemalan government said in a statement Sunday it had never contemplated an agreement.
Eric Olson, a Central America expert at the Wilson Center, a nonpartisan think tank, said the new rule has led to "a lot of head-scratching" among the region's officials.
"After the Guatemala piece fell through over the weekend, this appears to have been their backup plan," Olson said. "But there are still a lot of questions about the legality of it ... and the practicality of it. I don't think anyone in Central America is prepared to go along."
The rule is the latest — and one of the most aggressive attempts — by the administration to curb asylum protections. Two years into Trump's administration, his harsh rhetoric and intensified efforts to step up enforcement and crack down on immigration have largely failed to reverse a recent surge in migration.
Apprehensions at the border decreased in June by more than 28%, but they remain at the highest levels in about a decade.
Many of the administration's efforts to scale back or dismantle the U.S. asylum system, such as denying protections to those who cross the border between official ports of entry, have been rejected by the courts.
The president often rails against asylum seekers, broadly maligning them as engaging in fraud. Only about 15% to 20% ultimately win their asylum cases, which advocates say is a reflection of the difficulty of the U.S. system, rather than illegitimate claims.
U.S. asylum law allows protection for people who can show they fear persecution based on race, religion, nationality, political views, or membership in a particular social group in their home country.
Immigration courts are backlogged by more than 800,000 cases, meaning many people won't have their asylum claims heard for years despite the Trump administration hiring more judges.
During the budget year for 2009, there were 35,811 asylum claims, and 8,384 were granted. During the 2018 budget year, there were 162,060 claims filed, and 13,168 were granted, according to the Associated Press.
Meanwhile, conditions have worsened for migrants who make it over the border. Border facilities have been dangerously cramped and crowded well beyond capacity. The Department of Homeland Security's watchdog found fetid, filthy conditions for many children. And lawmakers who traveled there recently decried conditions.
Staff writers Tracy Wilkinson in Washington and Kate Linthicum in Mexico City contributed to this report.
Get our Essential Politics newsletter
The latest news, analysis and insights from our politics team.
You may occasionally receive promotional content from the Los Angeles Times.