Hillary Clinton might have more all-star wattage behind her than any presidential nominee ever has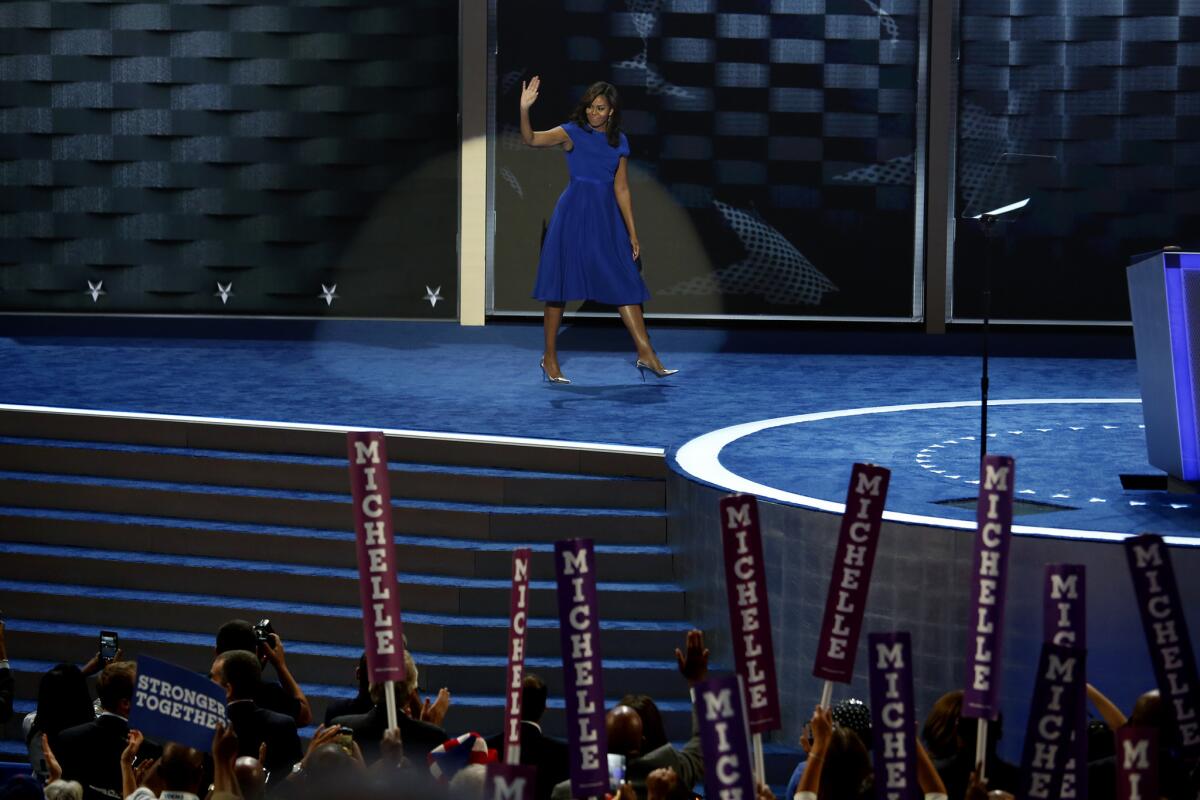 Reporting from Philadelphia —
The first woman to be a major-party nominee has Republicans outmanned.
Hillary Clinton is tapping a baseball lineup's worth of Democratic luminaries to flood swing states, drawing crowds and providing staging grounds for get-out-the-vote efforts to counter Donald Trump's dominance on cable news and social media. They began to embrace the role in force this week, testifying during the Democratic National Convention here to Clinton's character and readiness.
Beyond Clinton and her newly minted running mate, Virginia Sen. Tim Kaine, she is deploying no less than President Obama, Vice President Joe Biden, First Lady Michelle Obama, former President Bill Clinton, Chelsea Clinton, Bernie Sanders, Elizabeth Warren, Cory Booker. Just to name a few.
Every campaign has what it calls a a surrogate operation: big names that lend star power in the fall. But Clinton aides call these heavy hitters "the uber principals," or "the ubers" for short. They combine political acumen and deep campaigning experience with popularity — Obama is polling well and the first lady and vice president are reliable crowd-pleasers. This backup squad packs more political celebrity wattage than perhaps any presidential nominee has ever had.
"The good news from our perspective is if you look at all those names, they all can travel to all the battlegrounds. They're popular everywhere. And that's very distinct from what you're seeing on the other side," said John Podesta, the Clinton campaign chairman.
Clinton, like Democratic nominees before her, also has a deep bench of Hollywood celebrities advocating for her, and they wield considerable influence over their own large followings. Lena Dunham, Elizabeth Banks, Eva Longoria and Paul Simon were among the actors and musicians who spoke this week at the Democratic convention. Many of them can especially help attract younger voters, a demographic whose turnout is unreliable.
Although Republicans had difficulty filling their speaking roster at their convention last week in Cleveland without the presence of their living former presidents or many of their rising political stars, Democrats have had to figure out how to fit all their biggest names into the prime-time hours.
Monday offered a clear example of the luxury of their problem. Michelle Obama's unusually personal address was widely lauded, and she wasn't even the keynote speaker, an honor that went to Warren, or the night's most anticipated, which was Sanders.
Obama was an "exquisite" choice to address voters on the convention's first night, leveraging her standing as one of the most popular and admired figures in the nation, Clinton campaign spokesman Brian Fallon said.
As for Bill Clinton's address on Tuesday extolling the achievements of his wife, "there's been no better advocate for her, especially when it comes to describing her career as a change agent," Fallon said.
And on Wednesday, typically the night reserved for the vice presidential nominee, convention planners also have to squeeze in the sitting president and vice president.
Obama's role Wednesday is especially crucial to Clinton, much in the way Bill Clinton's address was on the same night for Obama in 2012. Obama will offer his unique perspective on Clinton's readiness to assume the presidency on Day One, White House officials say. The president will focus on the decisions she was part of in the ultimate crucible of the office: the White House Situation Room.
Some of Obama's most devoted staffers were surprised to see how fully and quickly he came to trust Clinton in the weeks and months after she joined the Cabinet.
"It really stood out in the Cabinet meetings," said Jon Favreau, then Obama's lead speechwriter. "He would constantly call on her to weigh in, and not just on foreign policy. It was on budget battles, on healthcare reform."
"He was drawing on her experience, but also on her judgment," Favreau recalled. "He knew she was thinking it through carefully and not just speaking off the top of her head."
Clinton was in the room for the most important calls of her tenure, including the arduous planning of the mission to kill Osama bin Laden.
"We" made the decision to get Bin Laden, Obama said this summer of himself and Clinton, further arguing that "our" pursuit of diplomacy has made the world safer.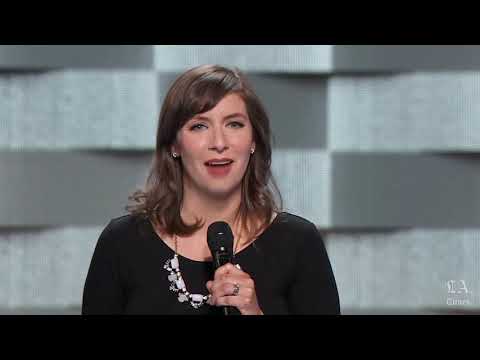 Day Two of the Democratic National Convention in less than 3 minutes. Full coverage at latimes.com/trailguide
In their shared sense of the high stakes, said Favreau, Clinton and Obama "found a solidarity."
Podesta's chief of staff, Sara Latham, who manages not just the ubers but also a longer roster of elected officials, noted another president who has also been active for Clinton: actor Tony Goldwyn, who portrays President Fitzgerald Grant on the hit ABC show "Scandal."
To generate more enthusiasm among younger voters, a White House official floated the idea of an Obama-Sanders bus tour of college campuses. And Podesta announced to the Pennsylvania delegation that Biden will campaign with Clinton in his hometown of Scranton, Pa., in mid-August.
"It translates out into the grass-roots energy," said AFL-CIO President Richard Trumka, whose union will be organizing workers across the country in tandem with the campaign. "It gets our activists more active, more willing to volunteer. They'll put in an extra shift, they'll put in an extra door knock, they'll do an extra leaflet, and they'll spend a little bit more time on the phone bank."
Times staff writer Christi Parsons in Washington contributed to this report.
For more 2016 campaign coverage, follow @mikememoli on Twitter
ALSO
An asset or a disruption? What the White House might look like with Bill Clinton in the East Wing
Hillary Clinton has all kinds of policies — that's the problem as she seeks a coherent message
Trump aims at voters he already has, betting they will give him a November win
Get our Essential Politics newsletter
The latest news, analysis and insights from our politics team.
You may occasionally receive promotional content from the Los Angeles Times.