Trump lawyer Michael Cohen is prized for his loyalty — and willingness to attack the president's rivals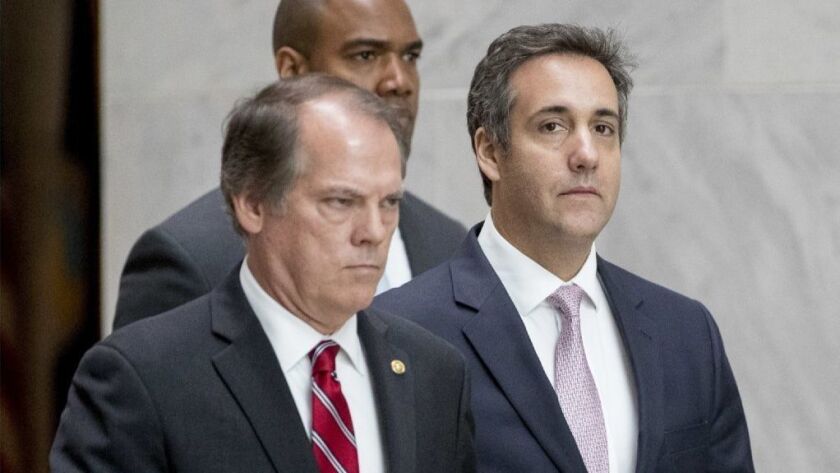 Reporting from Washington —
When President Trump was sworn into office last year, Michael Cohen basked in the moment of glory he long had insisted would come.
For more than a decade, Cohen had served as Trump's go-to private lawyer in New York, a bare-knuckle brawler and fix-it man who could be relied on to threaten Trump's critics with lawsuits, silence Trump's supposed paramours, represent him in a Moscow development deal and serve as spokesman in the crucible of the 2016 campaign.
"People don't even know the name of Barack Obama's personal attorney," Cohen was overheard telling a companion in downtown Washington. "But everybody knows my name."
With coordinated FBI raids on his Manhattan apartment, law office and hotel room Monday, Cohen's name has joined a marquee list of other Trump associates in the crosshairs of a federal investigation. The president's former national security advisor has pleaded guilty to lying to the FBI, his former campaign chairman faces criminal charges in two jurisdictions and both his son and son-in-law have faced scrutiny.
But Cohen's longtime friendship and legal representation of Trump make his case different. Cohen has frequently pledged to do anything to protect Trump and his family. He now will have his deep loyalty put to the test.
On Tuesday — a day after Trump condemned the FBI raids as a "disgrace" or "disgraceful" nine separate times at the White House in an outpouring of anger — he took to Twitter to call the investigation "a total witch hunt!" in capital letters.
He also tweeted, "Attorney-client privilege is dead!," although that privilege is not sacrosanct in cases where a lawyer participates in a crime with a client.
Cohen struck a more measured tone than the president in an interview with CNN.
"I am unhappy to have my personal residence and office raided," he said. "But I will tell you that members of the FBI that conducted the search and seizure were all extremely professional, courteous and respectful. And I thanked them at the conclusion."
The raids began after special counsel Robert S. Mueller III referred evidence to the U.S. attorney in Manhattan with approval of Deputy Atty. Gen. Rod Rosenstein. A federal judge reviewed the evidence and approved the search warrants that the FBI used to haul away business records, emails and other material.
The search warrants reportedly focused, in part, on payments to two women, the adult-film actress known as Stormy Daniels and former Playboy playmate Karen McDougal. Both received money during the 2016 campaign in deals to keep them silent about their alleged sexual relationships with Trump.
Daniels was paid $130,000 by Cohen. McDougal received $150,000 by selling the exclusive rights to her story to the National Enquirer, which never published any details. The Enquirer's publisher is a Trump ally.
Cohen has said he paid Daniels with money from a home equity loan and wasn't reimbursed by Trump's businesses or the campaign, raising questions about whether he violated banking or campaign finance laws.
The controversy has created the spectacle of the president's longtime lawyer feuding with a porn star. Cohen has sued Daniels for allegedly breaching a nondisclosure agreement, and Daniels has sued him for defamation.
The son of a nurse and a surgeon who survived the Nazi camps, Cohen's admiration for Trump began in high school, when, he has said, he read Trump's ghostwritten "Art of the Deal" — twice.
Cohen worked as a personal injury lawyer, became a partner in a law firm and invested in New York City taxi cab medallions, which are required to drive a cab in New York. He and his family members still own shares of more than a dozen cab companies, records show.
Cohen also invested in Trump properties, buying a condo at Trump World Tower — a residential skyscraper that overlooks the United Nations complex in Manhattan — after it opened in 2001. The tower has 72 floors but famously lists 90 floors in the elevators to make it appear higher.
Cohen's parents and in-laws later purchased condos in the same building, and Cohen and his wife now own a condo at Trump Park Avenue, a former hotel that Trump converted into luxury residences.
For Trump, that meant Cohen knew what he was doing.
"He has invested in my buildings because he likes to make money — and he does," Trump told the New York Post in 2007, a year after Cohen went to work for the Trump Organization as an attorney. "In short, he's a very smart person."
Cohen soon became intertwined with the sprawling Trump empire. He sat on the boards of the Eric Trump Foundation, the Miss Universe Organization and Trump Productions, which worked on Trump's blockbuster NBC reality show "The Apprentice."
Cohen helped spearhead Trump's bid to do a development deal in Russia, working on a proposal to build a Trump Tower complex in Moscow with Felix Sater, a Russian-born businessman in New York. The deal was never finalized.
But Cohen also played the heavy. When a Miss USA contestant publicly questioned the results of the Trump-run pageant in 2012, Cohen sued her and won a $5-million judgment. The case ended with a settlement in 2014.
When a Daily Beast reporter asked Cohen about allegations of rape that came out in Trump's divorce from his first wife, Ivana, Cohen warned: "I will make sure that you and I meet one day while we're in the courthouse. And I will take you for every penny you still don't have. And I will come after your Daily Beast and everybody else that you possibly know."
Barbara Res, who was an executive vice president for the Trump company from 1980 to 1992, said Trump's favorite employees shared the same traits: unquestioning loyalty and a willingness to do whatever it took to beat Trump's opponents into submission.
"He likes tough people, he likes mean people," she said. "He thinks that's the right approach. More than anything, with an employee, he wants loyalty."
Cohen served as a political advisor when Trump flirted with running for president. He then became a frequent and combative presence on cable talk shows during the campaign.
In one infamous appearance on CNN, he refused to admit the campaign was in disarray and slipping in the polls against Hillary Clinton. "Says who?" he kept repeating. "He's going to end up winning the election."
Cohen's fierce loyalty was rewarded when Trump pulled off a victory. The following spring, the Republican National Committee named Cohen as the national deputy chairman of its fundraising team.
Appearing on the Sean Hannity show on Fox News in January 2017, Cohen said he didn't mind taking heat for the president.
"I'm OK with it personally, because it benefits Mr. Trump, and I'll do anything to protect Mr. Trump," Cohen said. He said Trump was lucky to have a circle of people who had his back.
"I like to keep myself in that little circle of extremely loyal people," he said. "We will do what's necessary to protect him and the office of the presidency."
Twitter: @jtanfani
---
Get our Essential Politics newsletter
The latest news, analysis and insights from our politics teams from Sacramento to D.C.
You may occasionally receive promotional content from the Los Angeles Times.