Democrats preparing to take the long, slow road to confront Trump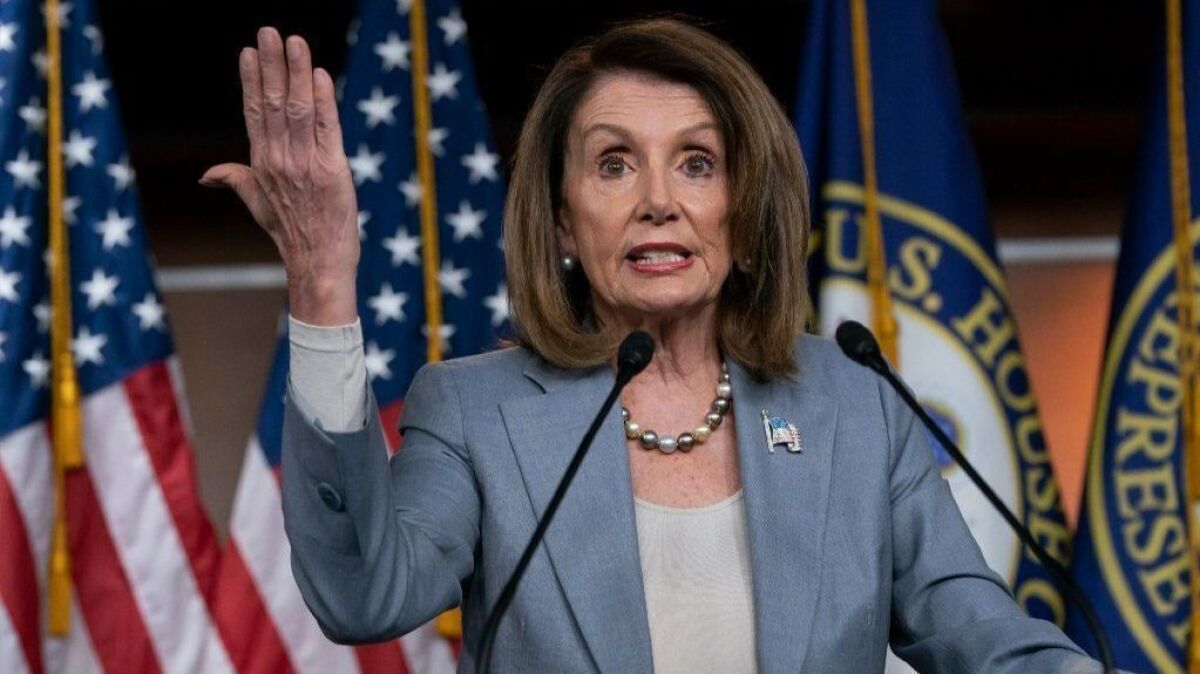 Reporting from Washington —
House Democratic leaders are settling in for what they say could be a long, hot summer of legal battles to obtain the full unredacted Mueller report and President Trump's tax returns.
And they are hoping that a slow but deliberate approach — which could last until the 2020 election — will appease both the progressive activists eager for impeachment and moderates leery of trying to remove Trump from office.
"If it takes a year and a half, that's a relatively short period of time in the course of the history of our country," House Majority Leader Steny H. Hoyer (D-Md.) said.
Though she agreed Thursday that the country is facing a "constitutional crisis," Speaker Nancy Pelosi (D-San Francisco) said the full House won't vote immediately to hold Atty. Gen. William Barr in contempt. On Wednesday, a key committee voted to move forward with the measure.
She suggested a vote on Barr could be combined with contempt measures for other, as-of-yet unnamed administration officials.
"When we're ready, we'll come to the floor," she said Thursday. "This is very methodical. It's very Constitution-based. It's very law-based. It's very factually based."
Only after a House contempt vote can lawyers go to court to try to enforce a subpoena demanding that Barr hand over the entire, unredacted report by special counsel Robert S. Mueller III.
A months-long legal battle between the legislative and executive branches carries political risk. Independent voters may lose interest in a prolonged standoff that, for some, has been hard to follow.
At the other end of the spectrum, progressive activists are growing impatient. "Why is [Pelosi] failing to uphold her own constitutional duty by refusing to start impeachment hearings now?" asked billionaire Tom Steyer, who is leading an effort to impeach the president.
So far, Democratic lawmakers are falling in line behind Pelosi's more cautious approach, trying to keep the focus on the multiple House investigations into the president. But several lawmakers, including key members of the House Judiciary Committee, emphasized that impeachment is still a possibility.
"The Democratic caucus realizes that if we can't get the facts, we may be forced to do an impeachment proceeding," said Rep. Ted Lieu (D-Torrance), a member of the panel.
Some Democrats view the White House's resistance to the House investigations as an opportunity to build support among voters that could eventually result in removing the president — whether through impeachment or through the 2020 election. They hope Americans will see Trump's refusal to cooperate as a sign that he is hiding something.
Several Democrats said they expected they would have access to the full Mueller report within six months. Others predict that the Trump administration will be able to drag out the process longer.
Despite the Democrats' go-slow approach, Republicans say Democrats are moving too fast.
Rep. Doug Collins of Georgia, the top Republican on the House Judiciary Committee, said Wednesday that Democrats were rushing "at lightning speed" to hold Barr in contempt.
When the Republican-controlled House Oversight Committee wanted documents on the "Fast and Furious" gun-tracking operation, Collins noted, 250 days passed between the subpoena and a contempt vote on then-Atty. Gen. Eric H. Holder Jr.
"Judiciary Democrats are moving more than 10 times faster," he said.
In addition to the effort to obtain the unredacted Mueller report, Democrats want to view Trump's tax returns.
House leaders plan to decide this week whether they will continue to try to negotiate with the administration to obtain the tax records — they have already written letters demanding them from Treasury Secretary Steven T. Mnuchin — or go directly to court. Mnuchin has said he won't release them, and the president sued his banks and accounting firm to block the institutions from releasing them.
Public support for impeachment is relatively low. A recent NBC/Wall Street Journal poll found that 48% of people say Congress should not hold impeachment hearings. An additional one-third says the House should continue investigations to see whether there's enough evidence to hold impeachment hearings.
Only 17% of people want impeachment hearings to begin now. But they represent some of the most active and enthusiastic Democratic voters — people whom Democrats have to keep on board to vote and volunteer in 2020.
Rep. Karen Bass (D-Los Angeles) acknowledged that some Democratic voters want the House to hurry to impeach the president. She said it's up to lawmakers to explain the reality that even if the House votes for impeachment, the Republican-led Senate would all but certainly not vote to remove the president from office.
Her message to Democratic voters who want the House to hurry on impeachment: Vote in November 2020, she said. "You can all participate in his impeachment."
Times staff writer Chris Megerian contributed to this report.
Life is stressful. Our weekly mental wellness newsletter can help.
You may occasionally receive promotional content from the Los Angeles Times.