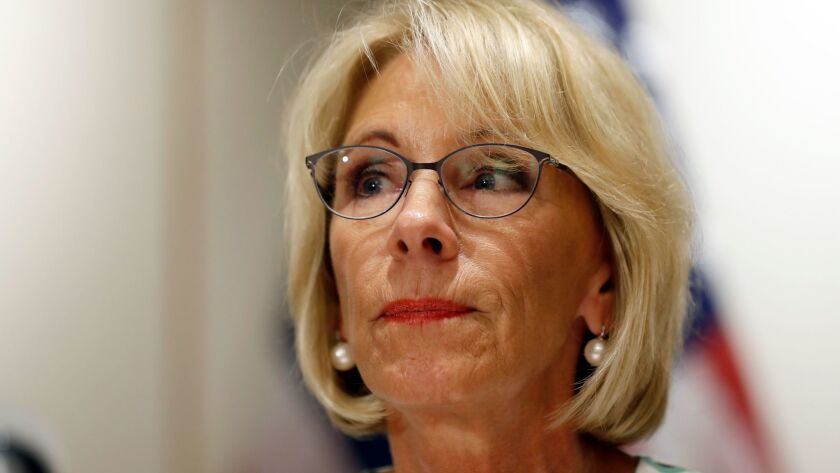 Reporting from Washington —
Education Secretary Betsy DeVos announced a formal review Thursday of Obama-era guidelines that spurred universities to more aggressively investigate campus sexual assaults — a policy she criticized as unfair and coercive.
During a strongly-worded speech at George Mason University in Virginia, DeVos stopped short of relaxing or rescinding the guidelines, as some expected she might. She said the agency would begin a formal notice and comment period to gather information and evidence before making revisions.
Women's groups fear that if the guidelines are changed, victims of sexual assault will lose protections or face pressure to remain silent. Others say a revised policy could lead to a process that better considers the rights of those accused.
DeVos announced early in her tenure that she would reevaluate the 2011 guidelines that President Obama put in place. Her review came amid complaints that students who were accused of sexual assault were not granted due process and were battling a system designed to presuppose they were guilty.
"There are men and women, boys and girls, who are survivors, and there are men and women, boys and girls, who are wrongfully accused," DeVos said. "The failed policy has pushed schools to overreach."
The rules in question govern Title IX, a 1972 law best known for the provision requiring schools to allow boys and girls to equally participate in sports. The law had long been used to ban sexual harassment and assault in schools.
Under Obama, the Department of Education's Office for Civil Rights substantially beefed up enforcement of that policy, advising colleges how they should investigate incidents and warning of possible penalties should they fail. Among other things, the Obama guidelines set a timetable for investigating cases and called for school administrators to use a lower standard of evidence than usually required in criminal assault complaints.
According to Kathleen Salvaty, the University of California's systemwide Title IX coordinator, the rules elevated the issue of campus sexual assault, which led to a mushrooming of complaints and federal investigations.
But DeVos said the guidelines — described in two "Dear Colleague" letters to administrators — effectively "weaponized" the Education Department's civil rights arm "to work against schools and against students."
The review process will put an end to the "era of rule by letter," DeVos said.
One of Trump's most divisive Cabinet members, DeVos has already rescinded Obama-era protections for transgender students and relaxed some requirements regarding how her department investigates complaints about schools' handling of sexual assault cases.
DeVos did not specify exactly which part of the Obama guidelines would be up for revision.
She did, however, propose one specific option for improving the current system: creating regional centers, which would largely take adjudication out of the hands of universities, who have often complained they are ill-equipped for the task.
DeVos cited two Philadelphia-based attorneys, Gina Smith and Leslie Gomez, who have helped colleges handle assault cases and devised such an approach. In a 2016 article in Dispute Resolution Magazine, they described the centers as a network of offices that combine the resources of government, law enforcement and schools to resolve sexual assault complaints.
While schools would still make interim accommodations and policy changes as a result of assault cases, such as dormitory changes for those involved in the complaints, the regional centers would carry out the full investigations and oversee the implementation of their results.
"This insures that students are not charged by school-based tribunals on the basis of hearsay or incomplete evidence," DeVos said.
As DeVos delivered her speech, a group of about 30 protesters outside the building chanted "Shame on you" and "Stop supporting rapists."
"I have concerns that she's even talking about rescinding [the guidance].… It makes rapists and assaulters feel safer," said Amy Crummie, a sophomore at George Mason.
Women's groups were quick to condemn the speech.
"It will discourage schools from taking steps to comply with the law — just at the moment when they are finally working to get it right," Fatima Goss Graves, president of the National Women's Law Center, said in a statement. "And it sends a frightening message to all students: your government does not have your back if your rights are violated."
Annie Clark, an advocate with the End Rape on Campus national organization, denounced the DeVos speech and said sexual assault survivor groups were not invited to attend. She added that it was even more troubling because it came from the administration of President Trump, who was accused by several women of sexual misconduct before he was elected and was caught on a hot mic in 2005 bragging about groping women.
"We are extremely concerned that we're going back to the dark days," she said.
Some critics of the Obama-era rules hailed DeVos' announcement
"The current process is unfair and flawed," said Matthew Haberkorn, an attorney who represented a UC San Diego student accused of sexual misconduct. "Universities now feel compelled to find the accused responsible or victims will sue them, [the Education Department] will investigate the school to see what they did and they'll get fined or lose their federal financial aid."
Haberkorn was one of the nation's first attorneys to win a court ruling that his client had been denied due process rights by a university. That 2015 ruling, however, was overturned on appeal.
Cindy Garrett, co-president of Families Advocating for Campus Equality, which helps students who have been accused of sexual assault and their families, said their group's message board was filled with hopeful remarks during DeVos' speech. She read comments like "progress is being made," "my heart smiles" and "this brought me to tears."
Garrett, a California attorney, said she was confident DeVos could both "protect victims and provide a fair process."
For those who have been accused of sexual assault, the current guidelines frame due process as an "obstacle rather than an asset," according to Robert Shibley, executive director of Foundation for Individual Rights in Education.
"It ended up ... pushing forward a culture where due process was seen as though it were in conflict with serving the needs of victims," he said.
Shibley said colleges probably wouldn't use revised guidelines as an "excuse to stop protecting victims."
But Russlynn Ali, who helped write the Obama administration's letter as the department's former assistant secretary for civil rights, doesn't see it that way.
"The fact that this administration seems intent on dismantling commonsense protections and creating an environment that is hostile to student survivors of sexual violence is not only irresponsible, but an affront to justice for all," she said in a statement.
Read the 2011 'Dear Colleague' letter that set new rules for campus sex assault investigations »
---
UPDATES:
3:05 p.m.: The article was updated with additional reaction to DeVos' speech.
The article was originally published at 11:05 a.m.
---