Dreamer Astrid Silva emerges as a new face of Democratic leadership ready to take on Trump
Reporting from Washington —
Not long ago, young immigrant Astrid Silva was at home in Las Vegas, writing heartfelt letters concerning her fears about being in the country illegally to someone who became an unlikely pen pal — her home-state senator, Harry Reid.
She never expected that one of the most powerful men in Washington would not only read her handwritten notes, but become so moved that he deepened his commitment to immigration reform.
On Monday night, Silva, now 28, shared the prime-time stage with some of the country's most prominent leaders, including First Lady Michelle Obama and Vermont Sen. Bernie Sanders, at the Democratic National Convention.
"I've overwhelmed at how far our families have come, because we haven't given up and we've become stronger," Silva said ahead of her speech. "No matter how much we have been pushed around, we don't back down."
Hers is an only-in-America immigrant story — the unlikely rise of a child who arrived in the United States crossing the border with Mexico as a 4-year-old, carrying her Ken doll. Today she is widely seen as one of the new faces of Democratic leadership.
"My family believed so deeply in the promise of this country that we risked everything for the American dream," she told delegates Monday.
A Dreamer, as young immigrants are called, Silva grew up in the shadow of the Las Vegas Strip having no idea she wasn't officially American until her lack of proper immigration paperwork began interfering with her opportunities as she approached adulthood.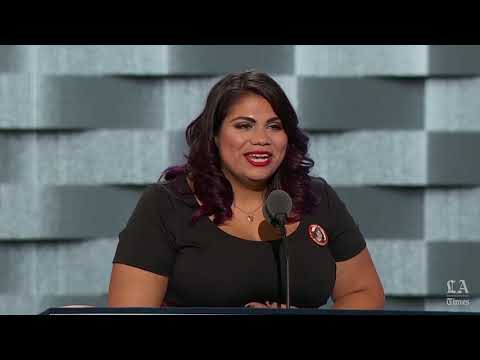 Astrid Silva, immigration activist, speaks at the Democratic National Convention
At the time, attending college, she was afraid to attend political rallies, worried that without a proper identification card she would not be allowed to participate.
Her father, a landscaper in Las Vegas, and her mother, who babysat and took care of the family, lived in constant fear of deportation. They had been in the United States for decades and were trying to get their immigration paperwork in order.
And so she started writing letters to Reid.
She founded Dream Big Vegas to push her state's lawmakers to support immigration reforms that would allow families like hers to apply to remain lawfully in the country.
When President Obama in 2012 granted deferred deportation to young Dreamers if they were studying or in the military, she applied and received a temporary work permit.
In 2013, she watched from the balcony of the U.S. Senate when the chamber passed a landmark immigration overhaul, only to see it stall and die later in the House.
And she was tapped by Obama in 2014 to introduce him in Las Vegas when he announced a second executive action to provide expanded deportation relief for families.That program has been blocked by federal courts.
"When Donald Trump talks about deporting 11 million people, he's talking about ripping families apart – separating families like mine," she told the convention in Philadelphia. "Hillary Clinton understands that this is not who we are as a country…. I know she will fight to keep our families together."
Today, Silva supports the Clinton campaign. She also is the organizing director at Progressive Leadership Alliance of Nevada, which works to promote social and environmental justice.
Her day job at PLAN involves organizing immigrants to apply for citizenship and registering them to vote.
Family and friends in Las Vegas are gathering Monday at the influential Culinary Workers Union hall — home of the labor organization representing the casino workers — for a watch party. Also from Las Vegas, 11-year-old Karla Ortiz, who is a citizen, and her mother, Francisca, who is in the United States illegally, will be on stage in Philadelphia.
"It shows an evolution in politics," said Laura Martin, PLAN Nevada's associate director. "Astrid's somebody who stood on a sidewalk afraid to go into President Obama's rally in 2008 because she was afraid she'd be arrested for speaking on the stage at the Democratic convention."
Twitter: @LisaMascaro
Pen pal inspires Sen. Harry Reid on immigration reform
Reporter's diary from the GOP convention
---
UPDATES:
5:30 p.m.: The story was updated after Astrid Silva spoke at the Democratic convention.
The story was originally published at 4:25 p.m.
Get our Essential Politics newsletter
The latest news, analysis and insights from our politics team.
You may occasionally receive promotional content from the Los Angeles Times.