Indicted Rep. Duncan Hunter won reelection. What happens if he's convicted?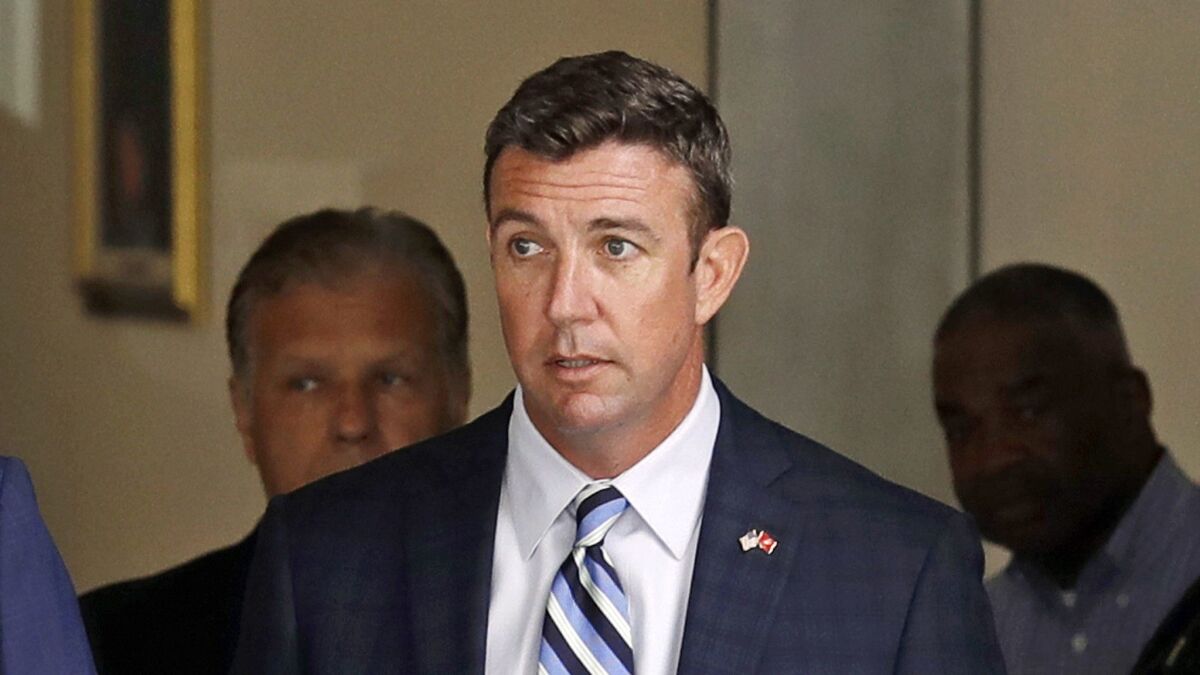 Indicted Republican Rep. Duncan Hunter won reelection this week, beating back a robust Democratic challenge. But on Dec. 3, he's due in federal court, where he faces felony charges that he misused campaign contributions. So what happens to his congressional seat if he's convicted?
The congressman from Alpine pleaded not guilty in August and refused to take himself out of the race in his 50th Congressional District, saying the federal indictment alleging fraud and conspiracy was politically motivated.
In the election, he faced Democrat Ammar Campa-Najjar in one of the most personal and at times ugly races in the state. The Republican repeatedly made unfounded claims that his opponent would be a national security risk.
If Hunter is convicted, there is no constitutional provision or House rule that explicitly requires him to lose his seat, even if he is imprisoned and unable to vote on behalf of his district. Whether he would be pressured to resign would be a decision for the House majority party — soon to be the Democrats.
"You can be found guilty and still serve," said Loyola Law School professor Jessica Levinson.
Ahead of the election, a September poll showed that nearly 4 in 10 of the district's likely voters believed the five-term incumbent was definitely or probably guilty.
Hunter and his wife, Margaret, who also pleaded not guilty in the case, are scheduled to go to court Dec. 3 for a status hearing. Proceedings were delayed after a defense attorney requested more time go through discovery material.
The Hunters could face 21 months to five years of incarceration if convicted, according to the San Diego Union-Tribune. In that case, a series of possibilities could play out.
You can be found guilty and still serve.
— Jessica Levinson, Loyola Law School professor
House rules do advise — but do not mandate — that a sitting member sentenced to two or more years in prison step down from committees and refrain from voting.
After his indictment, Hunter broke from standard practice and declined to step down from his committee posts; he acquiesced after House Speaker Paul D. Ryan's office moved to strip his committee posts, according to Politico.
In the case of conviction, the leader of the majority party can ask — and pressure — a member to step aside.
"I think if Hunter is convicted and it appears that he has to be in prison, there would be enormous pressure from the party leadership for him to step down," Levinson said. "Because they would want to have a working member — someone who isn't literally behind bars."
Results from the 2018 midterm elections »
But the only way a member would be forcibly removed is by expulsion, which is uncommon. It's occurred five times in the House, the last time in 2002 when Rep. James Traficant, an Ohio Democrat, was convicted of racketeering and other felonies.
(In the Senate, there have been 15 expulsions since 1789. Fourteen of the senators were expelled for supporting the Confederacy.)
Other than expulsion, the House can censure or reprimand a member. In 1979, for example, Charles Diggs of Michigan was censured after he was convicted on 11 counts of mail fraud and 18 counts of making false statements.
Censure requires members to stand at the well of the House — the area in front of the rostrum — to receive a formal and public disapproval, and they are typically stripped of committee duties. Reprimand often comes in the form of a letter or private meeting.
If Hunter were convicted and needed to be replaced, it would mean a special election. In California, a special election is typically called within 14 days to fill a House seat. The election is held 126 to 140 days after the election proclamation. That means a vacant seat could remain empty for quite some time.
"I suspect if Hunter is convicted," said Matt Glassman of Georgetown University's Government Affairs Institute, "he's not coming back to Washington."
Twitter: @cshalby
ALSO
Results from the 2018 midterm elections
Life is stressful. Our weekly mental wellness newsletter can help.
You may occasionally receive promotional content from the Los Angeles Times.