Eric Garcetti, presidential long shot, journeys to Iowa, the land of dreams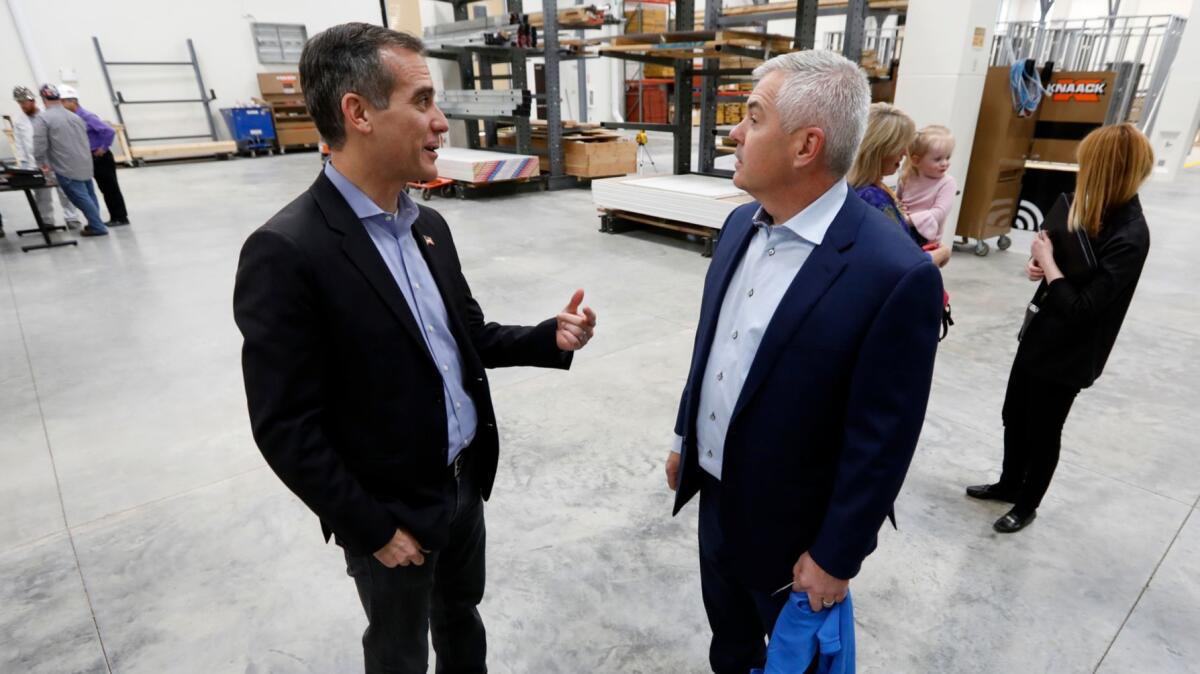 Reporting from Des Moines —
Iowa grows corn, raises hogs and nurtures presidential dreams.
The state launched two exceeding long shots, Jimmy Carter and Barack Obama, to the White House, giving each a look and listen when sophisticates elsewhere treated their campaigns as the stuff of cockeyed fantasy.
So when Los Angeles Mayor Eric Garcetti set out Friday to introduce himself to Iowa with a two-day visit, the all-but-announced Democratic candidate for president was traveling a well-trod path.
He visited with firefighters and union carpenters. He met with Latino and Asian American activists, and attended a gay rights gala. He took a walk through Des Moines' hipster East Village neighborhood and picked up Iowa-themed gear at an edgy boutique.
What he did not do was make formal his apparent candidacy.
Under what circumstances would he run for president, an Iowa reporter asked Garcetti as he toured the carpenters training center in Altoona. He smiled and rocked back on his heels, as if buffeted by an unexpected wave.
"I'm listening this year," he said, promising a final decision in 2019 as a small audience of millwrights looked on from the shop floor. Then, moments later, he asked for a do-over.
"I'm not here looking for a new job for me," Garcetti said. "I'm looking for more new jobs for Americans."
L.A. Mayor Eric Garcetti on running for president, not running and his favorite jazz pianists »
With visions of a blue tide in November's midterm elections and a sitting-duck incumbent in 2020, there is no shortage of Democratic hopefuls, or talked-about White House prospects.
Numbering more than two dozen, they can be roughly sorted between brand-name contestants in their 60s and 70s — former Vice President Joe Biden, Vermont Sen. Bernie Sanders, Massachusetts Sen. Elizabeth Warren — and a very large field of young and restless newcomers.
Even in that category, Garcetti is not alone among Californians (freshman Sen. Kamala Harris and Rep. Eric Swalwell of Dublin are on the list) or mayors (Mitch Landrieu of New Orleans and Pete Buttigieg of South Bend, Ind., are also mentioned as possible 2020 contestants).
Garcetti does have the singularity of representing the nation's second-most populous city and what he describes as his mutt pedigree: Jewish-Italian-Mexican-American, with a metrosexual vibe.
"I come from the home of the Korean short rib taco," he told a gathering of the Asian and Latino Coalition at the state Capitol in Des Moines. He used the occasion to speak a bit of his fluent Spanish, denounce anti-Semitism and defend "sanctuary" policies for otherwise law-abiding residents who entered the country illegally.
Garcetti, 47, also stands out for attempting something never before achieved in the history of the republic — moving directly from City Hall to the White House — though it remains to be seen whether the old verities of politics still endure, post-Donald Trump
"I don't think you can say governor, mayor, senator, congressman or anything rules anybody out," said Paul Maslin, who helped former Vermont Gov. Howard Dean vault from obscurity to front-runner status, for a time, in the 2004 Democratic race. "It's all up to individuals and what they can say about themselves and the future of the country and its direction."
Garcetti's message, in sum, is that mayors like himself are doers — sleeves turned up, hands dirty — while most other politicians are caught up in tribalism, tweets and other pointless distractions.
"While Washington plays politics, we're kind of getting the job done," he said, standing alongside the Republican mayor of Altoona, a Des Moines suburb of about 17,000 people. "That happens throughout the small towns and the big cities of America."
(The mayor, Dean O'Connor, made clear his presence was not intended as an endorsement of Garcetti's not-yet White House bid. "We just met," he said. "But I like him so far.")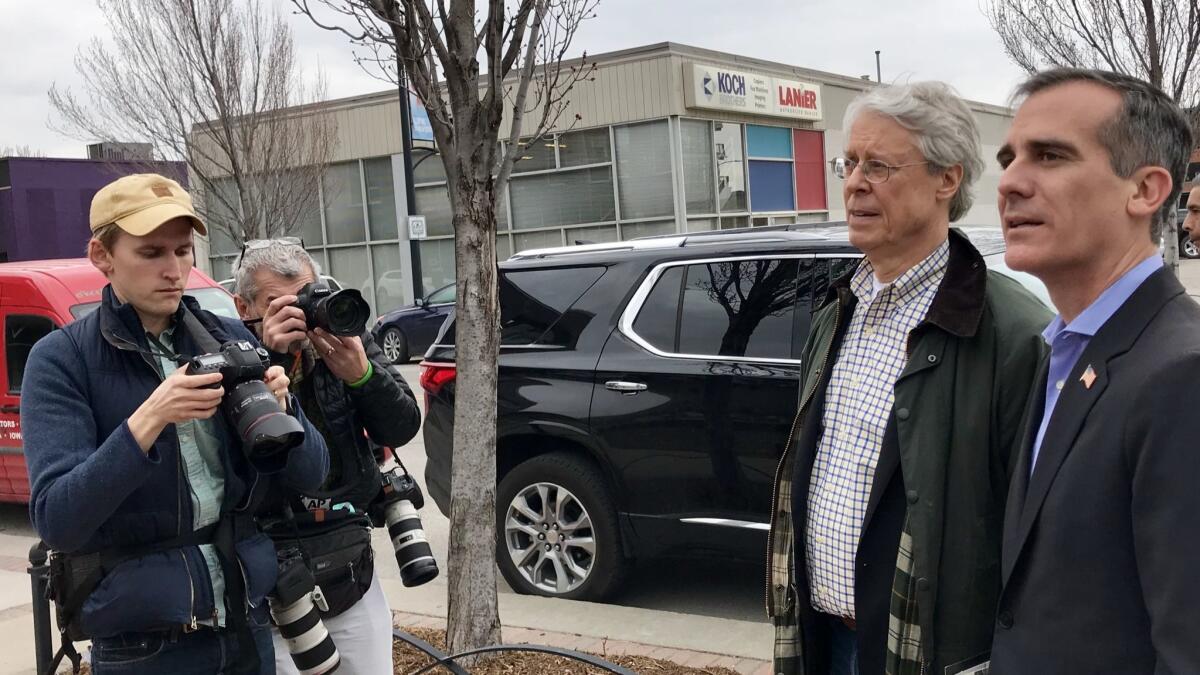 I come from the home of the Korean short rib taco.
— Los Angeles Mayor Eric Garcetti, stumping before Iowa's Asian and Latino Coalition
Iowa is to White House hopefuls what Mecca is to religious pilgrims. It holds the first vote of the presidential campaign, precinct-level caucuses that help cull the field and usher a handful of survivors into the contests that follow.
Given such vast influence, Iowans pride themselves on affording even the most improbable-seeming candidate a respectful hearing.
Carter was a peanut farmer and former Georgia governor a year out of office when his second-place finish in 1976, behind "uncommitted," made him a serious presidential contender.
Obama, an African American with a skinny resume and foreign-sounding name, had scarcely begun his one and only U.S. Senate term when he toppled Hillary Clinton in 2008 and began his march to the White House.
"We've seen the results of not taking people seriously," said Dave Nagle, a former congressman and state Democratic Party chairman, who has been active in Iowa politics since the Kennedy administration. "Sometimes the people we least expect to see elected president end up delivering the inaugural address."
Which should hearten Garcetti, who is an utter mystery to most living beyond his city limits.
His stroll through the East Village, accompanied by the mayor of Des Moines (also not an endorsement), about a half-dozen reporters and two cameramen, drew puzzled stares but no evident signs of recognition.
Los Angeles, of course, has a reputation that precedes it — swimming pools, movie stars — and Garcetti's habit is to preempt it with a joke about the Kardashians and a homily on how, deep down, we're all very much the same.
He tailored his iteration on this trip to local sensibilities, with mention of his wife's roots in rural Waterloo, his previous caucus experience — he came here to campaign for Obama in 2008 — and the fact the USS Iowa is stationed as a maritime museum at the Port of Los Angeles.
"I think that Iowa and Los Angeles have a ton in common," Garcetti told about 75 Polk County Democrats, who crowded an Irish-themed tavern on a rainy Saturday in Des Moines. "We have the same struggles. We have the same hopes right now, and the same challenges before us: Can I get out from under debt and send my kid to college? Will I have the opportunity in the future economy to find a place for me in it?"
The obvious comparison is Obama.
The junior senator from neighboring Illinois was also relatively young and considered by some too inexperienced to seek the presidency. He and Garcetti share some of the same physical attributes — both of them poised, slender, natty — and a charismatic way of delivering a message that transcends party and place. Or tries to.
But that can only take Garcetti so far.
Emily Parcell, who helped steer Obama to victory in the 2008 caucuses, said a bit of mythology — "it was all about personality, personal story and magnetism" — has grown up around the former president, overtaking reality.
"In those early months in Iowa it was a lot of hard work by a lot of young organizers in a lot of small towns, kicking doors open and getting into living rooms to have a conversation about who this guy was," said Parcell, now a campaign strategist in Des Moines. "You have to actually do the work here."
If Garcetti's presidential hopes are more than fantasy, his first campaign trip to Iowa won't be his last.
Get our Essential Politics newsletter
The latest news, analysis and insights from our politics team.
You may occasionally receive promotional content from the Los Angeles Times.