Gorsuch dissents as Supreme Court upholds ban on big-money gifts to parties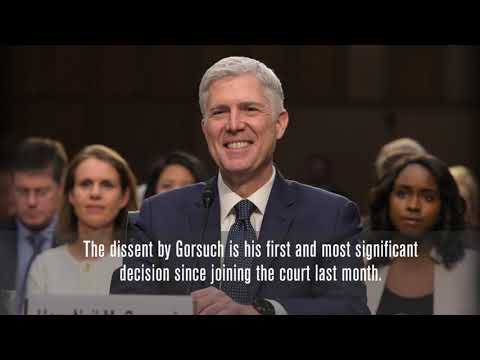 New Justice Neil M. Gorsuch joined Clarence Thomas in dissent May 22 when the Supreme Court rejected an appeal from a Republican Party lawyer. (May 22, 2017) (Sign up for our free video newsletter here http://bit.ly/2n6VKPR)
Reporting from Washington —
New Justice Neil M. Gorsuch joined Clarence Thomas in dissent Monday when the Supreme Court rejected an appeal from a Republican Party lawyer seeking to strike down limits on big-money contributions to political parties.
By a 7-2 vote, the high court upheld limits set in the McCain-Feingold Act of 2002.
The dissent by Gorsuch is his first and most significant decision since joining the court last month, and it puts him squarely on the side of conservatives and Republican lawyers who believe that limits on political money are unconstitutional.
In 2010, the Supreme Court remade the law on political spending when it struck down limits on independent spending, including by corporations, in the Citizens United case. In his opinion for the court, Justice Anthony M. Kennedy stressed that this type of spending should be unregulated and protected as free speech because the money does not go directly to candidates or the parties.
The limits on contributions to federal candidates and political parties remain in place. This year, candidates for Congress may take up to $2,700 from individuals to support their campaigns, and the national parties may take contributions of up to $33,900.
State and local parties can take contributions of up to $10,000.
Still, the Citizens United decision seemed to undercut the rationale for the contribution limits. The decision sent a huge flow on money pouring into super PACs which could run their own ad campaigns to support or oppose candidates.
The Indiana attorney who spearheaded the Citizens United case went back to court seeking to void the limits on giving to parties. And he cited the impact of Citizens United.
A grave inequity exists in American politics.
— James Bopp Jr.
"A grave inequity exists in American politics," attorney James Bopp Jr. told the court in an appeal on behalf of the Republican Party of Louisiana. "While behemoth super PACs and 501c(4) nonprofit corporations receive unlimited donations… state and local parties can do nothing similar."
But he lost in a lower court, and on Monday, the Supreme Court issued a one-line order affirming that ruling. Thomas and Gorsuch said they would have heard the appeal.
Supporters of the campaign funding laws praised the court for holding the line.
"Voters are the winners of this decision to turn back unregulated soft money and to reaffirm the importance of effective party contribution limits," said Tara Malloy, deputy executive director at the Campaign Legal Center. "Without these soft money limits, political parties would again become vehicles through which big donors would attempt to buy influence over elected officials and their policy decisions."
Twitter: DavidGSavage
ALSO
Supreme Court strikes down two North Carolina congressional districts as racial gerrymanders
How some of the Supreme Court's conservative opinions may lead to a liberal victory on 'sanctuary' cities
Supreme Court makes it easier for companies to defend patent cases
---
UPDATES:
12:10 p.m.: This story was updated with additional reaction.
This story was originally published at 7:50 a.m.
Get our Essential Politics newsletter
The latest news, analysis and insights from our politics team.
You may occasionally receive promotional content from the Los Angeles Times.