This White House proposal has legal immigrants forgoing healthcare services out of fear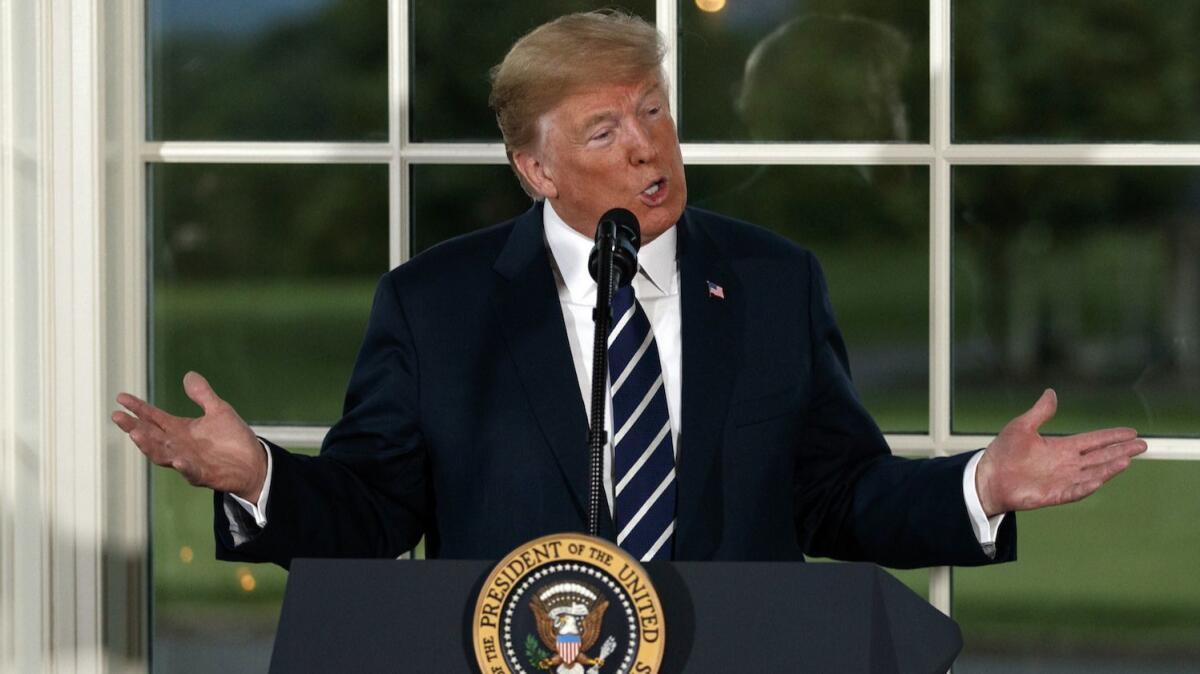 Washington Post
Reporting from Washington —
The White House is seriously considering a new policy that would penalize legal immigrants seeking permanent status for accepting healthcare services paid for by the government.
The rule, which is expected to be officially announced soon per NBC News, would change the definition of when a legal immigrant is considered a "public charge" to the government, and affect the decision over whether they qualify for permanent resident status.
The mere suggestion of the expanded policy has already had a "real chilling effect" on immigrants using healthcare services, Alberto Gonzalez of the advocacy group Community Catalyst told the Washington Post. Doctors have "witnessed examples on the ground of people not wanting to access their local providers because they're afraid if they take their kids for a checkup it will be communicated to the federal government," he said.
Since the beginning of the Trump administration, officials have been working on a plan to broaden a long-standing immigration law that takes into account an immigrant's current and possible dependence on the government when considering whether to grant them legal status. For decades, the U.S. government has calculated an immigrant to be a "public charge" if they rely or are expected to depend on the government for more than half of their income.
The current calculation considers whether the immigrant uses welfare or long-term care benefits, such as accessing a nursing home through Medicaid. The Trump administration is thinking about expanding the definition of "public charge" to include more public benefits -- such as other Medicaid services, subsidies to help pay for health insurance under Obamacare, food stamps and public housing, according to a draft plan obtained by our Post colleague Nick Miroff. Medicare services would not be included.
Homeland Security officials seeing decrease in legal attempts to cross U.S.-Mexico border »
The proposal is by no means a done deal. Once finalized, the rule would then be opened for public comments. But immigration advocates are already organizing a massive pushback campaign.
If implemented, the implications for healthcare would be sweeping. A new report published in the New England Journal of Medicine this month determined that the number of immigrants who wouldn't access Medicaid and the Children's Health Insurance Program (CHIP) because of the policy would result in at least 1 million people becoming uninsured. Gonzalez said mental illnesses may go untreated, kids will miss pediatric visits, and families will forgo preventive care such as cancer screenings.
"It will be a public health crisis," Gonzalez said.
Advocates say another effect of such a policy would be that legal immigrants may also refuse social services like healthcare because they think it will reduce the chances of bringing their kids, or other relatives, across the border to join them. The draft policy suggests an immigration caseworker could deny a visa based on the use of public benefits by anyone in the immigrant sponsor's household.
Democrats are pouncing on this possibility following the uproar over now-ended separations of thousands of migrant families at the border under Trump's "zero tolerance" illegal immigration policy.
"The proposal of such a rule is a back-door attempt to circumvent Congress and unilaterally restrict family reunification," Democratic U.S. House members wrote in a May 7 letter to the administration. "Expanding the definition of 'public charge' under this rule would in essence create a new authority to bar immigrants from obtaining legal entry or permanent resident status in the country by virtue of caring for their family through the use of social services that they are legally entitled to use while under their current status."
Judge pushes for reunification of migrant families still separated »
Even the possibility of change is already affecting behavior of legal immigrants.
An organization in Denver, called the Mile High Health Alliance, surveyed health providers to see whether they'd noticed a drop-off in their immigrant patients. Of those who responded, 87% said there had been a decrease in appointments made by immigrants since the beginning of the Trump administration and 66% said there'd been an increase in "patients expressing concern about having their personal information shared with other agencies that might jeopardize their continued residency in the country or legal status."
In June, Minnesota Gov. Mark Dayton, a Democrat, sent a letter to the White House Office of Management and Budget echoing those findings. "Sadly the rule is already having an effect, regardless of the fact that it has yet to be released, social service providers in Minnesota report that just the prospect of this draft rule has begun causing children and adults to fear accessing safety net programs," he wrote.
Dr. Bernard Dreyer, a past president of the American Academy of Pediatrics, told me that many of his patients aren't signing up for food stamps or for infant formula through the Women, Infants, and Children (WIC) program out of fear that it will hurt their chances of staying in America.
California seeks Trump administration records showing separation policy's impact on immigrant children »
Dreyer, who works at Bellevue Hospital in New York City, estimated about 90% of his patients are immigrants. He and the other pediatricians are discussing how to best communicate to their patients that no policy has changed yet and there's more potential damage if they don't get, for instance, proper nutrition for their children or routine immunizations.
"I have patients who say I won't sign my kid up to preschool even though universal pre-K is not a means-tested program, but the fear is pervasive," Dreyer told me. "Already a huge amount of damage has been done because of the fear in the immigrant community."
The rule is being written at the Department of Homeland Security, but this won't be the first time a Trump immigration policy change overlapped with the responsibilities of the Department of Health and Human Services. Readers will recall that HHS has been responsible for reunifying parents with their children who were separated at the border.
Asked for HHS's reaction to the effect this policy could have on immigrants' health, a spokesperson responded in an email: "As a matter of policy, HHS and CMS do not comment on alleged, leaked documents."
Most of the anti-immigration rhetoric from the Trump administration has focused on immigrants who are here illegally, so what makes this proposal different is it exclusively affects people lawfully admitted or seeking lawful admittance into the country.
It would even affect children who are U.S. citizens if their parents are not and thus afraid to take advantage of benefits. Immigration advocates accuse Trump officials of seeking to enact a policy that targets low-income, Latino or black immigrant communities where there are already deep disparities in healthcare.
In a call with reporters Tuesday afternoon, Marielena Hincapie, executive director of the National Immigration Law Center, said such a rule sets up an impossible choice for all but the richest immigrants. She said it would have the broadest effect of any immigration proposal in recent memory, with the potential to affect tens of millions of people.
"A common thread is [Trump is] attacking families at their core," she said. "This proposed regulation is at the top of their anti-immigrant wish list."
DHS spokeswoman Kate Waldman told the Washington Post in March that proposed changes are "intended to protect the American taxpayer by ensuring that foreign nationals seeking to enter or remain in the U.S. are self-sufficient."
It's notable then that a study published in the International Journal of Health Services released Wednesday morning found immigrants pay more into the healthcare system than they receive. Immigrants account for 12% of the population but only account for 8.6% of total U.S. healthcare expenditures while U.S.-born individuals account for 90% of the population but 93% of expenditures, the researchers wrote.
Most of the data they analyzed were from before the ACA was implemented. But Wesley Boyd, a Harvard psychiatry professor who participated in the study, told me he believed the findings would now be more robust because "there would be more immigrants subsidizing health insurance for native-born Americans than we found in our study, and that therefore the contribution that immigrants make to the bottom line of the U.S. healthcare system would be even greater."
"It is unlikely that restrictions on immigration into the United States would result in a meaningful decrease in healthcare spending. To the contrary, restricting immigration would financially destabilize some parts of the healthcare economy," the researchers concluded.
Until there's a final rule, immigration advocates' greatest concern is that immigrants don't seek healthcare services that they need now.
"We're hearing stories about families worried that they want to sponsor a family member but counseled to get family off of benefits as to not jeopardize that family member's visa," said Jackie Vimo, policy analyst at National Immigration Law Center. "Immigration law is extremely complicated. A big piece of how this works is the chilling effect. The families who don't understand the nuances are going to play it safe."
Get our Essential Politics newsletter
The latest news, analysis and insights from our politics team.
You may occasionally receive promotional content from the Los Angeles Times.