Judge pushes for reunification of migrant families still separated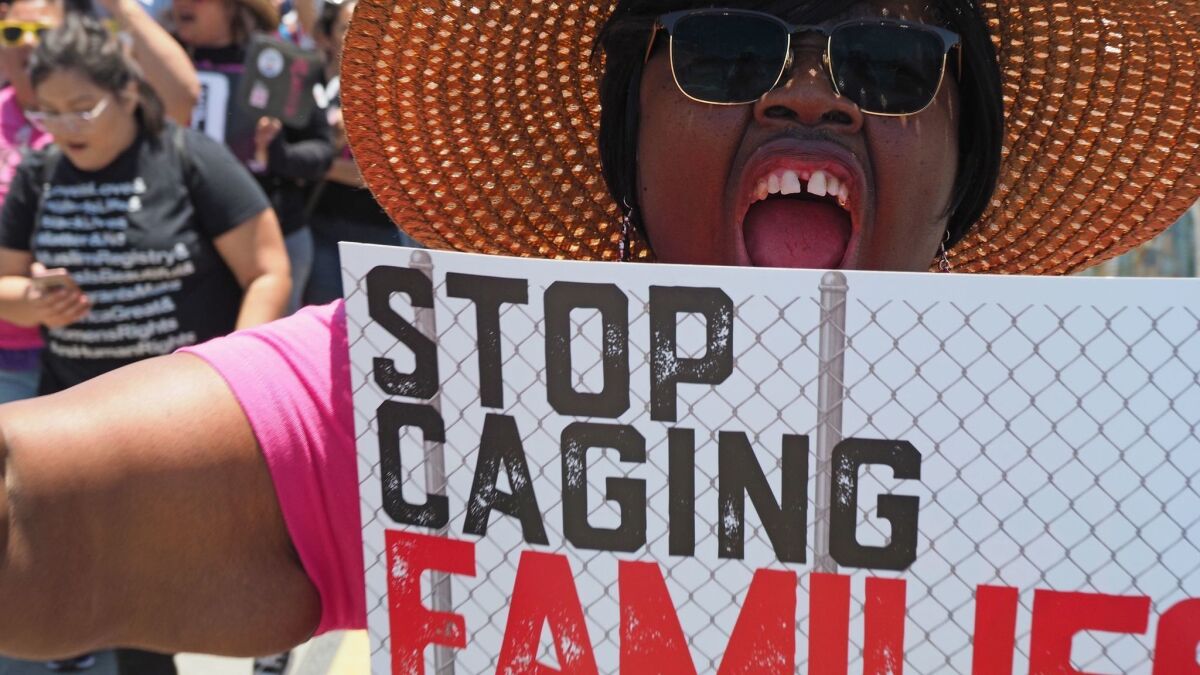 After pushing the federal government to reunite families who had been separated at the border, a San Diego judge called for reunification plans for parents who were either deported or released into the U.S.
Because of the class-action lawsuit, federal officials have already brought children back to their parents if the adults were still in immigration custody. But for over 400 parents who were deported or let out of detention, the government doesn't know where they are.
Judge Dana Sabraw held a telephonic status conference on Monday with attorneys for the government and the American Civil Liberties Union, the organization representing the separated families.
After the call, he ordered that each side submit plans Thursday for finding and reunifying the remaining families.
In a call last week with reporters, a Department of Homeland Security official said deported parents were given the option to reunite with their children before they left the U.S. but chose not to.
Sabraw has not decided on another issue in the case — whether the government can immediately deport families once they're reunited if the parent has a final removal order. He temporarily halted such deportations two weeks ago.
He was expected to make a decision last weekend, but as of Monday afternoon, he had not issued an order.
Over the weekend, attorneys for the ACLU filed declarations from two lawyers who had met with parents separated from their children in Texas and New Mexico, arguing that reunited families should not be immediately deported because they need time to talk through their options with immigration attorneys.
Laila Arand, an attorney who has offered free legal help at immigration detention facilities in New Mexico and Texas, said that she met several families who felt pressured by government officials to agree to be deported with their children.
The families described reuniting with their teenage children and boarding a bus together, according to Arand's declaration. They were given forms in English with three options in Spanish. The first option, "I want to be deported with my children," was preselected, she said.
The parents told officials that they wanted their children to stay in the U.S. even if they couldn't, Arand's declaration says. Officials yelled at them and tried to make them sign the forms, the parents told Arand.
One parent said he wanted to see a judge about his own case and was told that he "had already lost his case when he came into this country, and so there was nothing for a judge to decide," according to Arand's declaration.
Stephen Manning, an Oregon-based attorney who helped start the Dilley Pro Bono Project, which provides free legal services to immigrants in the Texas family detention center, also submitted a declaration.
Manning said that if they hadn't been separated, each family member would've gone through an asylum screening process known as a credible fear interview. If any of the family members passed the interview, the family as a whole would be referred to a judge to decide their case together.
"In other words, parents would not have been forced to choose between staying with their child, or allowing their child to pursue an asylum claim — the choice they are facing now," Manning said.
A separate lawsuit to prevent government officials from deporting reunited families was filed on Friday in federal court in Washington. The federal government hopes to combine the cases.
Morrissey writes for the San Diego Union-Tribune.
---
The stories shaping California
Get up to speed with our Essential California newsletter, sent six days a week.
You may occasionally receive promotional content from the Los Angeles Times.