Trump returns to Japan for a visit heavy on sumo and symbolism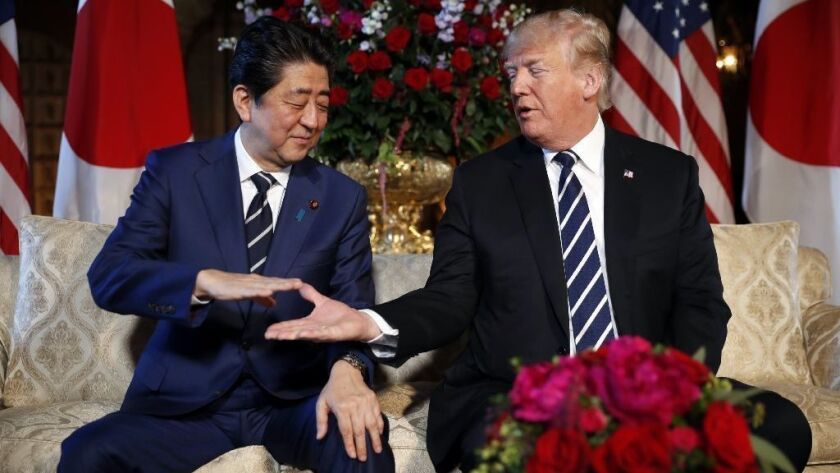 Reporting from Washington —
President Trump leaves Friday for his second trip to Japan — with a return visit planned next month — as both governments seek to repair an alliance that has seen cracks in the last two years.
The three-day visit will feature several firsts, including the first meeting between newly crowned Emperor Naruhito and a foreign leader, and the first appearance by a U.S. president at a sumo match as part of a state visit.
A longtime fan of American-style professional wrestling, Trump — then a New York businessman — famously helped shave WWE promoter Vince McMahon's head after a 2007 WrestleMania event.
To commemorate Memorial Day, Trump will tour a Japanese destroyer that its navy plans to convert into the country's first aircraft carrier since World War II, specifically designed for U.S.-made fighter jets.
The setting, choreographed by the Japanese government, is designed to show that Japan is beefing up its commitment to military spending, chipping away at constitutional constraints imposed after World War II to restrict Tokyo's ability to commit aggression.
Trump has spent decades fuming over the United States' role in defending Japan, complaining that the military alliance gives Japan an unfair economic advantage.
In fact, Japan pays more to defray the cost of U.S. forces in its territory than any other ally, and Tokyo began expanding its military operations and reach during the Obama administration.
But Trump's comments have rattled Japan, prompting Prime Minister Shinzo Abe to meet with Trump more often than has any other world leader in an effort to preserve the security relationship.
Japan's internal debate over whether to rebuild its military into an offensive force long preceded Trump's election. But his demands for greater Japanese participation in regional defense have put that argument front and center.
"The world around Japan is becoming more tense, and there's a question about whether they can rely on us as they have in the past," said Caroline Kennedy, who served as U.S. ambassador to Japan from 2013 through 2017. "This is a trend that has been underway for some time, and I think Trump has put it in starker terms."
U.S. occupation officials drafted Japan's constitution after World War II to "renounce war" and forbid the maintenance of land, sea and air forces.
With encouragement from Washington, Japan has stretched its interpretation in recent decades, sending small forces on international peacekeeping tours. In 2016, Japanese troops were authorized to use limited force in rescue missions in South Sudan aimed largely at protecting United Nations workers.
"It's not combat, but the concentration of military forces in and around Japan has changed dramatically," said Sheila Smith, author of "Japan Rearmed" and senior fellow for Japan studies at the Council on Foreign Relations. "They've done all of this without touching the constitution."
The prime minister, a conservative and great-great-grandson of a Japanese army general, has backed many of these steps and is seeking to change the constitution to codify the military's expanded role. But he has not persuaded the public, which still remembers the two nuclear bombs dropped on Japan by U.S. aircraft in 1945 to end the war in the Pacific.
In a Japanese poll last month, 54% of respondents opposed any constitutional change.
"The feeling that people do not want to start war and get involved in war is still strong in this country," said Ichiro Fujisaki, a former Japanese ambassador to the United States during the Obama administration. "Some people think that's the backbone of Japan."
Still, Abe has increased the military budget to $48 billion this year, an unprecedented level if still a small fraction of U.S. military spending.
Threats from North Korea and concern about China's growing strength have been the primary drivers. But the Japanese finance minister also cited Trump's rhetoric as part of the rationale for the latest budget increase, according to someone who speaks with him regularly.
Most of the money goes for defensive weapons, part of a "shield and spear" strategy meant to complement the huge American military bases in Japan, South Korea and Guam.
Abe has worked tirelessly to preserve that partnership, breaking protocol by visiting Trump in New York before he was inaugurated in 2017, meeting or speaking with him more than 40 times and, according to Trump, nominating him for the Nobel Peace Prize.
This weekend, Trump will become the first foreign leader to visit the newly crowned emperor, Naruhito, at the Imperial Palace. Trump will also golf with Abe and attend a sumo wrestling match, where he will award the "Trump Cup" to the winner.
The visit with Abe is one of three between the two leaders in a short span. Abe came to Washington in late April, and Trump plans to return to Japan in late June for the Group of 20 economic summit in Osaka. He is expected to meet China's president, Xi Jinping, and Russia's president, Vladimir Putin, on the sidelines of that meeting.
That charm offensive by Abe has mitigated some of Japan's fears that the unpredictable anti-globalist president would abandon a close ally. Still, Trump has caused anxiety with his recent efforts to strike a nuclear deal with North Korean leader Kim Jong Un.
During the 2016 election campaign, he suggested that Japan might want to get its own nuclear weapons to counter the threat from North Korea.
When he visited Tokyo in 2017, Trump said Japan should buy more U.S. arms to counter North Korea, explicitly linking his security complaints with his frustrations over the trade deficit.
But this month, despite two unproductive summits with Kim, Trump dismissed the significance of a recent flurry of North Korean missile tests because they were only short-range and incapable of hitting the United States, although they appeared capable of reaching parts of Japan.
The comment spoke to "the core concern that Japanese have, which is that the United States could cut a deal" with Kim that excludes them or fails to fully account for their security, said Abraham Denmark, a former Pentagon official who now directs the Asia program for the Woodrow Wilson International Center for Scholars.
Abe, who supports Trump's diplomacy with North Korea, is seeking his own meeting with Kim after summits held by other leaders in the region.
Though most Japanese ignore Trump's tweets and impromptu statements, many were stung when he withdrew from the proposed Trans-Pacific Partnership, a multinational trade pact negotiated by President Obama that Japan sees as crucial to countering Chinese influence.
"For Japan, TPP was as much about keeping the United States tied to the region as it was about economics," Denmark said.
China's economy has now bypassed Japan's. Beijing is also modernizing its military, building artificial islands on disputed shoals and increasingly taking part in international naval operations.
And Trump's "America first" policies, as much as Trump himself, worry Japanese policymakers that the White House may be willing to deal with China over Japan, its longtime ally.
"Japan is quite frankly in a scary neighborhood," said Shihoko Goto, an analyst at the Washington-based Wilson Center's Asia Program.
"What is America's commitment in the longer term?" she asked. "Trump is Trump, but he's also a reflection of the American psyche."
Bierman reported from Washington and Kim from Seoul.
---
For reporting and exclusive analysis from bureau chief John Myers, get our California Politics newsletter.
You may occasionally receive promotional content from the Los Angeles Times.