Kamala Harris to call for federal spending to raise teacher salaries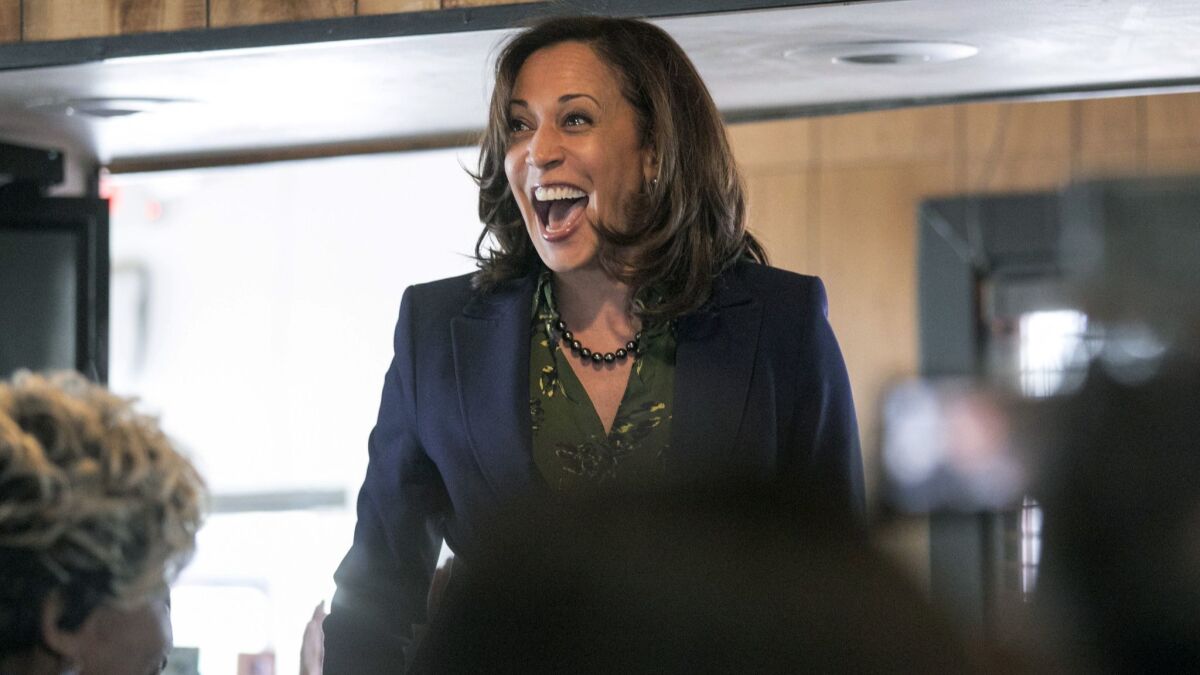 Reporting from Washington —
Sen. Kamala Harris plans to call for a federal effort to boost teachers' salaries Saturday, offering up the first new policy proposal of her 2020 presidential campaign on an issue that is roiling school districts across the country and is dear to a powerful Democratic constituency.
The plan, which Harris is slated to unveil while addressing a morning rally at Texas Southern University in Houston, would promise an unprecedented federal investment in teacher pay because of widespread concern that teaching, a female-dominated profession, is badly underpaid, according to a campaign aide who was not authorized to discuss the plan on the record.
A study by the Economic Policy Institute, a liberal think tank, found that public school teachers in 2017 made 11% less than similar professionals with college degrees, even after taking into account benefits, which are often higher for teachers than many private-sector workers.
Harris will commit to "closing the teacher pay gap within her first term as president," the campaign aide said. Details of the initiative — including the price tag and how the program would be structured — will be released in the coming week, the aide said.
The idea stands to be a major policy departure because setting teacher pay has traditionally been the responsibility of state and local governments, which provide the lion's share of money for education from kindergarten through 12th grade.
The federal government currently provides less than 10% of total spending for elementary and secondary schools, with most of the money channeled to states and school districts for specific national priorities such as helping cover the cost of educating disabled students.
Harris has proposed several policy initiatives, including a large-scale tax-cut plan that would provide up to $6,000 a year to working families. But until now, most of her policy ideas have been drawn from her legislative portfolio in the Senate.
By focusing her first new initiative of the campaign on teachers, she is tapping into a politically potent constituency — a profession that is heavily unionized, Democratic leaning, and a part of nearly every voter's life.
The call for greater federal spending on education could also prove popular — a new poll released this week by the nonpartisan Pew Research Center found that 54% of American adults, and 66% of Democrats, said that increased spending on education should be a top priority for the U.S. government. The only policy area ranking higher among voters was expanding healthcare, Pew found.
The drive to raise teachers' salaries has swept across the country in recent years, spotlighted by teacher strikes not just in big cities such as Los Angeles and Denver, but also in more conservative places such as Oklahoma and West Virginia.
In Los Angeles in January, a six-day strike ended in a contract that gave teachers a 6% raise — 3% retroactive to the 2017-18 school year and another 3% retroactive to July 2018.
The issue is front and center in the early voting state of South Carolina, where the state Legislature is currently debating teacher pay.
The topic is frequently raised on the campaign trail. At a recent event in Ottumwa, Iowa, Sen. Cory Booker of New Jersey went into some detail about new investments he wanted to make in public schools and teachers. He called for helping teachers by retiring their college debt, boosting funding special education funding and overhauling the tax system so teachers pay less.
Harris' campaign appearance in Texas on Friday and Saturday also sends a broader political message for the 2020 primary contest: She is not going to cede the delegate-rich state to its favorite son, Beto O'Rourke, the former Texas congressman who announced his presidential campaign earlier this month.
O'Rourke is not the only candidate who will face competition in his own backyard: While Harris travels Texas this weekend, Vermont Sen. Bernie Sanders is campaigning in California.
Get our Essential Politics newsletter
The latest news, analysis and insights from our politics team.
You may occasionally receive promotional content from the Los Angeles Times.